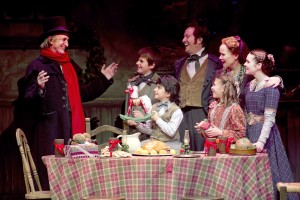 By Christopher Trela & Catherine Del Casale | NB Indy
Orange County's two largest theaters – South Coast Rep and Laguna Playhouse – are staging holiday-themed shows, but they're about as different as you can get. So are the restaurants we dined at prior to seeing the plays.
"A Christmas Carol" at South Coast Repertory
It's not Christmas until we've watched Hal Landon Jr. onstage as Scrooge in South Coast Repertory's annual production of "A Christmas Carol."
Hard to believe that this is the 35th year that Landon has done the role, because after seeing the show earlier this week, we marveled at how fresh the production felt, and how much fun Landon was having on stage. The cast also features many returning actors, including SCR Founding Artists Richard Doyle as the ghost of Christmas Past and other roles, and Art Koustik in multiple roles. Gregg Daniel is back again as Jacob Marley, taking over the role from another SCR founding artist, Don Took.
"Was it me, or were there a lot of new elements this year?" wondered Catherine.
"They have a new cast of youth actors every year, which helps keep it fresh," replied Christopher. "Plus Landon told me the cast is motivated to do it year after year because it means so much to a lot of people, including those who were kids 30 years ago that are now taking their own children to see the show."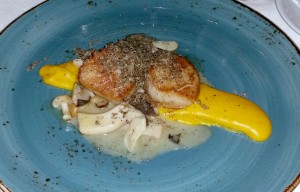 We agreed that SCR's "A Christmas Carol" is a quintessential Christmas show that is about as perfect as you can get. The adaptation is faithful and fun, the sets and costumes authentic, and the entire production has a magical feel that sends audiences out smiling.
We also agreed that our dinner at Pinot Provence before the show was as perfect a dinner as we've had, and it's a short walk to the theater.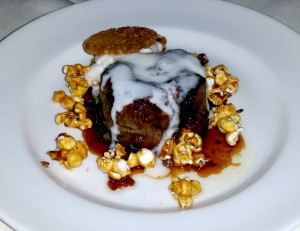 We started with a hearty-yet-delicate Manila clam bouillabaisse ($14) with a scallop, clams, shrimp and lobster stock. Thanks to our knowledgeable waiter, we paired that with a glass of sauvignon blanc. We then shared the day boat scallops with butternut squash puree ($29), followed by Maple Leaf duck breast ($32). To use, they felt light yet wintery, and a delightful way to ease into "A Christmas Carol." We quickly demolished our dessert of pretzel bread pudding ($10), which had salted caramel, bacon popcorn and popcorn tuile—a unique combination that proved addicting. Kudos to Chef Alfonso Ramirez!
For more info on South Coast Rep, visit SCR.org. For more info on Pinot Provence (which offers a three course theater menu Tues. – Sun. for $45), visit PatinaGroup.com.
"Striking 12" at Laguna Playhouse
The Laguna Playhouse often presents new plays or ones that have never been staged in Orange County. Their holiday production is an Orange County premiere: "Striking 12," which we describe as a musical-comedy-drama-rock opera loosely based on "The Little Match Girl" by Hans Christian Andersen.
The story takes place on New Year's Eve, and is told musically by four outstanding performers (Brent Schindele, Marisa Duchowny, Matt Wolpe and Amberly Rosen) who each play an instrument while acting out a tale that weaves "The Little Match Girl" in and out of a quasi-romantic story of two people who find each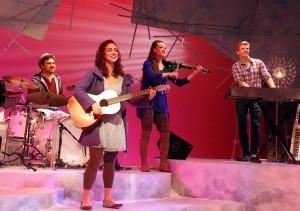 other on New Year's Eve.
Told in a tune-filled 90 minutes with no intermission, the music in "Striking 12" ranges from folk to pop to rap, all of it well-written by Brendan Milburn, Rachel Sheinkin and Valerie Vigoda.
The stunning (yet simple) visuals add to the play's charm, as does the earnest acting by the performers. The staging is by Janet Roston. It's easy to see why a northern California staging received a Bay Area Theatre Critics Choice Award. The word "unique" is often overused, but it's an apt description for this energetic, heartfelt, theatrical Christmas card.
Downtown Laguna Beach offers a variety of dining options, most of which we've tried and enjoy. This time, we opted for Lumberyard, which is the closest restaurant to the playhouse and is known for their comfort food menu and warm ambiance, as well as the spot where Laguna Playhouse actors have been known to frequent after a show.
As usual, we were not disappointed. We love their skillet corn bread ($7), the Lumberyard planks (crispy zucchini served with lemon aioli – $9), the cedar-planked salmon ($26) and just about everything else on the menu. They also have a nice wine by the glass list.
For tickets to The Laguna Playhouse, visit LagunaPlayhouse.com. For more info on Lumberyard Restaurant, visit LBLumberyard.com.