By Christopher Trela and Catherine Del Casale | NB Indy
Deep fried Twinkies. Barbecued ears of corn. Two-foot sausage on a stick.
Yes, the OC Fair is back, and with it an incredible array of food options, from healthy to artery-hardening.
We've spent the past few weeks visiting the OC Fair and sampling many of the decadent and delicious treats at various food stands throughout the fairgrounds. While it's impossible to try everything, we've compiled a list of our favorite food items at this year's OC Fair.
Truffle Gouda Bacon Fries from Bacon A-Fair
We've gobbled up this delicious concoction every time we've been to the fair this year. According to Catherine, "It's by far my favorite treat at the fair this year. If you like Truffle they are a must-have. They are delivered with the perfect mixture of truffle oil, shaved Gouda and bits of bacon served on top of crisp French fries."
Cheesy Bacon Bombs from Bacon A-Fair
We love these bite size balls of cheese, wrapped with bacon and deep fried. Decadent and addicting.
Tasti Chips
A long-time staple at the OC Fair, Tasti Chips are indeed among the most tasty chips we've ever had. Once you place an order, the potatoes are sliced and fried as you watch, and the portion is generous. We've had them plain and they're sensational, but Catherine particularly liked the version with cheese, pepper and bacon.
 Australian Battered Potatoes
Chris has had the Australian Battered Potatoes several times, but the order is so large and the potatoes so filling that you need to share them with several people. Catherine's take: "They were a new tasty experience for me–a potato surrounded with a fried crunchy batter. The stand provided us with a variety of dipping sauces; my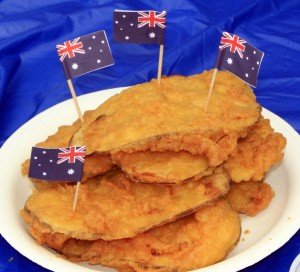 favorite was the red chili sauce."
 Two-Pound Grilled Chicken and Ribs from Biggy's Meat Market
"How good can a huge piece of chicken on a stick really be?" wondered Catherine. "The answer is amazing! The chicken was tender and juicy with a lightly seasoned flavor. I enjoyed dipping mine in their Bloody Mary sauce, which had a slight kick to it. And the rib reminded me of something off of the Flintstones. It was a giant bone that you could pass on to your dog after you clean all of the tender BBQ meat off."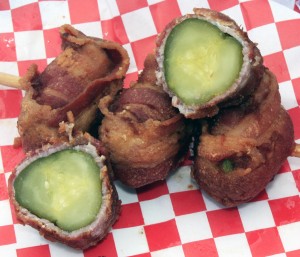 Bacon Wrapped, Deep Fried Pickles and Deep Fried Cookie Dough from Chicken Charlie
Chicken Charlie has so many sinfully-good deep fried foods it's difficult to make a choice when ordering, but the deep fried pickles are so much fun–the pickles have a crisp snap to them, which offsets the bacon and batter. And the cookie dough is gooey, chocolaty mess guaranteed to satisfy any sweet tooth.
 Ghirardelli Dog from Pink's
The only place you can enjoy Pink's famous hotdogs outside of their Los Angeles location is at the OC Fair. We tried several different dogs, but our favorite is the Ghirardelli Dog, with a topping of bacon and dark chocolate. Sounds odd, but the flavors work well together, and it's almost like eating entree and dessert in one bite.
Every Friday from noon to 4 p.m. is Taste of the Fair, when each food stand in the fair offers a sample of one of their popular dishes for only $2. For more information, and a complete dining guide to the OC Fair, visit OCFair.com.