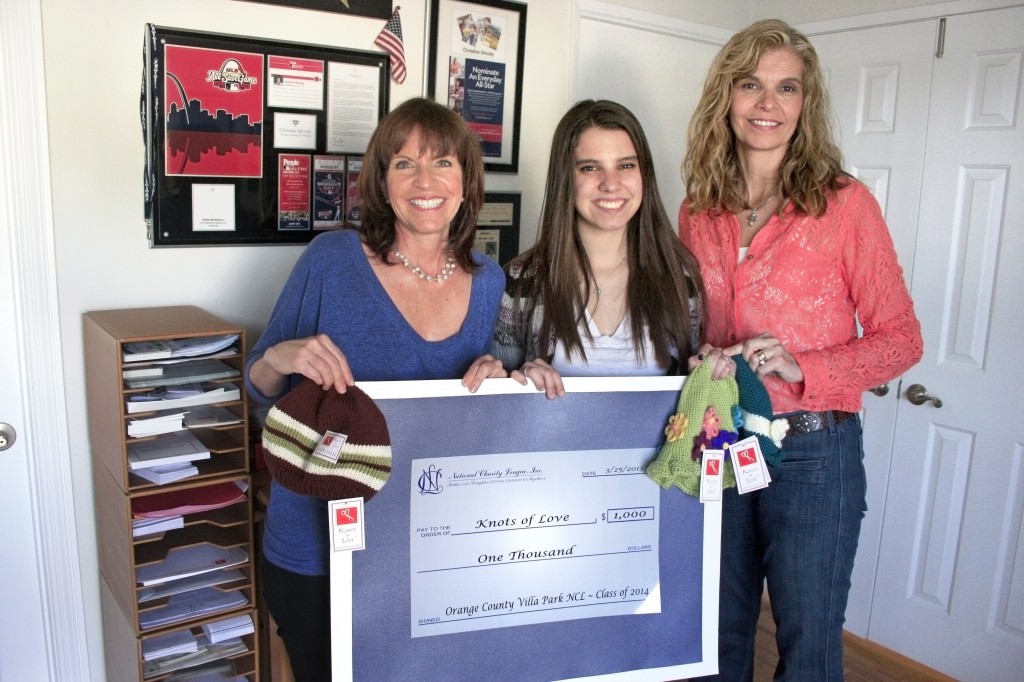 A nearby philanthropic organization recently donated funds to a local charity that will help make a difference across the U.S.
The Class of 2014 from the Orange/Villa Park Chapter of the National Charity League made a $1,000 donation to Newport-Mesa based charity, Knots of Love, a non-profit that donates hand knitted and crocheted caps to cancer patients across the nation.
"The whole (NCL) program is incredible," said Christine Fabiani, founder of Knots of Love. "I'm very thankful for them. Together, we're going to touch a lot of lives."
The money was raised at the league's annual fashion show, held Nov. 13 at the Doubletree Hotel in Orange. More than 200 people attended and helped the organization raise more than $20,000, said Barb Foster, the KOL liaison for the league.
The class of 2014 girls, including Foster's daughter, Kelly, 17, modeled outfits from local boutiques and big name brands. The event also included a silent auction.
They wanted to "spread the wealth," of the funds raised to a variety of charities, said the Foothill High School junior. The ticktockers, the young women in the organization, decided to evenly distribute the money to a variety of charities, and Knots of Love was chosen.
The relationship between the two groups began a few years back when Fabiani spoke at NCL meeting and now the girls volunteer whenever Fabiani needs help, like handing out items at an event or stuffing envelopes.
"It's turned into this whole new wonderful relationship," Fabiani said.
The league is great, Fabiani continued, it teaches the girls about giving back, allows them to be creative, and encourages them to be leaders, all while making new friendships and learning about a variety of charities they can become passionate about.
The feeling is mutual, the Fosters agreed.
"It's a great organization," Barb Foster said. "And not just because it fulfills a need. It goes deeper than that."
Kelly Foster agreed, and said she thought the caps give cancer patients a sense of security.
"It's like a blanket for your head," her mother added, who emphasized the importance of using the right yarn.
"It's a comfort for (cancer patients)," Barb Foster said. "And that warms your heart."
For more information, visit knotsoflove.org and orangevilla.chapterweb.net.