By Christopher Trela and Catherine Del Casale | NB Indy
 "Are you taking your dad out to dine on Father's Day?" I asked Catherine. "It's coming up next weekend."
"We haven't made any plans yet," she replied. "What are my options?"
"I've collected a few menus–take a look. We have Bayside, Beachcomber, Fleming's, The Cannery, Pelican Hill, Pizzeria Ortica…"
 BAYSIDE
Bayside is offering a Father's Day champagne brunch with free-flowing champagne (or a pint of Stella Artois) for $42.75 per person that includes a choice of seven appetizers and nine entrees, plus dessert.
"There are a lot of options for appetizers, and not just small options either," noted Catherine. "For entrees, the five layer frittata looks great."
"The chicken and biscuit has your name on it–buttermilk cheddar biscuit, chicken breast, and mushroom bacon gravy," I told her. "I'd probably go for the risotto paella, although you can't go wrong with rack of lamb or grilled swordfish."
"My eyes just jumped down to dessert and the lemon poppy seed cake with grand marnier chantilly and strawberries," she laughed. "They also have a kids menu for $18.75, which is nice."
For more information, visit BaysideRestaurant.com or call (949) 721-1999.
 BEACHCOMBER
Beachcomber has a Dad's Beer & Brunch menu for $36 per person ($14 for kids) that includes a choice of eight entrees plus a bowl of fresh seasonal fruit and a plate of beignets.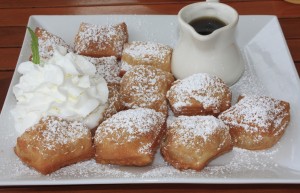 "We've had the beignets, so we know those are good," noted Catherine. "But again, my eyes jumped right to the banana pancake stack with candied pecan and grand marnier compote plus three eggs and applewood smoked bacon."
"My dad would have gone for the surf and turf–two toasted English muffins, one topped with a crab cake and organic egg, the other topped with sauteed spinach and grilled petite filet," I told her. "And my mom would be tempted with the Asian chicken salad–she likes to eat healthy."
"My dad would go for the prime rib sandwich, but I like the fact that there are lots of options."
For more information, visit TheBeachcomberCafe.com or call (949) 376-6900.  
 FLEMINGS
Fleming's at Fashion Island has a three-course brunch for $36.95 per person ($17.95 for kids) served from 11:30 a.m. to 3 p.m. that includes choice of appetizer, entree and dessert. And every father gets a $25 Fleming's gift card.
"We just did a Fleming's wine dinner, so we know how great the food is there," I said with a smile.
"I want their signature eggs Benedict with sliced filet mignon," stated Catherine. "Or maybe the brioche French toast with walnut crisp. But I love the special Father's Day cocktail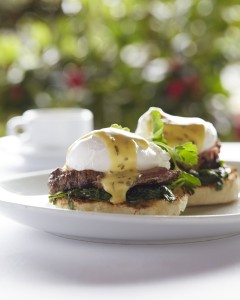 list."
"The blood orange mimosa has your name on it," I agreed.
For more information, visit FlemingsSteakhouse.com or call (949) 720-9633.
THE CANNERY
The Cannery offers their annual Father's Day Clam Bake from 10 a.m. to 3:30 p.m. An a la carte menu is available with a variety of starters ($9 to $16) and entrees ($16 – $42) plus the clam bake option: Maine lobster, mussels, clams, potatoes, sausage and corn, all steamed in Old Bay seasoning and beer ($50).
"Some interesting starters–clam chowder, oysters, crab claws, fried calamari, crab cakes," read Catherine out loud.
"And interesting entrees, but I think the clam bake special is the way to go."
"You do that, I'll have the brioche French toast or the eggs Benedict," said Catherine. "And the double chocolate tart with oatmeal stout ice cream and candied salted peanuts."
For more information, visit CanneryNewport.com or call (949) 566-0060.   
PELICAN HILL
We've dined several times at Pelican Hill and love their food, and ambiance. For Father's Day, Pelican Grill has a three-course a la carte brunch menu created by Chef Derek (prices vary), while at Coliseum Pool & Grill, Chef Marc presents an all-day brunch buffet for $58 for adults and $29 for children under 12. For more information, visit PelicanHill.com.
 PIZZERIA ORTICA
Located next door to the Segerstrom Center, Pizzeria Ortica is outside of Newport Beach but is notable because a special pork-centric menu is being served Fathers Day weekend, June 14-16.
Items are $13 to $23, and include bruschetta with braised ribs, risotto with pork stock, house cured pancetta, and sliced whole roasted ham. For details, visit PizzeriaOrtica.com.
Three More Dining Ideas
Brasserie Pascal has a three-course prix fixe menu ($32) served all day on Father's Day that includes grilled romaine Caesar salad, a surf and turf entree, and fresh peach cobbler with vanilla bean ice cream. And all dad's receive a complimentary martini and a $25 gift card. Visit BrasseriePascal.net.
Muldoon's has an a la carte brunch served 10:30 a.m. to 3 p.m., and dinner served 3 p.m. to 9 p.m. A variety of Muldoon's traditional favorites are available. The first 50 fathers through the door for both brunch and dinner receive a free Muldoon's baseball cap. Visit Muldoonspub.com.
And if your dad prefers grilling to dining out, check out the various barbecue gift packs at Savory Spice Shop in Corona del Mar. They have a variety of rubs and spices that work well on meats, poultry, fish, vegetables–just about anything you can grill. We tried them last week and were impressed with the various flavors they instilled on the meat. Visit SavorySpiceShop.com.