By Christopher Trela and Catherine Del Casale | NB Indy
 It's always fun for us to offer opportunities for fellow foodies to accompany us on dining excursions.
So, while Catherine was on well-deserved Cabo vacation, I solicited the palates of two friends – self-professed culinary connoisseur Kevin Williams and Indy columnists (and former professional chef) Shelly Zavala – to help review two top tier restaurants: Capital Grille in South Coast Plaza and Pinot Provence in The Westin, both ideal locations for pre-theater dining when attending Segerstrom Center for the Arts and South Coast Repertory.
 CAPITAL GRILLE
Despite enjoying drinks and appetizers in the lounge, I had never dined at Capital Grille. Neither had Kevin Williams, an actor and theater production specialist. We had both heard about the high level of service and superb cuisine, and were delighted to discover that everything we heard was true–and then some.
I'll let Kevin describe the experience: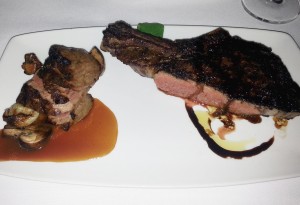 "Having had the pleasure of dining at some of the most notable restaurants in Manhattan, Napa, Las Vegas, and beyond, I must admit I was a bit giddy with anticipation at the prospect of dining at Capital Grille.
The Costa Mesa location at South Coast Plaza is comfortably furnished and carries the ambiance of a luxurious retro steakhouse, with neo-Craftsman style rounding out the decor. Elegant and classy while being unpretentious.
We opted to have our incredibly well-informed and gregarious server take us through our first Capital Grille dining experience by using our wine selection – the featured 2009 Arrowood Cabernet Sauvignon – as a jumping off point.
We began with Prosciutto Wrapped Mozzarella. Crispy, creamy, and utterly addictive. Paired with a fresh tomato salad and topped with a crisp cheddar crostini, it served as a wonderful introduction for what we were in store for from Executive Chef Derek Venutolo and his staff.
As an entree we shared the Sliced Filet Mignon with Cipollini Onions and Wild Mushrooms, and the Porcini Rubbed Delmonico, finished with a twelve year balsamic. Both were cooked to a perfect medium rare with a beautiful sear on the outside and seasoned to perfection, I can't recall the last time I've had such expertly prepared steaks anywhere in Orange County.
As if that weren't enough, we also indulged in the famous Capital Grille Lobster Mac 'N' Cheese.
Rounding out the meal we enjoyed the signature Fresh Strawberries: hand-made vanilla ice cream atop fresh strawberries and finished with the Capital Grille's very own Grand Marnier sauce. Add a glass of domestic sparkling white wine that carries sweet pear/berry notes, and it was the perfect way to finish off an exquisite journey of food and wine."
For more info, visit TheCapitalGrille.com
 Pinot Provence
Dr. Shelly Zavala writes the Indy's "Insights" column, but when I learned she had been a professional chef in her native New Zealand before coming to America and switching careers, I asked her to accompany me to Pinot Provence to experience the restaurant's spring menu, which is available for another few weeks.
Shelly's experience: 
"It is said that we eat with our eyes, and if that is true, visiting Pinot Provence, I was satisfied without even taking a bite from their beautifully crafted spring menu.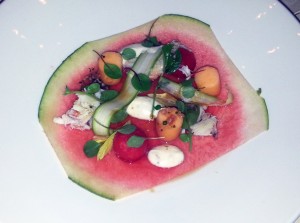 Their use of color, texture, and creativity set against the carefully thought out platters only magnified the beauty of the food. 
The crab and melon salad was embraced with the delicateness of coriander and port wine, while the halibut, which is featured on both their lunch and dinner menu, was superbly cooked.   
No detail was left undone, and the delight of each course was only enjoyed more with each mouthful.
The use of different colors, textures, fresh herbs, and produce clearly made the food stand out as a true food experience. The ambiance of old town France with large comfortable chairs make the experience one of authenticity and enjoyment."   
For more info, visit PatinaGroup.com.