By Christopher Trela and Catherine Del Casale | NB Indy
Sidedoor
We love brunch, so imagine our delight when we learned that SideDoor in Corona del Mar (adjacent to Five Crowns) was launching a new Sunday brunch experience they've dubbed "Sunday Sessions."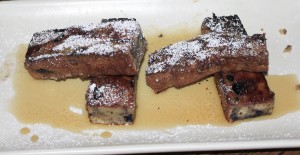 From 11:00 a.m. to 3:30 p.m. every Sunday, the stylish gastropub offers live music and DJs along with a menu that features pork belly hash, Green Eggs and Ham (a Dr. Seuss version of eggs Benedict), tomato scramble with chanterelles and roasted corn, confit duck drumettes, and other culinary delights.
"The sauce for the green eggs and ham is a vegetable puree with hollandaise," explained Executive Chef Greg Harrison. "I think it comes out nice."
Harrison noted that the brunch just started two weeks ago and will be going through an evolution, although some of the items – such as the blueberry bread pudding French toast – have become instant hits.
"We made some blueberry muffins one day and had blueberries left over, so we thought they'd be perfect for French toast," said Harrison.
He was right. When Catherine and I saw the French toast listed on the brunch menu, we immediately ordered it. We were not disappointed.
"The French toast has a light layer of powdered sugar and warm maple syrup drizzled over four perfectly cooked French toast sticks," said Catherine. "But it's only one of many interesting items on the brunch menu. I also like the live music–it's very avant-garde. It's a cool ambiance."
SideDoor has plans to feature local painters and photographers, as well as poetry slams, during upcoming Sunday brunches. For more information, call (949) 717-4322 or visit sidedoorcdm.com.
Table for Ten
What do you get when you take 25 chefs, put them in the ballroom of the Balboa Bay Resort, and let them each cook a multi-course gourmet meal tableside for 10 hungry diners?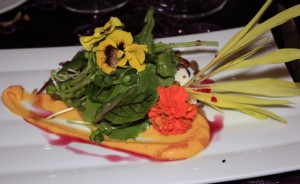 You get the Table for Ten Culinary event, held last month to benefit the Illumination Foundation.
We were invited to attend, and randomly were seated at the Center Club's table (the membership club adjacent to Segerstrom Center), where Executive Chef Lewis Butler concocted a dazzling six-course meal paired with wine that included heirloom tomato salad, pan seared John dory, a flowers and sprouts salad, sun choke soup, braised veal cheeks Oscar, and a trio of Center Club desserts.
Catherine's comments on the menu:
"The John Dory had the most amazing smoked duck ravioli and a parsnip puree, but the dish I was most impressed with was the Flowers and Sprouts. The dish itself was beautiful and I almost didn't want to eat it and disturb the artistry. Of course I got over this quickly and went to work. The butternut squash was full of flavor and went well with the goat cheese mousse. To complete the salad creation was a sweet hibiscus reduction that added some nice flavor without being overpowering."
The event raised more than $300,000 for the Illumination Foundation. It also served as a reminder of just how good the food at the Center Club is, thanks to Chef Butler.
For more information on the Center Club, visit clubcorp.com/Clubs/Center-Club.