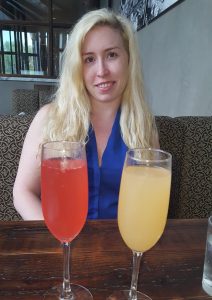 By Christopher Trela & Catherine Del Casale | NB Indy
Brunch at Settebello
This is the season for weekend brunch. Several local restaurants have added brunch menus to their culinary offerings, which usually means some fun and interesting twists on their normal dishes.
Such is the case with Settebelllo in the Crystal Cove Shopping Center. This Italian restaurant serves Napoli-style pizza, and is one of the first Associazione Verace Pizza Napoletana (VPN) certified Italian restaurants in the United States, ensuring that Settebello's pizza-making process follows the Napoli guidelines created more than 200 years ago in Italy.
This beautiful restaurant is light and open, with trees growing in the center. One side is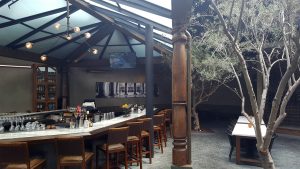 focused on dining, the other has a large bar with lounge seating.
We had not been to Settebello since it opened more than a year ago, so we were happy to be invited recently to sample the brunch menu, which is a departure from the regular menu yet still adheres to the Italian theme.
We started with bellinis—a classic for Christopher and a muso-bellini (with campari and grenadine) for Catherine.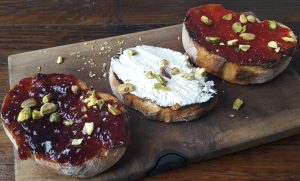 We began our brunch with an order of toast and jam: three crostini toasts topped with ricotta, strawberry and blackberry jam.
"This is a great antipasti to start with," said Catherine. "The toast isn't too soft or too crispy, and the jams are delicious."
"I agree, so much better than regular toast, and the flavors of the jam pop out," added Christopher.
Then it was on to the breakfast items. Catherine ordered the wood oven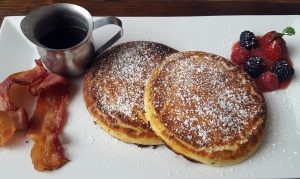 baked buttermilk pancakes served with fresh fruit, mixed berry coulis, toasted almonds, maple syrup, and two slices of bacon ($10). Christopher tried the avocado and fried egg crostini ($13). We also shared a Filthy V breakfast pizza with cracked egg, sausage, roasted fennel, red onions, mascarpone, mozzarella, basil and olio ($17).
"I've never had pancakes like this," stated Catherine after a few bites. "They're smooth in the middle with a nice little crunch on the outside. This really is a must-have. I can see myself going in for brunch once a week just to get these pancakes."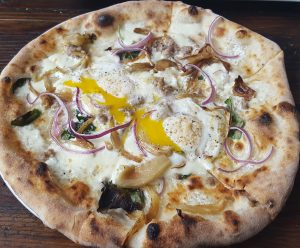 "Wow—might be the best pancakes I've ever had," said Christopher after stealing a few bites from her plate. "The flavor is perfect—love that they're baked, gives them a different flavor profile from traditional grilled pancakes. I also like my crostini, although they came out luke-warm, and even with the cold avocado on them they should be warmer than this."
The pizza was, as we expected, a perfect Napoli-style entrée.
Overall, the Settebello brunch was a fun way to combine American and Italian morning options. We can't wait to return and try more menu options (the Nutella French toast is calling our name).
For more information, visit Settebello.net.
"Newsies" Menu at Leatherby's
As writers we're drawn to anything related to journalism (hence our annual trips to Hearst Castle), so we were pleased when Segerstrom Center added Disney's 2012 musical "Newsies" to its season.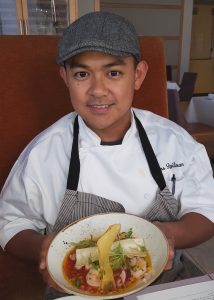 Based on the 1992 Disney movie, "Newsies" is set in New York City at the turn of the century and tells the story of a ragged band of young newspaper sellers dubbed "newsies." When publishing titans Joseph Pulitzer and William Randolph Hearst raise distribution prices at the newsboys' expense, the newsies go on strike.
The show is inspired by the real newsboys strike of 1899, when orphan and runaway newsies went on strike for two weeks.
For us, attending a musical at Segerstrom Center means dining at Leatherby's Café Rouge and enjoying Chef Ross Pangilinan's prix fixe themed menu.
His menus always match the theme of each musical, with ingredients that adhere to the concept.
For his "Newsies" menu, Chef Ross noted that since the lead character is always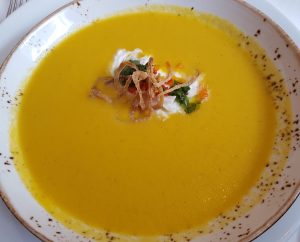 singing about going to Santa Fe, he created a shrimp and octopus cocktail with guacamole and yucca chips.
"Since most of the show takes place in New York, we're also doing a seasonal soup of yellow tomato gazpacho with burrata cheese and crispy shallots," explained Chef Ross. "My brother lives in Brooklyn, and when I stayed with him he took me to an Italian restaurant what was serving ravioli, so for an entrée I made a sweet corn ravioli with seasonal ingredients and lime brown butter and hazelnuts. We also have a dish called 'That's Rich' of salmon with herbed risotto."
"Chef Ross has created another amazing themed menu," said Catherine. "I really enjoyed the sweet corn filled raviolis with large fresh peas and hazelnuts. It was sweet and salty, soft and crunchy, all at once."
"I agree, this is a decadent treat with the brown butter," said Christopher. "But I also loved both of the appetizers—the gazpacho is a dish that Chef Ross does so well, and the octopus and shrimp cocktail was beautiful. The salmon is perfectly prepared, and the asparagus looks and tastes fresh."
We ended with the bread pudding and house-made ice cream. Christopher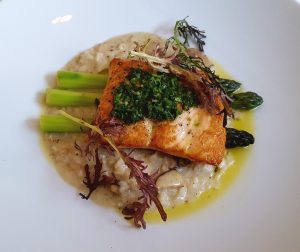 brought a bottle of Tobin James Reserve Primitivo along for dinner (Leatherby's has no corkage fee, a rarity at restaurants these days).
The prix fixe menu is $47 per person (add $21 for wine pairing).
After dinner we strolled next door to Segerstrom Hall and enjoyed "Newsies." The show is a classic "feel-good" musical that actually has some depth to it, plus some terrific dancing by the mostly male cast.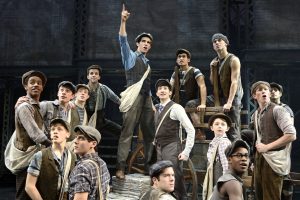 "I really enjoyed Newsies," said Catherine after the show. "It was different from other shows I've seen in that it combined athletic upbeat dancing, a nearly all male cast of young performers, and a historic storyline, all in a show that young children and adults can understand and love."
"I thought the choreography was amazing, and the performers were spot on with every leap, turn and flip," she added. "I was sucked into the storyline and plight of children in 1899 and the early 1900s when unionization and child labor were at the forefront, but the show never felt heavy. I highly recommend bringing the entire family to this show."
For information on Ledatherby's Café Rouge, visit PatinaGroup.com.
For tickets to "Newsies," which runs through May 29, visit SCFTA.org.
Jazz Dinner at Back Bay Bistro
Love jazz? How about a dinner and jazz deal from Back Bay Bistro at Newport Dunes?
On Thursday, May 26, Back Bay Bistro Jazz Dinner Series presents "Bebop Explosion" featuring Charlie Arbaelaz (sax), Matt Hall (trombone), Max Haymer (keybords), Henry Franklin Sr. (bass), and Marvin "Smitty" Smith (drums).
Tickets for the dinner and show are $35. Dinner service is 6 to 9 p.m., concert starts at 7 p.m.
Dinner includes starter, fresh seasonal seafood or filet mignon, and dessert. Tickets for just the show are available for $20, but why not spend an extra $15 and enjoy dinner too?
For more info, visit newportdunes.com.