By Christopher Trela and Catherine Del Casale | NB Indy
Everyone likes pizza, but Catherine really likes pizza. A self-professed pizzaholic, Catherine could happily eat pizza every day.
So imagine her delight when we were invited to Pitfire Pizza on 17th Street in Costa Mesa to sample their pizzas and other Italian concoctions.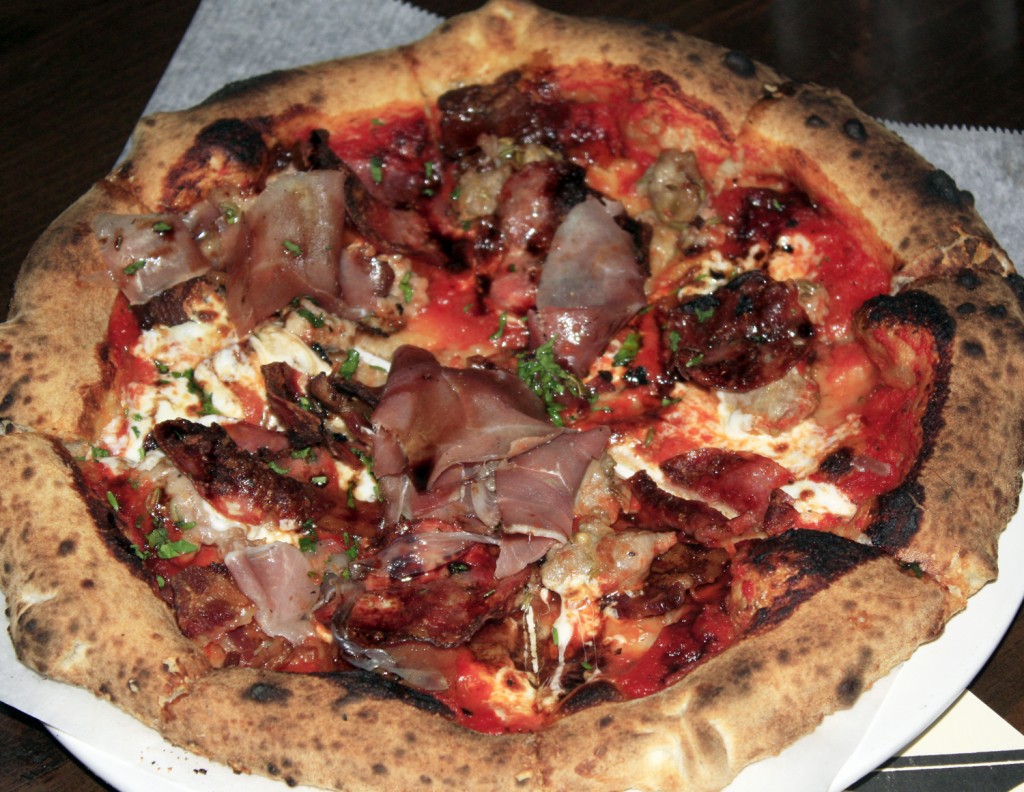 Pitfire makes their own dough in house, and bakes the pizza in a large pizza oven, resulting in distinct artisan pizzas that have been drawing praise from customers who pack the place every night.
Catherine had so much fun at Pitfire that we'll let her describe the experience:
Pitfire Pizza may seem like your ordinary pizza place but it has an array of other delicious items in addition to their artisan pizzas. One of my favorites was their Farmers Market Vegetable Platter ($10), which had roasted asparagus, tomatoes, faro, cucumber, snap peas, shaved zucchini and fresh mint.
An item that had a fresh twist was their Hand-Crafted Chicken Meatballs ($9.25). I was a little unsure at first about having chicken meatballs over the traditional beef, but the roasted and braised chicken was delicious, and the flavor was emphasized with a light tomato sauce.
The pizzas are in a category of their own, piled with the freshest ingredients on a nice crisp crust. My favorite was the Sausage Party ($11.95), which had Huntington fennel sausage, Zoe's bacon, salami & prosciutto, tomato sauce, fresh mozzarella and balsamic drizzle. All of the meats were great but what really brought everything together was the light sweetness added from the balsamic.
Another favorite pizza was The Burrata Pie ($9.95), which had tomato sauce, caramelized onions,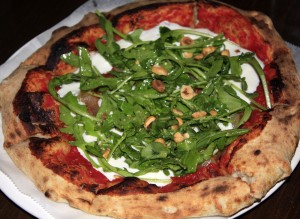 Burrata cheese, wild arugula, hazelnuts, and pesto drizzle.
What I really enjoyed about Pitfire's pizza was their attention to topping versus surface area ratio. They played with no more than four toppings and made sure that they didn't overwhelm the cheese and crust of the pizza, which left you with the perfect slice of pizza.
Your night doesn't have to end with diner, because Pitfire has opened up their very own Speakeasy fittingly named Pie Society (the restaurant is in a former Marie Callender's). A wall slides open in the back of the kitchen to reveal a fully stocked bar where you can order a variety of concoctions. I had the Pool Side: a blend of Ford's Gin, watermelon, lemon juice, Plymouth Sloe Gin and a cucumber slice. It reminded me of a summer day by the pool.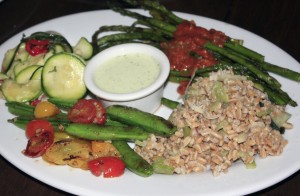 Pie Society also has their own signature menu with Superba fried chicken, pizza, cheeseburger hot pockets and more ($8 – $13). My favorite was the tater tots with chorizo fondue ($7)–after all, who doesn't love warm crispy tater tots?
For more information, visit PitfirePizza.com.