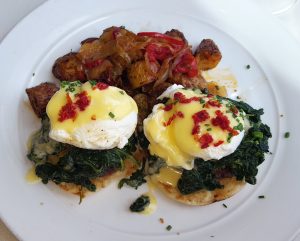 By Christopher Trela & Catherine Del Casale
The Winery Brunch
We've been waiting and hoping for The Winery Restaurant & Wine Bar on Coast Highway to add a Sunday brunch to their dining options.
After enjoying success with Easter and Mother's Day brunch, The Winery has indeed introduced a new brunch menu available every Sunday from 11 a.m. to 2 p.m.
This the only time you can enjoy a daytime view of Newport Harbor from the restaurant's dining rooms, and it's the only time you can savor the sensational brunch menu created by Executive Chef Yvon Goetz.
Christopher treated his mother, Virginia, to Easter brunch and Mother's Day brunch, and was able to try some of the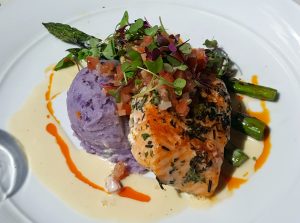 menu items available on the new Sunday brunch menu.
His favorite is the zinfandel braised beef shortrib hash & fried eggs with duck fat-roasted fingerling potatoes and roasted cauliflower, although The Winery eggs Benedict came in a close second.
Virginia said the salmon with purple potatoes was probably the best she's ever had. Other options include Almond Croissant Crème Brulee French Toast with fresh berries, applewood smoked bacon and a berry-zinfandel syrup.
"Since opening our second location on the waterfront in Newport Beach, we have created quite a stir by successfully pairing contemporary California regional cuisine, with a hip, vibrant, sophisticated setting, to create a cutting-edge dining experience," commented JC Clow, founding partner of The Winery Restaurant & Wine Bar. "Now, we take things on step further by introducing a relaxing Sunday Brunch with exquisite service, an incredible wine program, and a warm and passionate brunch menu orchestrated by our award-winning Chef Yvon Goetz."
Indeed, The Frenchman (as Clow calls Goetz) has made this Sunday brunch a memorable and delicious treat.
Sunday brunch is $39.95 and includes a choice of six starters and seven entrees. For more information, call (949) 999-6622 or visit thewineryrestaurant.net.
 Balboa Bay Resort Wine Fest
Back for its 13th year is the Balboa Bay Resort's Newport Beach Wine Festival, held May 27 to May 29. The weekend includes five distinct events, from a grand tasting to exclusive wine dinners.
"We are looking forward to our thirteenth annual wine festival event and welcoming resort guests, Balboa Bay Club members, and our local community to the resort to experience an extraordinary wine and food experience," said Sam El-Rabaa, general manager of Balboa Bay Resort. "Along with the recent renovations to our beautiful resort, we are very excited to introduce some modern twists and fun experiences during this year's annual weekend of exceptional wine and food."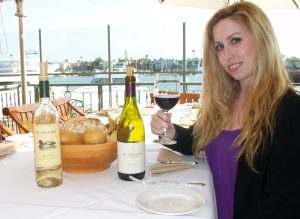 Among the twists: a wine-themed cooking class and communal lunch, and a pre-grand tasting reception and harbor cruise aboard Seaforce1, the resort's new yacht and floating event space. Gone are the daytime seminars and the Sunday barbecue on the bay—that has been replaced with a champagne brunch featuring Champagne Nicolas Feuillatte, fresh seafood, oyster bar, sashimi, sushi, omelet bar, carving stations and much more. Live jazz will be performed throughout the course of brunch.
For details on the events, visit BalboaBayResort.com or call (949) 630-4146.