By Christopher Trela and Catherine Del Casale | NB Indy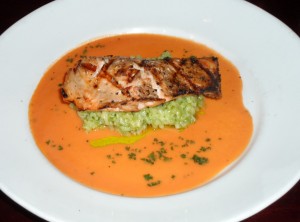 We try not to play favorites when writing this column, but like most people, we have certain restaurants that we consider our "go-to" dining spots.
One of those is Brasserie Pascal in Fashion Island. It offers everything you could want in a restaurant: delightful décor and Parisian ambiance that's bright and cheery by day yet soft and moody at night, superb French cuisine with a touch of California thrown in, efficient and knowledgeable servers, and of course, chef/owner Pascal Olhats, a longtime fixture on the local dining scene.
Chef Pascal's menu at Brasserie is authentic, and reasonably priced, which is what a brasserie should be. In addition to his regular selection of decadent dishes, Pascal offers a three-course prix fixe menu for $19 (worth twice what you pay). And, as of this week, he's launched a new Sunset Menu available daily (except Saturday) 4 to 6 p.m.
The Sunset Menu offers a choice of two entrees for $13 each: grilled filet mignon with Gruyere potatoes au gratin and lightly buttered asparagus topped with Pascal's secret herbs sauce, and grilled salmon served over a bed of basil-pesto risotto and tomato coulis sauce.
Catherine and I sampled the Sunset Menu and ordered one of each, plus a concoction called "Not Your Daddy's Manhattan" for me and a French margarita for Catherine.
Catherine's notes on the Sunset Menu:
"As per usual I went with the filet mignon, which was paired with Gruyere potatoes au gratin (a favorite of mine) and asparagus and carrots. The dish was topped with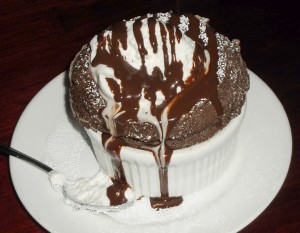 Pascal's secret herbs sauce, which I mopped up with their bread.
I couldn't help myself and had to try some of Chris' dish as well. The salmon had a great crisp exterior and soft interior. It paired nicely with the basil-pesto risotto and tomato coulis sauce. The risotto was cooked perfectly, it was firm but soft, and had just the right amount of pesto flavor.
We were given a choice of five different Sunset wines and cocktails. I decided to try the French margarita, since I love a bilingual drink. The added splash of orange juice gave the margarita a fresh taste and healthy twist."
We ended our meal with a Pascal tradition: chocolate soufflé with crème fraiche and chocolate sauce drizzled on top. A delicious end to a delicious meal.
Next week, Brasserie Pascal is the site of a new monthly Libations for Literacy promotion to benefit Literacy Project Foundation. On Wednesday, March 27, four guest bartenders (Vanessa Moore of Hyatt Regency Irvine, Brett Lawrence of Rancho LAs Lomas, Danielle Drucker of OC Public Relations, and Dan Korpman of Anfield Capital Management) will compete in a Celebrity Bar Battle to see who can collect the most tips during their hour behind the bar. All tips go to the selected charity.
New guest bartenders (including Catherine and I) will be behind the bar in coming months.
For more information on Brasserie Pascal, visit BrasseriePascal.net or call (949) 640-2700.