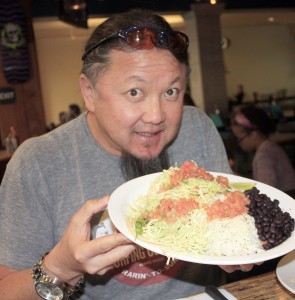 Number two fish taco combo.
That's my normal order whenever I have a craving for Wahoo's Fish Tacos. Like most locals, I have that craving a lot. I've been enjoying Wahoo's for more than two decades; it's one of those go-to places where everything on the menu is always fresh, tasty and satisfying.
Hard to believe that Wahoo's just celebrated its 25th anniversary. They've gone from a single store tucked away on a side street in Costa Mesa to more than 60 stores in seven states.
So what's the secret to their success?
"Treat employees well and serve good food," stated co-founder Wing Lam when I had lunch with him recently at the Wahoo's in Fashion Island. "They're your first customer. If they're not happy, they will not give the love to the customer, because it's half customer service and half food."
Lam should know–he's been in the food business since he was a kid working at his parent's Chinese restaurant in San Paolo, Brazil. He and his brothers, Ed and Mingo, could often be found cleaning tables or washing dishes.
"I used to stand on boxes to reach the counter and wash dishes," recalls Lam. "We'd prep food, clean, whatever needed to be done."
His parents eventually moved to Orange County and opened the famed Shanghai Pine Garden Chinese restaurant, which is still a fixture on Balboa Island. The brothers continued to help their parents in between playing baseball and honing their surfing skills.
While on surfing trips to Mexico, the brothers discovered a local food staple: fish tacos. So, when the brothers decided to open their own restaurant, they combined their love of fish tacos and their love of surfing, added Brazilian and Asian dishes as a reflection of their heritage, and created Wahoo's–named for the fish found in tropical waters.
So what was on that first menu?
"Fish, chicken, steak, and pork tacos, plus sandwiches and burritos," says Lam. "Little by little we added mushrooms, shrimp, white beans, and brown rice. We came up with different sauces. Ninety percent of the menu is still the same."
Lam noted that the number two combo I was enjoying is the most popular item on the menu, and no wonder–two tacos or enchiladas (I prefer the traditional grilled fish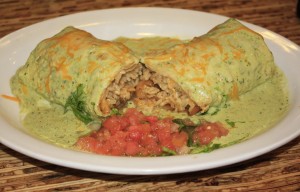 taco), rice and beans. The portions are generous and the food delicious.
They've added some new menu items that Lam had me try, including a giant concoction called a three minute burrito–although it takes a lot longer than three minutes to eat.
"What motivated you to expand from that first store in Costa Mesa," I asked Lam between bites.
"We followed our customers–wherever they went, we went," explained Lam. "We opened a second store in Laguna Beach, and then people would say they were tired of driving from the east side of Costa Mesa so we opened a location on Bristol, then Huntington Beach, Lake Forest, Tustin. We followed our customer base, that's all we did."
The Fashion Island location is a more recent addition to the Wahoo's family, and is the first Wahoo's in California to boast a full bar.
So what's next for Wahoo's?
"Japan," stated Lam. "They will have our first overseas restaurants. The owner of Buddha's Favorite Sushi near The Cannery Restaurant in Lido lives part time in Japan, and he bought the franchise rights to Japan."
Lam, who attended Estancia High School and lives on the Balboa Peninsula, still gets up early to go surfing, although he admits his surfing schedule has had a few interruptions lately, thanks to the 25th anniversary celebrations and media attention.
"I've been bouncing all over town–I've not had to chase the media down," he says.
To celebrate its 25th anniversary, Wahoo's has a special promotion for anyone who dines at Wahoo's on the 25th of every month. For details, visit Wahoos.com.