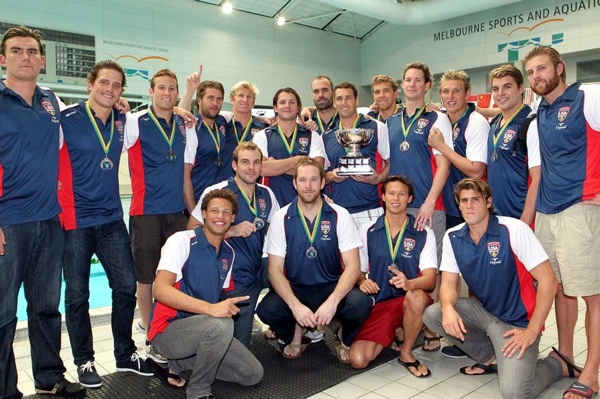 It's an exciting weekend in the world of water polo in Newport Beach.
Three Olympic men's teams, including the USA team, will gather and compete at Newport Harbor High School for a pre-Olympic showcase. The other teams are Hungary and Croatia.
"[Spectators] will see some of the best players in the world here," said Robert Lynn, assistant coach for the US Men's Senior National Team. Lynn also coaches water polo and swimming at NHHS.
"It's great athletes against great athletes, all with a high level of experience in playing," Lynn said.
It's an honor to have all three teams here in Newport Beach, he added.
"This is a great opportunity for Newport Beach, to see the sport at such a great level," Lynn said.
"With the rich tradition and history of water polo in the city of Newport Beach, it is fitting that the Olympic pool at Newport Harbor High School serve as the backdrop to these prestigious games taking place over the Memorial Day weekend," the event website states.
Gates will open at 5 p.m. on Saturday and the team will begin to warm up. An opening ceremony will be held at 5:40 p.m., including a welcome speech by Mayor Nancy Gardner.
Other activities over the weekend include a water polo clinic on Monday, Water Polo dinner on Saturday, team and coach introductions, VIP's food trucks, music, and more. Tickets to all or any of these events can be found online at usawaterpolo.com or olympicshowcasenewportbeach.com.
The matches will be spread out over the holiday weekend: Saturday at 6 p.m. between USA and Croatia, Sunday at noon between USA and Hungary, and 5 p.m. Monday between Hungary and Croatia.
The USA-Hungary game will be broadcast live by NBC Sports Network on Sunday.
"It should be an exciting event for the community to come out and enjoy," Lynn said.
The team needs and wants their support, he said. Getting the audience fired up and cheering gives the players motivation, and they need that, not just for this weekend, Lynn said, but for London as well.
It's going to be high-level event, Lynn said, and will be one of the last portions of training domestically before the team starts traveling.
This weekend will also help him and the other coaches evaluate where they are at as a team, what needs to be improved upon and even a few cuts to make.
"This is the last chance for some of these guys to perform," before the cuts are made, Lynn said, and there are so many great players, "it's a really tight race with a lot of guys."
They have been training since about the end of December, he said.
This will be a challenging weekend and a good match to watch, Lynn said. These are good teams, he added, Hungary won the gold at the last Olympics in Beijing, just beating out the US team, and just two years ago Croatia won the European championship.
"They're two good sparring partners," he said. "It's the perfect opportunity for us for training and for competition," since they'll have to face both teams at the Olympics in order to win the gold.
He began as assistant coach for the Men's Senior National Team in late 2007, helping train the team for about six months before the Olympics in Beijing. The USA team ended up taking home the silver medal.
"It was an incredible experience," he said.
It was a huge accomplishment, Lynn said.
And soon enough they'll be headed off to London for this year's Olympic games.
Now, "we have another chance to try and bring home the gold to the United States," Lynn said.
"We have our work cut out for us," he added.
And they are more than up for the challenge, Lynn said.
Lynn also played water polo professionally for more than a decade. He was on the USA Senior Men's National Team from 1989 through 2003, including the 2000 Olympic Games in Sydney.
He started as Newport Harbor's coach last May and is encouraging all his students to participate this weekend.
Students can learn a lot by coming out and observing the games as well, Lynn said.
"I remember when I was a little kid and these are the best moments, watching these guys play… Seeing how they play, their agility, their efficiency," Lynn said. "I hope all the clubs and young kids in the area come [to the event] and take as much away as they can… Watch it as an educational component as well as fun."
The games this weekend will be a good opportunity to see the sport at its best.
"It's an art form," Lynn said, and "it's very rare we get to see it (at this high level) here in the United States."
It's an honor to have this high-level of an event and athletes at Newport Harbor and in Newport Beach, Lynn said.
"I'm very happy to be able to bring this to the table for Newport Beach," Lynn said. "It's one way I feel like I can give back to the community."
For more information, visit usawaterpolo.com or olympicshowcasenewportbeach.com.