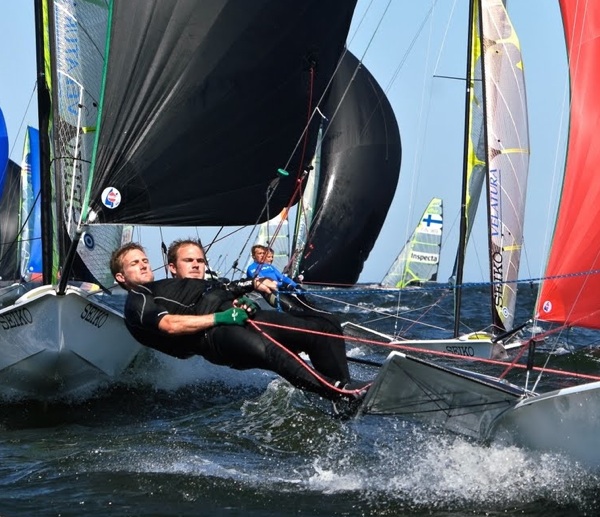 The following is a Newport Indy exclusive, a first-hand account from Alexander "Zander" Kirkland about his 2012 Olympic campaign.
Kirkland has been living in Newport Beach since 2008. He is the former junior program director at the Newport Harbor Yacht Club, and was the sailing coach for Newport Harbor High School in 2008-2009 when they last won the High School National Championships.
Last week Kirkland and his brothe,r Jess,e qualified to represent their home country of Bermuda in the 49er class at the London Olympics. Kirkland is currently the only local sailor heading to this summer's Games.
The brothers from Bermuda will be one of the underdog teams in the 49er Class, but with both brothers being top former junior and collegiate sailors, they definitely have the talent to pull off an upset.
 – John Drayton, Senior Sailing Editor
By Zander Kirkland | Special to the Indy
After two years of full-time skiff sailing, we qualified for this summer's Olympics at the 2012 World Championships in Zadar, Croatia!
We put together a great event in Zadar and ended up 9th Overall (6th Country) and the top country for the final five country spots. It has been a huge project between the unforgiving learning curve in the boat, the logistics and the fundraising. It would not have been possible without our backers from Newport Beach and Bermuda.
These past few years have been the hardest challenge I have ever come up against, but the journey has been rich and I recommend to all junior sailors to leave your comfort zone and pursue your passions. Set your goals high and work towards them and don't listen to the naysayers – they will always be there! An inner belief in the success of the mission has to be incorporated to your philosophy to get you through all the trying times that are associated with an ambitious ideas.
Remember, if it was easy, everybody would be doing it!
World Championship Summary
The World's was an intense regatta. We were among 17 countries vying for the final five spots, and there were many deserving teams who had a good shot. Our goals for the event were to try and focus on sailing a good world championship and avoid getting too absorbed in the qualification hunt. We knew if we sailed to our potential, we had a good shot of making the Olympics.
We started the event off with a great day, had a solid second day, and finished off the qualifying series with a superb day with lots of pressure from the other qualifying boats behind us.
In doing this, we qualified for Gold Fleet for the second time ever (first time at the World Championships) and qualified for this Summer's Olympics.
In Gold Fleet, the pressure was off and we just wanted to go out there, learn as much as possible and fight to hold onto our Top 10 position from the qualifying series.
The racing is extremely tight in this fleet, with the boats moving at very similar speeds. The racing was unforgiving and teams needed to be on top of their trim, tactics and boat handling. Our goal was to try and average top 12s.
Our first day started a little rough, but we learned from our mistakes and went fighting into day 2 of Gold Fleet. Day 2 probably goes down as our best results ever in the 49er: We won the first race and got third in the second one. We had great speed, sailed smart, kept our head out of the boat and dominated those first two races!
Unfortunately we got black-flagged (BFD) in the final race, but we still moved up to 4th overall with one day remaining.
The last day was the lightest of the event, and with the black flag in our scoreline, we knew it would be a tricky day to manage. We had to start conservatively because we could not afford another BFD, and this hurt us. Not having a lane off the start was hard in these conditions, and we were always playing catch-up.
We still qualified for the Medal Race because some of our competition also had issues with the breeze, and that was an amazing feeling! Two years ago, at the 2010 World Championships, we were second-last overall and this year we were battling against the top 10 in a this double-weighted spectacle race. It was our first medal race in the class and we were honored to be on the water with those teams. We had a tough start and never really got back into the race, but it was good enough for 9th overall. Our new sail number until next year's World's is BER 9!
By that Saturday (the sixth day) it had already been an extremely long week and we were pretty mentally shot. We will be aware of this come the Olympics and hope to stay mentally disciplined through the long Olympic Regatta so we can finish on a strong note in August.
Looking Forward: The Olympic Regatta
We have a month of training at the Olympic venue (Weymouth, England) before the Games start and will be doing our best to get acclimatized to the local conditions. We have spent a combined five weeks there in the past few years and can attest to it being pretty exposed and chilly over there.
That said, no one know really knows what we will actually get because of the active weather pattern associated with the British Isles. We want to be prepared for all conditions and since we have spent the majority of this past spring sailing in moderate, Mediterranean thermal breezes, our focus from here on out will be in dialing in our "breeze" boat handling and speed settings.
The 20-boat Olympic fleet (one boat per country) will be very similar to the college fleets we have sailed in for hundreds of races combined between the two of us. It is also similar to Gold Fleet, which we can attest to being a very tight group, which is unforgiving to mistakes and hard to be consistent in. We hope our college sailing background, which put an emphasis on consistency will help us sail a disciplined regatta.
With the Olympics, we will try and leave all the distractions at the Opening Ceremony – which will be two days before we start – and just focus on sailing a good  event. As relative newcomers from a small nation, we hope the pressure will be levied square on the more established teams and we can go out and just worry about our sailing and make Bermuda and Newport Harbor proud!