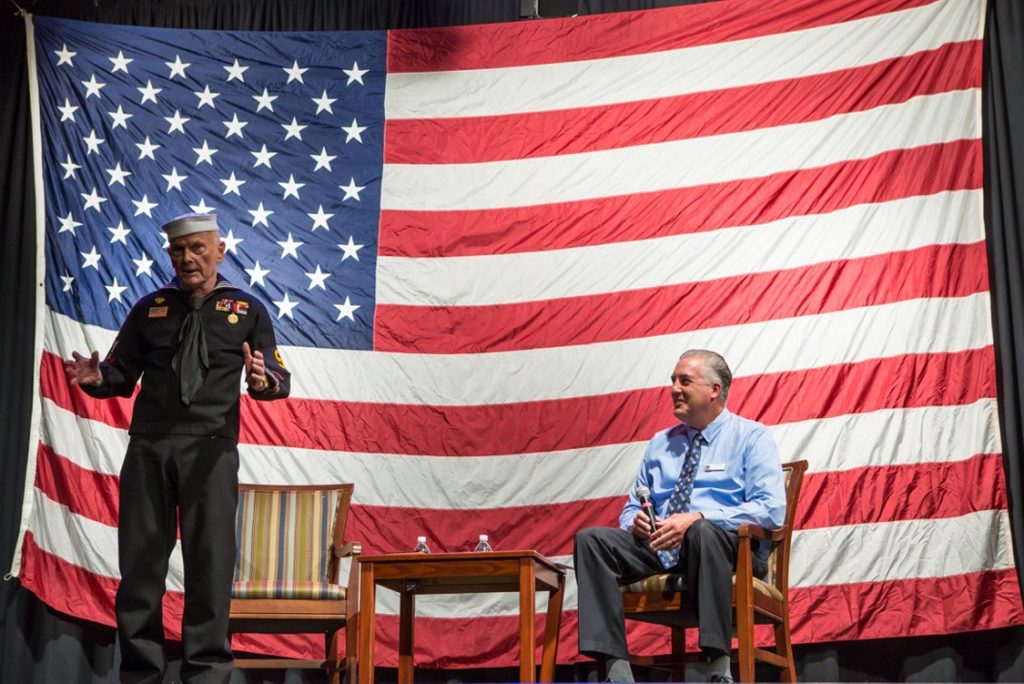 American flags welcomed over 200 veteran and grandparent guests who attended the 14th annual annual Veterans Day Observance at Mariners Christian School (MCS).
During the breakfast, Troy Moore, Head of School, welcomed everyone and asked veterans and active duty military to stand and share briefly.
Those who spoke thanked the school for the recognition and honor, but besides sharing personal stories, they also applauded the love of God, love of country, and commitment to quality education they see in the faculty and students at the school.
"I'm not here to talk about me," said MCS grandparent Bob Trevett, who was in the Navy in 1965 and served in Vietnam. "I feel like we're on the cuffs of new patriotism in this country, it seems like maybe we're finding our way again."
After breakfast, the all-school event began with patriotic songs, Posting the Colors, prayers, the Pledge of Allegiance, and a video of the Memorials the eighth grade class visited on their trip to Washington D.C.
All divisions of the Military were represented and acknowledged with heart-felt applause. Veterans in attendance hailed all the way back to four men who served in World War II. Sue Celek, Community Connector, highlighted MCS Alumni in the Military.
MCS hosts student-organized pancake breakfasts to raise funds to help veterans. This year the school is partnering with the Lyon Air Museum by adopting a Douglas C-47 Skytrain ("Willa Dean") plane for a year.
ASB student representatives presented a donation check for $7,420, including $2,420 raised from the pancake breakfast, to a museum representative.
The annual Dr. Ben Friedman Leadership Award was presented to MCS parent Dwight Hanson, who was a corporal in the United States Marine Corps and served in Operation Desert Storm. Dwight has befriended scores of Veterans and encourages Pearl Harbor survivors and other aging veterans.
Students and adults alike were delighted with the appearance of "Walter's Honor," a service dog MCS students adopted through Freedom Dogs, a non-profit organization providing service dogs to military who may be struggling with PTSD. "Walter's Honor" is trained and ready for assignment to one of our nation's veterans.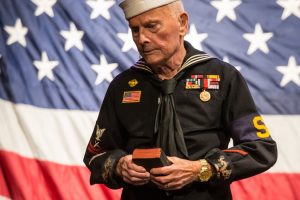 The keynote speaker was World War II Veteran Jack Linscott, a retired Gunner's Mate 2nd Class with the United States Navy.
Mr. Linscott served on the USS Finch during the mission to rescue and bring home POW's from the Formosa Prison Camps at the close of the war.
His list of service activities in the war also include: Armed Guard, Pacific; Hunter Killer Group, North Atlantic; USS Matsonia, USS Cape Mears and serving in the campaigns Saipan, Tinian, Guam, Marshall Islands, and the Battle of the North Atlantic.
Todd Perkins, Chief Administrative Officer, interviewed Mr. Linscott, who spoke about his life and his time in the Navy.
"This uniform is 70 years old. I'm 22 years older than it is," he said. "It's in better shape than I am. When you look at me, I don't want you to see me, I want you to visualize every veteran. I'm speaking for all veterans. This Bible I'm carrying was with me all through my service. It's over 70 years old, though the message inside is far older than that. But it's the perfect message for everybody. Thank you, it was a great honor to be here."
Mr. Moore closed out the program with a prayer for our nation, prayer for our current President, and prayer for our President elect.
Just before being dismissed, everyone sang "God Bless America."
The annual Veterans Day program is possible through generous underwriting from Rancho Mission Viejo and the Clayton family.
For further information, visit marinerschristianschool.org.
Cindy can be reached at [email protected].