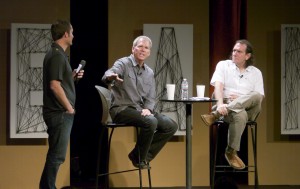 What did God specifically create you for?  How does God want to use the story of your life to make a difference in the world?
These are just some of the many questions that nearly 800 people spent the afternoon exploring recently at "The Dream Event: Discovering Your Story," held at Mariners Church.   
It was an interactive experience, with up front presentations as well as round table discussions. The two main speakers were Kenton Beshore, Mariners senior pastor, and Dr. Dan Allender, psychologist, author and speaker. Mariners pastor Kyle Zimmerman moderated. 
"You came because you have a burden, a passion, a sense that God wants to do something in your life," Zimmerman said. "We truly believe God is among us, inviting each of us to co-author our stories with Him, and revealing in part how He has uniquely created you to fearlessly change the world in which you live."   
The speakers emphasized that God designed everybody uniquely with valuable and important contributions to share with others, and that includes failures as well as successes in life.
"Our brokenness is the playground where God can redeem us and where we can join others," Dr. Allender said. "None of us choose our dreams, our dreams have chosen us; they arise out of our brokenness to create beauty."
"Our story is truer than any other reality we know, and each of us must discover the meaning of what God has written as our life story," he continued. "God is not merely the creator of life, God is also the author of our lives. You reveal something about God that nobody on the earth ever has or ever will."
Dr. Allender said you can tell you're on the right path to knowing your dream if you have energy and passion for something, if an activity feeds your soul, and you feel joy in doing it.
"It's where you find you heart saying, 'This is what I was made to do,'" he said.  "Whatever you do, create beauty where there is none. Overcome the fear of honesty about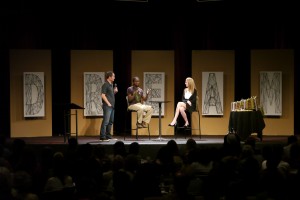 your story by realizing we're all afraid somewhere. Healing comes when we share; start small with a safe group. It takes a lot of energy to hold pain and secrets in. The degree in which we refuse to wrestle with our story is the degree in which we allow others to write our story for us."
Beshore emphasized the value of telling others about our experiences with many different treasures in our life: marriage or divorce; our unique opportunities- that worked for or against us;  money – or lack thereof; family, work or legal conflicts; spiritual lessons- positive and negative; children- lack of, loss of, positive and prodigal experiences; organizations or companies we've built or that have gone bankrupt.
"You may be embarrassed by failures," Beshore said. "We think the best stories to share are ones of success, but they don't teach you some of the most valuable lessons; we learn more from the failures and the pain. God is greatest in those moments. Don't try to be more than you are, but don't try to be less than you are, be all that you are because God has given you a one of a kind treasure chest."
"Believe that all your stories, even the ones you try so hard to keep buried, have beautiful lessons to pass on to help others," Kenton continued. "Jesus taught that we are all accountable for what we have been given. The value of a life is always determined by how much is given away"
 To learn more or view a video of the event, go to marinerschurch.org/dreamevent.
Cindy can be reached at [email protected].