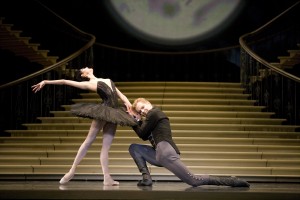 Spring fever and youthful enthusiasms go together like, well, ballerinas and pointe shoes, especially for two passionate Newport dancers who can't resist juggling demanding school schedules with studio rehearsal time in the pursuit of an art form that brings them the joyful satisfaction of a job wonderfully well done.
One of those dancers is Megan Yamashita of Newport Coast, who performed last weekend in Festival Ballet Theatre's production of "Swan Lake" at Irvine Barclay Theatre.
Set to Tchaikovsky's elegiac score, the four-act classical ballet, which tells the tale of Swan Queen Odette and her doomed love for Prince Siegfried, features guest artists Yuan Yuan Tan and Tiit Helimets, principal dancers from San Francisco Ballet, in the lead roles.
"It's a huge production," says Yamashita, who dances in both the Pas de Trois and the Neopolitan. The 21-year-old college student first experienced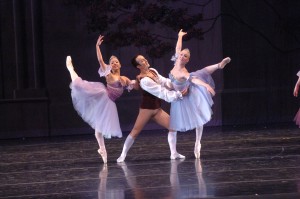 "Swan Lake" when she was thirteen years old and danced in the corps de ballet.
"I was watching the video recently and didn't realize how young I was. Neopolitan is very upbeat; I love the music and get to dance with the tambourine, which is a little bit more difficult musically. It's a really exciting and vibrant piece, actually" she recalled during a recent phone interview.
"Salwa (FBT artistic director) trusted me a lot; it's a big role and it's nice to do it again. I'm more mature this time and a lot stronger, obviously," she continued. "Salwa's productions are so amazing and the opportunities she gives us are so incredible. She trusts us with these parts, working alongside these huge stars. The fact that we get to do this and dance in real productions that big companies do, it's amazing!"
Coming up on Saturday, April 4, Maple Youth Ballet presents the return of Artistic Director Charles Maple's "Alice in Wonderland," also at Irvine Barclay Theatre.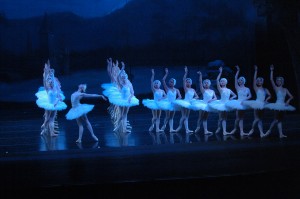 Based on Lewis Carroll's famous stories "Alice's Adventures in Wonderland" and "Through The Looking Glass," the production features a score ranging from Tchaikovsky to Glazunov, Maple's original choreography as well as special effects.
Newport Beach dancer Camille Kellems, following up on her role as "Sugar Plum Fairy" in the company's December production of "The Nutcracker," takes the stage as Alice.
Deftly juggling rehearsals with her senior project at Corona del Mar High School, Kellems says that she relishes her new role.
"It's easier for me this time," she admitted during a school break. "Sugar Plum Fairy was more regal, but Alice is more relatable for me. She's developing her maturity as the ballet goes on. At the end, after she goes through all of her adventures in Wonderland, you see the difference in her relationships."
"I think about how curious I am, and putting myself in this crazy dream world. It's obviously not your typical everyday life!" she reflects. "We did this production four years ago, and I understudied Alice then. The most stressful thing is keeping my endurance up, my stamina."
"It's a kind of cliché, saying that dance is a way for me to express myself," she continues. "But it really is. It's a wonderful art form, graceful, and pretty to watch. However, you have to have the endurance of a major athlete and the confidence of a lead actress. This production has been an amazing journey; I think you can really feel the joyfulness!"
The Maple Youth Ballet performs Alice in Wonderland at 1:30 p.m. and 6:30 p.m. on Saturday, April 4 at Irvine Barclay Theatre. Tickets are $28 to $33. For tickets and information call (949) 854-4646 or go to thebarclay.org.