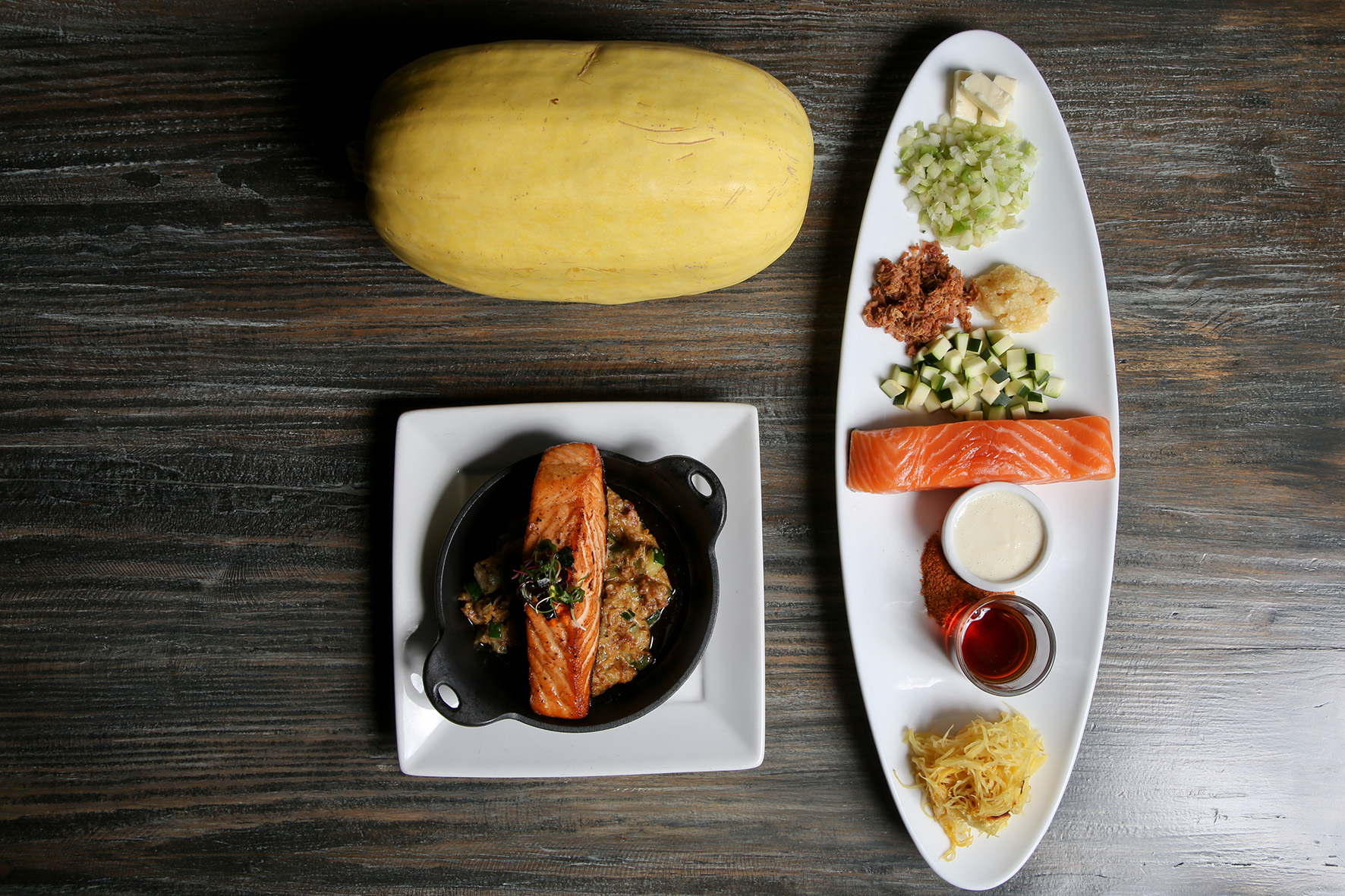 Five local chefs are challenged to flex their culinary chops and develop original recipes starring seasonal squash.
By Allison Hata and Lauren Matich | Photos by Jody Tiongco
Inspiration for a new dish might start with just one ingredient, a standout among basic fruits and veggies on the produce aisle. It might stem from a nostalgic desire to re-create a generations-old family favorite, but with a modern twist. However chefs come up with recipes, it's almost a guarantee that experimentation and innovation are critical to their success.
We asked five local culinary stars—each known around town for a different global specialty—to tap into that creativity for our first-ever kitchen challenge. Using the same ingredient as the centerpiece of their dishes, they were sent into the kitchen with a singular mission: to offer a fresh, new take on winter squash that diners won't find on restaurant menus.
The result is a collection of recipes that reflects the diversity of Newport's international cuisine—from Indian, Italian and Mexican to Southern and South African, the dishes each reflect the culinary backgrounds of their respective chefs. On the following pages, learn how the recipes came to be and get to know the innovative masterminds guiding our restaurants into the new year.
Imran Ali
Executive Chef, Tamarind of London
A native of Pakistan, chef Imran is often inspired to develop new recipes at the request of family and friends back home. In his dishes, he tries to offer a new take on what they can buy from their local markets.
Spices take the spotlight when he's trying to achieve the right flavor profiles—in this recipe for a butternut squash curry, he draws upon some of the quintessential tastes in home-cooked Indian dishes: cumin, coriander and dried fenugreek leaves. He also looks at the season to help him determine availability of ingredients. The third critical factor that dictates the direction Imran takes with his food is temperature. With delicate ingredients like squash, which tends to melt with too much heat, he says it's important to maintain textural integrity by varying his technique.
But in the end, it doesn't matter how many exotic spices or hard-to-find ingredients are used in a recipe—the Tamarind chef believes the joy of cooking is in the creativity.
Pickled Butternut Squash Curry
Servings: 6 to 8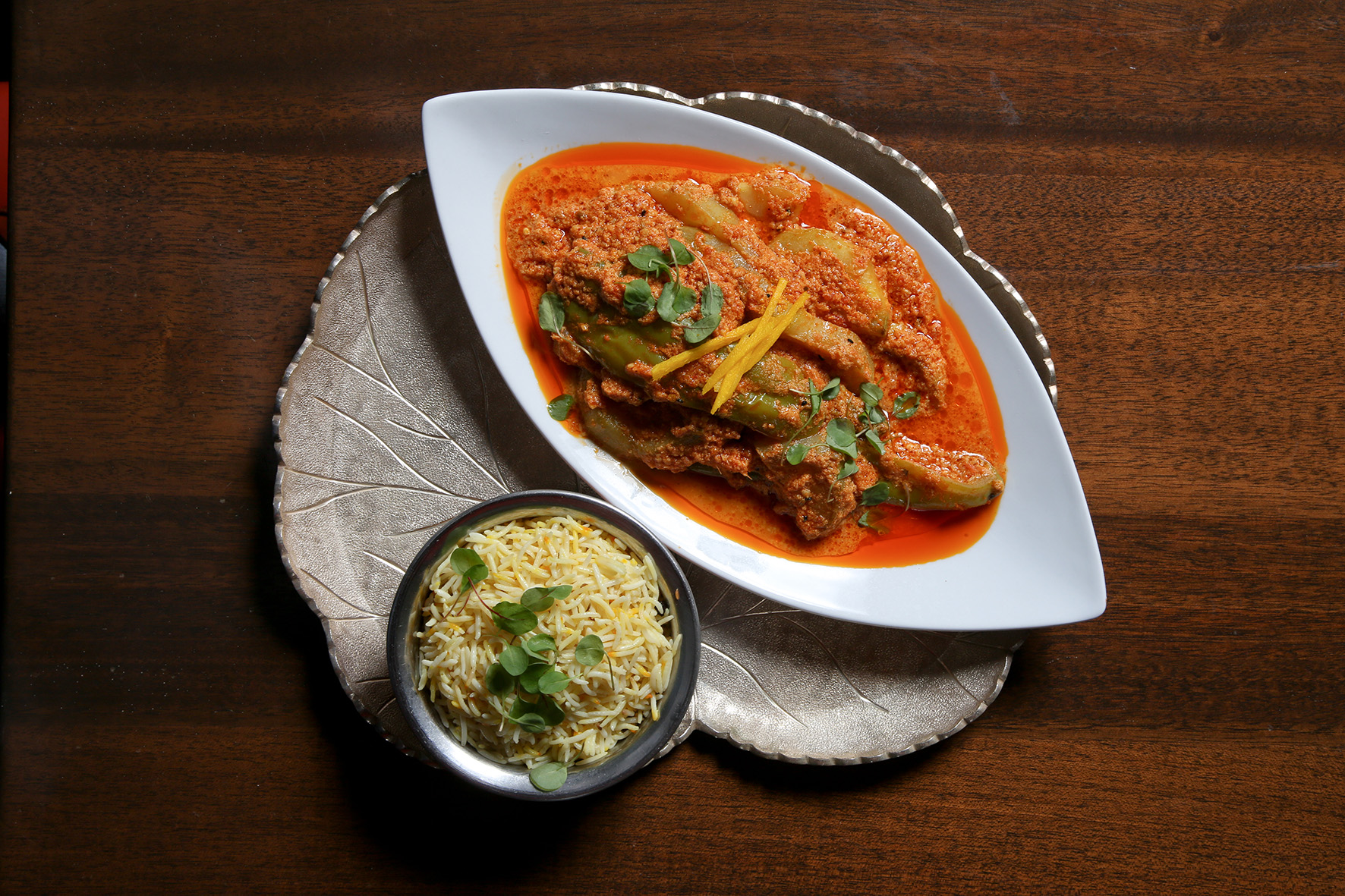 INGREDIENTS:
1 cup oil
4 tablespoons ginger garlic paste
Handful of curry leaves
2 tablespoons onion seeds
2 butternut squashes, cubed
6 tomatoes, ground into a puree
2 cups plain yogurt, whipped
5 green chilies, slit lengthwise
4 tablespoons fresh lemon juice Spice mix (see below)
Handful of fresh cilantro
Salt, to taste
Spice Mix:
1 teaspoon degi mirch (chili)
1 teaspoon black salt
2 tablespoons coriander seeds
2 tablespoons fennel seeds
2 tablespoons fenugreek leaves
2 tablespoons cumin seeds
1 tablespoon green cardamom
2 tablespoons bay leaves
1 teaspoon cinnamon powder
2 tablespoons black pepper
1 teaspoon ginger powder
1 teaspoon garlic powder
2 tablespoons cane sugar
METHOD: Preheat the oven to 300 F. Roast all the ingredients for the spice mix for 10 minutes, then finely blend.
In a separate pot, heat the oil, then add ginger garlic paste, curry leaves and onion seeds. Add the butternut squash; stir, and temper both sides until golden brown. Remove the squash from the pot and place on a separate plate.
In the same pot, add tomato puree, yogurt, green chilies and spice mix, plus 1 to 2 glasses of water, if needed. Cook on low heat until the oil separates. Add butternut squash and lemon juice back in, then cover the pot and cook on low heat for 10 minutes.
Sprinkle with fresh cilantro and serve hot.
---
Marco Criscuolo
Chef, Andrea Ristorante at The Resort at Pelican Hill
For Marco, the chef at Andrea Ristorante, butternut squash brings to mind autumn in his native Italy, where squash-stuffed ravioli is a symbol of the changing season. His gnocchi recipe is an update on the international classic that celebrates the tastes and smells of the end of the year. His mix of ingredients highlights the season and balances the tastes and textures on the plate. The sweet, starchy flavor of chestnuts complements the squash and adds a touch of holiday festiveness, while other elements bring depth and pay tribute to his culinary upbringing.
The chef recognizes that cooking is a personal practice, and thinks a dish should reflect the palates of people sitting around the table. In addition to encouraging people to substitute ingredients with seasonal items, he also suggests incorporating flavors that reflect the comforts of home in every bite.
 TALEGGIO-STUFFED DELICATA SQUASH GNOCCHI
Servings: 4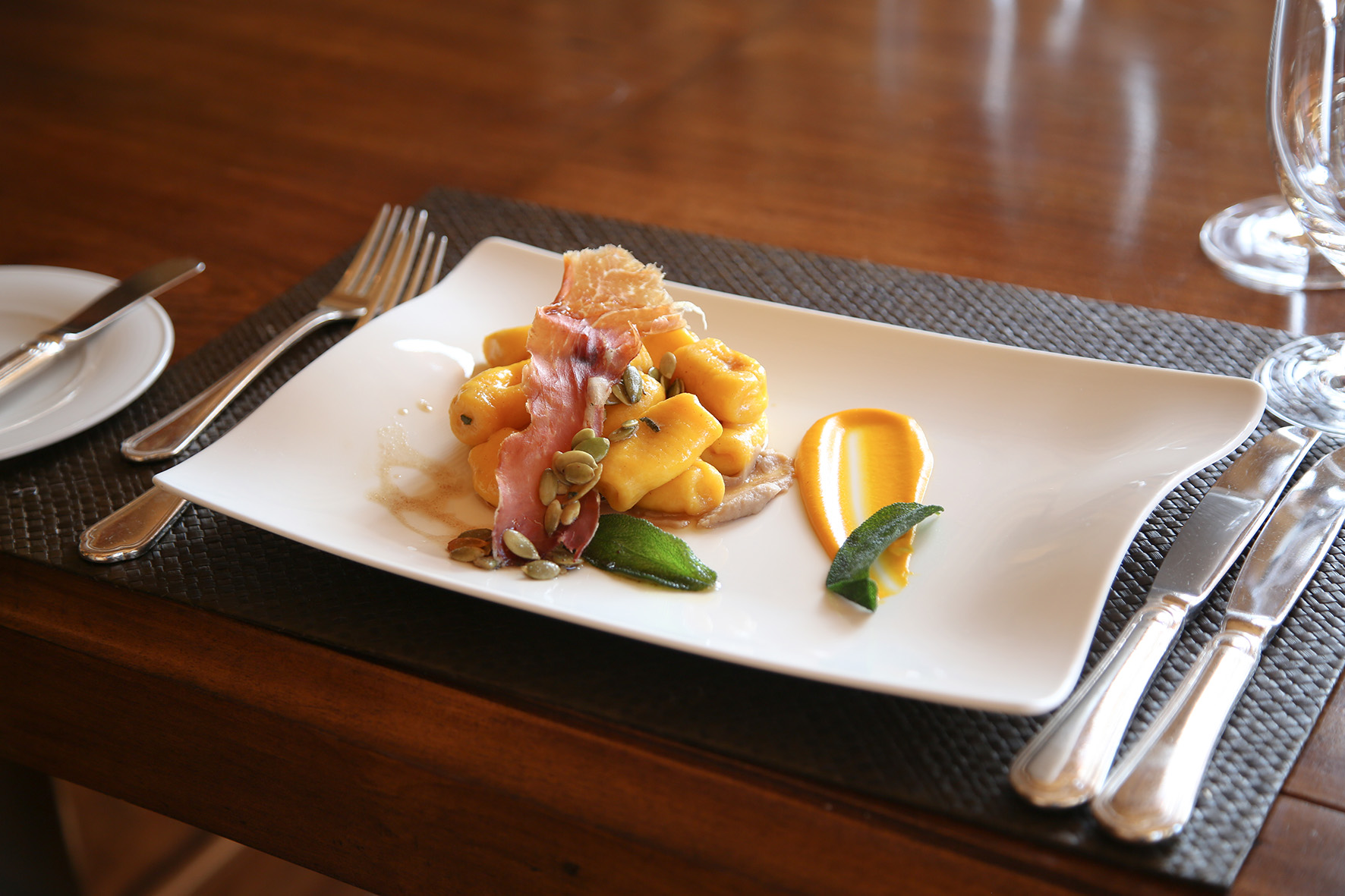 Toasted Squash Seeds:
Seeds from 2 pounds
delicata squash
2 tablespoons butter
Preheat the oven to 275 F. Cut the squash in half and scrape the seeds from the inside. Set squash flesh aside for use in gnocchi. Wash seeds in a large bowl and let drain in a strainer for about 30 minutes. Spread them out on a baking pan and let them dry at room temperature for 4 to 5 hours. Lightly baste the seeds with melted butter. Bake for 10 to 20 minutes until golden brown, checking every few minutes. Sprinkle with salt, to taste.
Taleggio Fondue:
1 cup heavy cream
16 ounces Italian Taleggio
cheese, diced
¼ cup Parmigiano-Reggiano
cheese, grated
In a pan over medium heat, reduce cream and Taleggio cheese. Once the cream thickens, add the Parmigiano-Reggiano. Mix vigorously until sauce becomes smooth. Refrigerate mixture for 3 hours.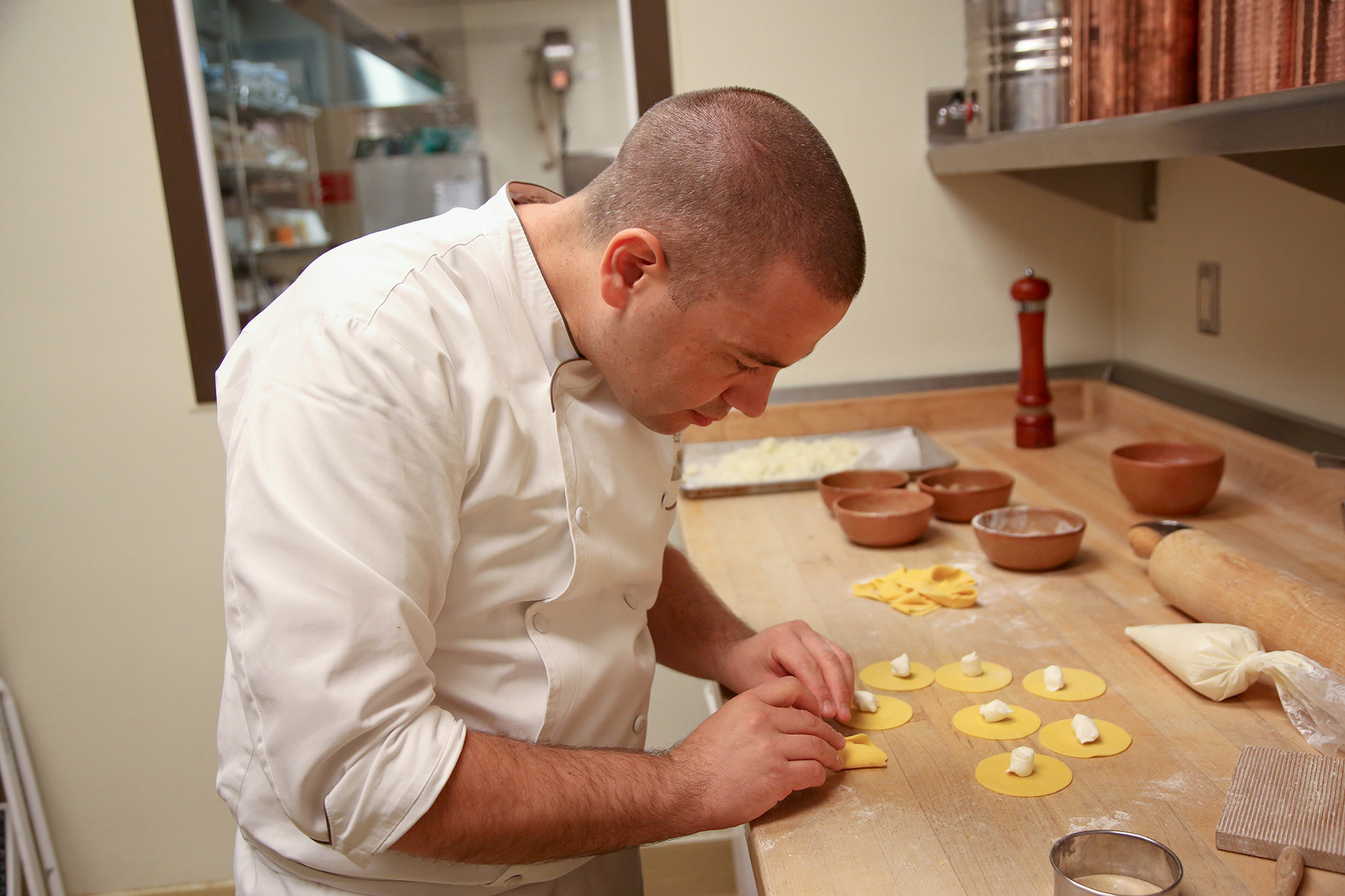 Gnocchi:
2 pounds delicata squash
2 teaspoons salt, divided
½ teaspoon pepper, divided
1 teaspoon fresh thyme,
chopped
2 cloves garlic, smashed
1 pound russet potatoes, riced
2 eggs
1 cup all-purpose flour
¼ teaspoon nutmeg, grated
Taleggio fondue
Preheat the oven to 400 F. In an oven-safe dish, place squash flesh side up and sprinkle with thyme, garlic, 1 teaspoon salt and ¼ teaspoon pepper. Cover with foil and place in the oven for about 45 minutes or until soft when pierced with a fork.
While still hot, scrape the inside of the squash out of the skin and mash. Set aside at room temperature for 30 minutes, then add the riced potatoes, eggs and flour to the squash. Season with 1 teaspoon salt, ¼ teaspoon pepper and nutmeg. Kneed mixture until firm, but do not overwork the dough. Form dough into a ball.
Lightly dust work surface with flour. Cut dough into four equal parts. Gently roll dough into a log that is about ¾-inch thick in diameter. Cut log into ¾-inch-long pieces. Roll each piece into a ball and then flatten into a 2-inch circle with your thumb. Top each dough circle with ½ teaspoon of the Taleggio cheese fondue. Surround the cheese mixture with dough, then pinch closed. Carefully roll into a small, smooth oval and push down very lightly on the tines of a fork with your thumb (or a gnocchi board, if available), letting it drop onto the floured surface at the end.
Crispy Prosciutto:
4 thin slices of prosciutto
Preheat the oven to 350 F. On baking sheets, arrange prosciutto slices in a single layer and bake until crisp, about 20 minutes. Transfer baking sheets to wire racks and let cool completely.
Chestnut Puree:
½ cup olive oil
1 cup mirepoix (equal parts
small diced carrot, celery
and onion)
½ pound fresh chestnuts,
peeled
4 cups water
1 cup heavy cream
Heat olive oil in a pan over low heat. Saute mirepoix for 4 minutes on low heat. Add chestnuts and saute for 5 more minutes. Add water and let simmer until chestnuts are well cooked through. Add cream to the pan and let it simmer for 2 minutes. Remove from heat and puree mixture in a blender.
Sage Brown Butter:
8 tablespoons butter
10 whole sage leaves
Heat butter in medium skillet over medium-high heat until butter begins to brown, about 4 minutes. Add sage, then season with salt and pepper, to taste.
To finish: Bring a large pot of salted water to a boil. Cook gnocchi until they rise to the surface of the water. Remove with a slotted spoon and add to the pan with sage brown butter. Toss to coat and taste for seasoning. Place a spoonful of chestnut puree on each plate and top with gnocchi. Sprinkle with toasted squash seeds and crispy prosciutto.
---
Cesar Lopez
Chef, Mozambique Peri-Peri
Since learning to cook the traditional foods of Mexico from his aunt and grandmother, Cesar has mastered a variety of diverse cuisines, from Chinese and Italian to Mozambique Peri-Peri's South African. He's developed a knack for tinkering in the kitchen, learning the best ways to work with ingredients to create balanced dishes.
For his recipe, he drew upon all of his culinary influences to create a fusion of global flavors. After some experimentation, he dressed up a simple seasoned chicken breast with sweet honey and star anise, a spice that lends a licorice essence and is typically used in
Chinese blends. The juxtaposition continued with his choice of two different squashes, which showcases a creative use of texture. Scraped strands of spaghetti squash contrasted with the meaty chunks of butternut squash.
Whether he's creating a dish for Mozambique Peri-Peri diners or to enjoy at home, Cesar explains that it's important to think about how ingredients can complement each other, rather than compete to be the star of a dish.
AROMATIC SPAGHETTI SQUASH AND CHICKEN BREAST
Servings: 1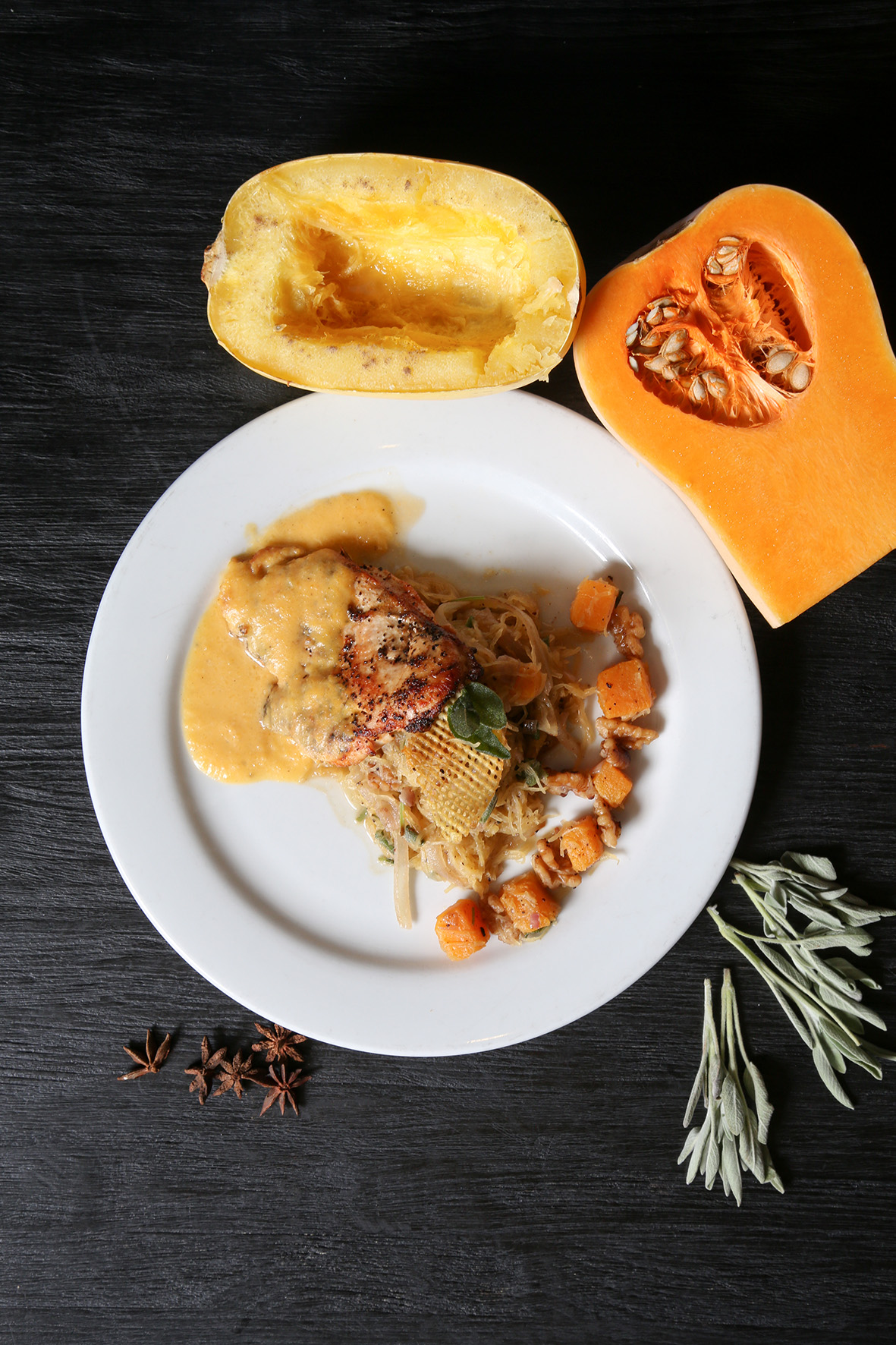 INGREDIENTS:
5 ounces spaghetti squash
Honey, to taste
Butter, to taste
White pepper, to taste
1 ounce olive oil
½ teaspoon shallot, minced
2 ounces julienned onion
2 ounces fresh sage
1 ounce unsalted butter
2 ounces chicken stock
Ground star anise, to taste
2 ounces butternut squash
Butternut squash chunks, to taste
2 ounces pecan pieces
1 chicken breast
Salt and pepper
1 fried sage leaf
1 yam chip
METHOD: Preheat the oven to 325 F. Place a whole spaghetti squash in an oven-safe dish that has a light layer of water; add honey, butter and white pepper mixture, to taste. Cover with aluminum foil and cook for 30-40 minutes. Allow time to cool. Using a fork, scrape the flesh of the spaghetti squash; set aside.
Pour olive oil into a separate pan. Saute shallot, julienned onions, fresh sage and butter. Add spaghetti squash, chicken stock, ground anise star, butternut squash chunks and pecans, and heat.
Season the chicken with salt and pepper, and cook on a preheated pan.
Honey Butternut Squash Sauce:
1 whole butternut squash
1 teaspoon honey
1 teaspoon nutmeg
2 ounces unsalted butter
White pepper, to taste
Preheat the oven to 325 F. Use a knife to prick the squash in several places, then place on a baking sheet and cook for 40 minutes. Cool slightly, then use a serrated knife to halve. Remove seeds; peel, then blend flesh with honey and nutmeg. When chicken and spaghetti squash mixture are ready, heat butter in a pan, and saute the butternut squash sauce until it has a thick consistency.
To Finish: Plate the spaghetti squash mixture and top with the chicken breast. Pour honey butternut squash sauce on top, and garnish with a fried sage leaf and yam chip.
---
Peter Petro
Executive Chef, Bosscat Kitchen & Libations
Culinary diversity is at the core of Peter's strengths as a chef. Leading the kitchens at both Ten Asian Bistro and Bosscat Kitchen & Libations, which opened earlier this year, he easily transitions from Eastern fusion to Southern comfort on a regular basis. Before Bosscat, his resume included more common cuisines such as Italian and American—but he knew a Southern menu was right when the new restaurant's owners approached him with the concept for a whiskey bar.
"I don't think California diners would like it if I was cooking in lard or saturated fats like I see in the South," he explains of the twist he added to the restaurant's menu. "I try to keep the flavors [at Bosscat] neat and clean without being too heavy."
When Peter is developing new ideas, he likes to start with a more familiar flavor and add a distinct spin. Salmon, a dish he believes most people can identify with, was his starting point for a new recipe featuring winter squash. To put his own stamp on the fish, he incorporated the squash into a savory succotash—an accompaniment that added just the right amount of Southern kick.
MAPLE-GLAZED SALMON AND WINTER SQUASH SUCCOTASH
Servings: 4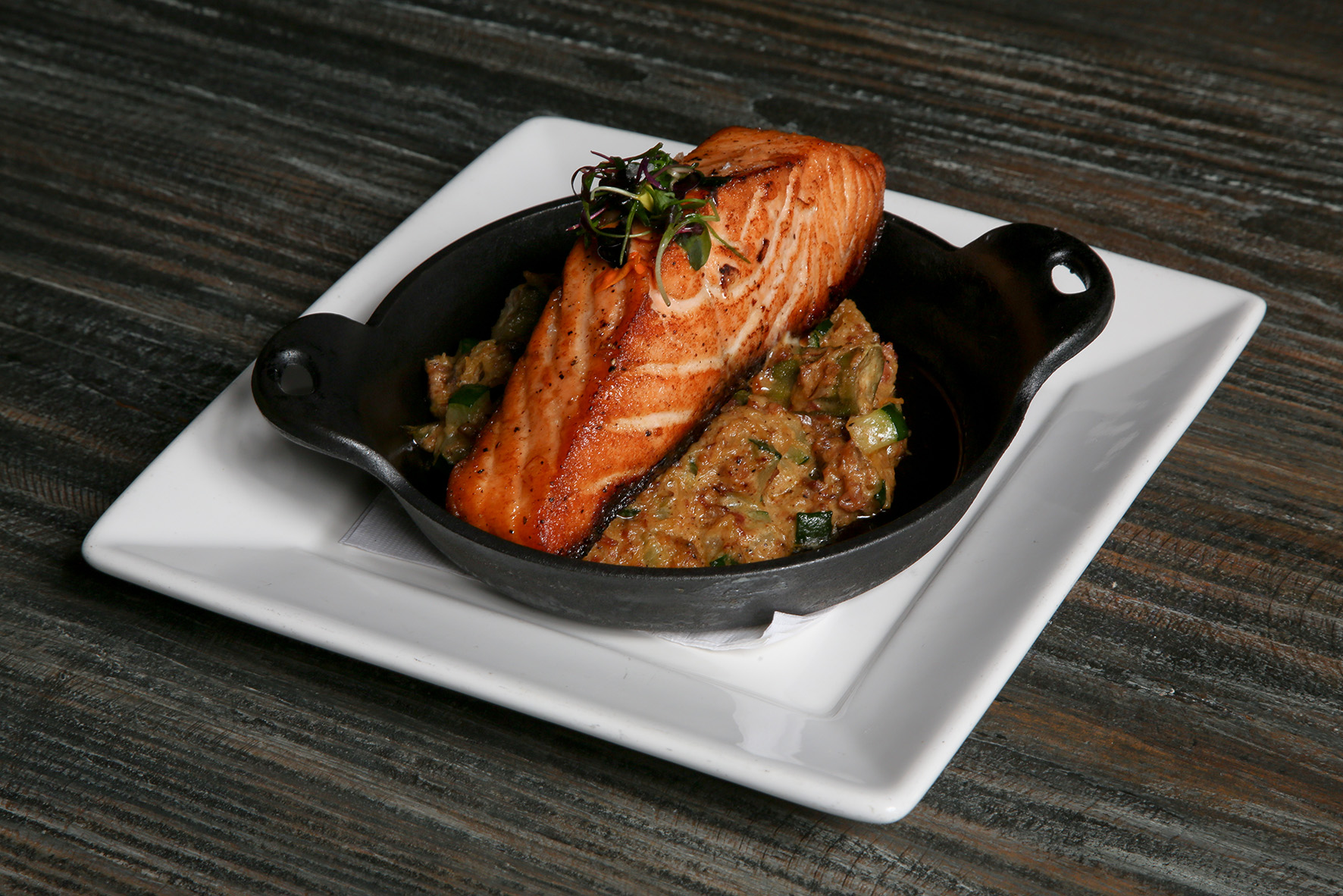 Salmon Filets:
4 6-ounce skinless salmon filets
2 tablespoons vegetable
cooking oil
Kosher salt, as needed
Freshly ground black pepper, as needed
Rub the salmon filets with a small amount of oil and season with salt and pepper. Heat a saute pan or skillet over medium heat until it just begins to smoke; add the salmon filets and sear for approximately two minutes on each side. Remove from pan
and reserve.
Glaze:
2 ounces maple syrup
4 ounces light brown sugar
4 ounces unsalted butter
A pinch of kosher salt
Combine all ingredients in a small saucepan over low heat and bring to a gentle simmer. Set aside and reserve for plating.
Succotash:
2 tablespoons unsalted butter
½ cup red onions, diced into
½-inch cubes
1 tablespoon minced garlic
2 cups winter squash (any type), diced into ½-inch cubes
2 cups fresh corn kernels
1 cup red bell pepper, diced into ½-inch cubes
Chives, as needed (optional)
Cajun seasoning, as needed
In a saute pan or skillet over medium heat, add butter, garlic and onions. Cook, stirring constantly, until onions turn translucent. Add squash, corn and peppers, and cook for 15 minutes or until vegetables are tender but crisp. Season with additional kosher salt and black pepper, if necessary.
To finish: Spoon a small amount of the glaze over each filet and place in a broiler until just caramelized. Divide the succotash equally; top with glazed salmon and garnish with minced chives, if desired.
---
Deborah Schneider
Owner and Chef, Sol Cocina
Mexican cuisine has acquired a bad reputation in California, according to chef Deborah, the owner of Sol Cocina and author of six cookbooks. Her goal at Sol and in specialty recipes is to prepare food in the most authentic way possible, using ingredients that are nutritious, nuanced and point to the country's culinary heritage.
Chocolate, Deborah explains, originated in Mexico and is an essential part of daily life for locals—it's frequently enjoyed as a thick, sweet, drinkable concoction. Her recipe here draws inspiration from a traditional drinking chocolate served at Rancho La Puerta in Tecate, transforming the liquid into a sorbet using butternut squash.
"Food isn't just flavor—it's texture, too," Deborah explains. "What the squash primarily gives here is a really silky, rich texture that you would expect to come from cream and eggs."
For a fun twist, she suggests adding a bit of hot chili, vanilla or almond extract—and, if you're feeling adventurous, throw in a dash of reposado or anejo tequila for a "wonderful, boozy edge."
Mayan Chocolate Sorbet
Servings: 8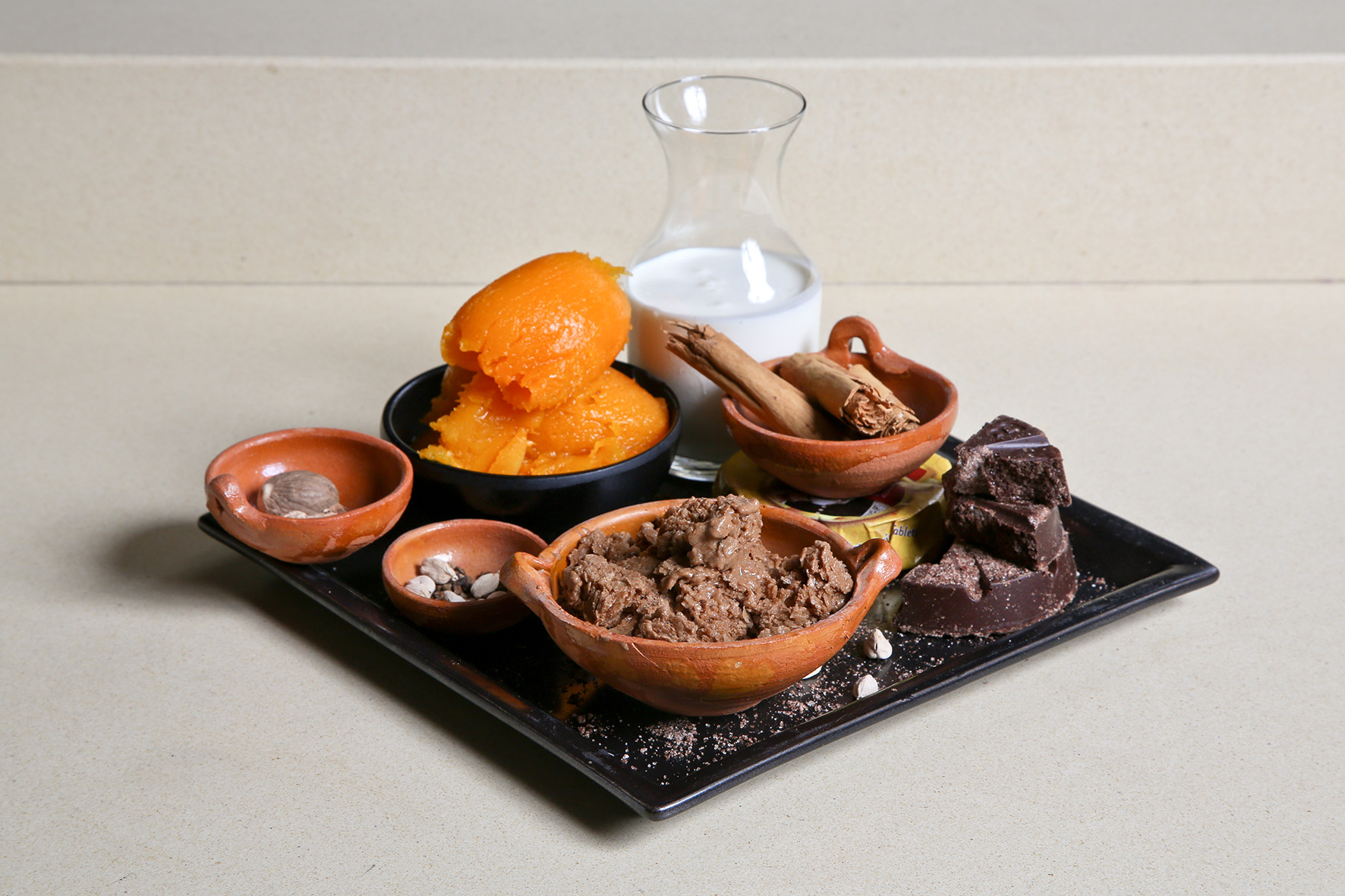 INGREDIENTS:
1 cup cooked butternut squash pulp
3 ½ cups milk, divided
One 3-ounce disk Ibarra brand
Mexican chocolate
3 ounces semisweet chocolate, chopped
½ teaspoon ground cinnamon
1/8 teaspoon freshly grated nutmeg
½ teaspoon ground cardamom
METHOD: In a blender, puree the squash with half of the milk until perfectly smooth.
In a large saucepan, mix the remaining milk, chocolate and spices. With a whisk, stir it over low heat until the chocolate is melted. Add the pureed squash—do not boil. Strain through a coarse sieve.
Cool at room temperature, stirring occasionally, then chill completely. Freeze in an ice cream freezer/machine according to manufacturer's directions, or in a shallow dish. One hour before serving, break up the sorbet and pulse in a food processor until smooth; freeze again.