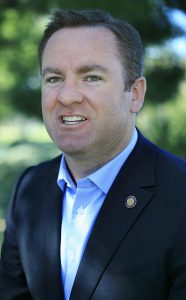 By Will O'Neill, Newport Beach City Councilmember
The Newport Beach City Council passed our budget this month for the next fiscal year.  It is balanced and weighted toward top-notch services, high-quality infrastructure, and a strong future.
Newport Beach does not add to the base rates for property or sales taxes, which means that any revenue growth in those areas reflects added wealth and economic activity inside our community.
Property tax revenue for the coming year is expected to near $138 million, $48.5 million from sales tax, and $32 million for transient occupancy tax (TOT; i.e., hotel and short term rentals).
All in, our anticipated General Fund revenue is expected to reach around $285 million this coming year (about $304million with internal transfers).
Of that, our primary expense focus remains public safety. We expect to spend $73.4 million on our Police Department and another $64.4 million on our Fire Department (that includes Lifeguards too).
Public Works – which builds, maintains, and manages most infrastructure – is third with a budget of $46.6 million. Those three departments account for around 60.6 percent of our General Fund.
We continue to pay down the debt on the Civic Center project and make large, discretionary payments toward reducing our unfunded pension liability. We are also budgeting toward future projects, such as a new library/fire station on the peninsula and a major drainage project on Balboa Island.
We also are spending significant resources on water quality and community parks. In the coming month, keep an eye out for an innovative water wheel project to come to City Council for approval. And folks who love any of our 66 city parks will love the $1 million set aside in next year's budget for upgrades.
On a personal note, July 1 will mark my sixth year as Chair of the City's Finance Committee. To our residents and my colleagues: thank you for this trust. Our city's fiscal resilience and growth without adding taxes has been on display every one of these past six years.
Whether we have calm or stormy waters ahead, we can sail ahead with confidence that our core will hold.
Hon. Will O'Neill serves on the Newport Beach City Council in his third stint as Mayor Pro Tem, having served as Mayor in 2020.