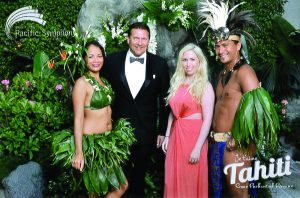 By Christopher Trela & Catherine Del Casale | NB Indy
The Pacific Symphony has performed concerts in countries around the world, but this time it was symphony supporters who traveled to an exotic land during the Pacific Symphony's 2016 gala, "Je t'aime Tahiti, Some Enchanted Evening," held May 7 at Hotel Irvine.
We look forward to the symphony's gala every year because whatever theme they choose for their annual soiree, it always exceeds expectations.
Such was the case with this year's gala. Nearly 400 guests were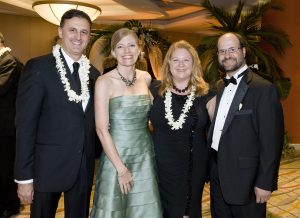 transported to a lush Tahitian paradise that began with a photo op featuring authentically-garbed models followed by Miss Tahiti 2014 handing out homemade, white-flower leis for guests to wear around their necks.
The reception featured a rock waterfall, palm fronds, and elegant candle displays, along with colorful themed blue and orange cocktails plus tray passed hors d'oeuvres and live Tahitian music and dancers (courtesy of the dance troupe O Tahiti E). Models wore Tahitian pearl jewelry from Hinerava.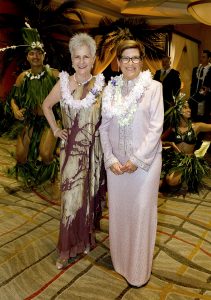 Once inside the ballroom, guests were enchanted by the lush landscaping which included large palm trees and white draperies offset by teal-blue lighting, giving the room an ocean ambience. The dazzling décor included tables adorned with centerpieces featuring birds-of-paradise flowers, foliage and candles.
We enjoyed the menu created by the hotel's new executive chef, Michael Beck. After a first course of endive salad with sweet chili vinaigrette, guests relished the entrée of soy ginger braised beef short ribs and seared diver scallops with coconut-vanilla beurre blanc, mashed sweet potatoes, plantains, Chinese broccoli, and bok choy. The dinner ended on a sweet note with flourless chocolate cake and coconut tapioca pudding with passion fruit coulis and bruleed banana.
During dinner, guests were entertained by a percussion quartet (performing on large
plastic buckets) featuring Symphony musicians Robert Slack, Ken McGrath, Danielle Squyres and Justin DeHart, Polynesian dancers, and a short production featuring songs from the musical "South Pacific."
Pacific Symphony President John Forsyte welcomed attendees to the gala and thanked gala co-chairs Joann Leatherby and Ginny Davies. He noted that many of the symphony musicians were seated at gala tables, and that 20 percent of the Symphony's annual budget comes from the gala.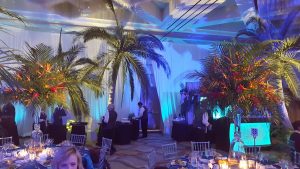 He then introduced Sandy Segerstrom Daniels, whose family endowed the chair occupied by Pacific Symphony Pops Conductor Richard Kaufman.
Kaufman was feted for his 25 year anniversary with Pacific Symphony (coincidentally on the occasion of his 21st wedding anniversary) with Forsyte, Daniels and Kaufman's daughter, Whitney, offering anecdotes that exemplified his kindness and generosity.
"Whether conducting 'Stars and Stripes Forever' or music from 'Star Wars," your leadership of the Pops series has been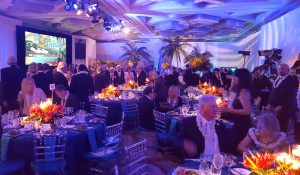 extraordinary," said Forsyte when introducing Kaufman. "Carl St.Clair said that one of the smartest things he's done is appoint you Principal Pops Conductor."
"This orchestra has been one of the great blessings of my life," Kaufman told the gala attendees. "To have been given the gift of working with the musicians of this orchestra and the staff of this orchestra, I could not ask for more. It's turned into an amazing life. Thank you all for your support of our Pops series, you've made Pacific Symphony one of the great orchestras of the world."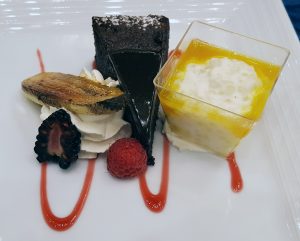 After dinner came a live auction featuring luxury travel packages to Tahiti, Chicago, New York and Maui, an exclusive dinner with opera star Renée Fleming, stunning Tahitian Pearl jewelry, a dinner at Maestro's and two chances to conduct at a Symphony Pops concert.
The evening netted $1.3 million for the Symphony's artistic and education programs.
For more information, visit PacificSymphony.org.