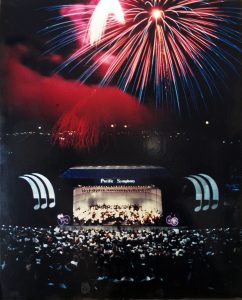 All good things must come to an end—even the Pacific Symphony's annual summer season at Irvine Meadows Amphitheatre.
For nearly three decades, the Pacific Symphony has drawn audiences from throughout Southern California to its summer concerts, which have ranged from patriotic salutes on July 4 to eclectic pops-style fare to traditional programs featuring Beethoven.
And don't forget the traditional season finale, "Tchaikovsky Spectacular" with canons and fireworks.
On Sept. 3, Pacific Symphony presents its final concert at Irvine Meadows—the venue is closing to make way for housing. 
I've been attending the symphony's summer concerts for nearly 20 years, and have enjoyed bringing a picnic (with wine) to share with fellow concertgoers before experiencing a terrific al fresco evening of music.
From 2002 to 2005, I served as Director of Public Relations for Pacific Symphony, and experienced first-hand the intensive work by musicians, staff and volunteers that goes on behind the scenes to present a summer concert.
It will be a bittersweet farewell when the symphony holds its final concert, which is billed as a Tchaikovsky hit parade, and rightly so as it features excerpts from "Swan Lake" and "The Nutcracker," and two dynamic, crowd pleasing concertos: the Violin Concerto in D Major and Piano Concerto No. 1, featuring pianist Natasha Paremski and violinist Paul Huang. It ends with the 1812 Overture, with canons and fireworks.
"In the past, Pacific Symphony has enchanted our summer audiences during our Tchaikovsky finale with his wonderful music,"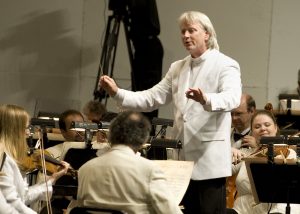 says Maestro Carl St.Clair, who conducts this final concert. "It just seemed perfect to revisit these jewels as we say goodbye to Irvine Meadows before moving into our new home, taking Tchaikovsky's music with us in our hearts and memories."
The symphony's new home will be…uncertain. One of the few large outdoor venues is Pacific Amphitheater, but there is no room to picnic, as there is no lawn seating. Other options are being explored, but for now, it's time to enjoy this final Irvine Meadows symphony concert and experience what St.Clair calls "musical memories of a long-lived, long-loved relationship."
"Tchaikovsky Spectacular" takes place on Saturday, Sept. 3, at 8 p.m., at Irvine Meadows Amphitheatre. Tickets are $25-$108. Gates open at 6 p.m. for picnicking.
For more information or to purchase tickets, call (714) 755-5799 or visit PacificSymphony.org.