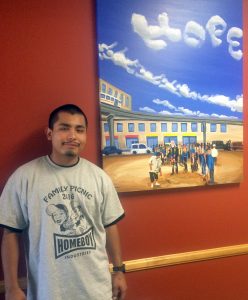 "I started being a troublemaker at 13 and got into meth," Abraham said as he led our tour.  "I was a zombie and was incarcerated my senior year. I kept going in and out. I first came to Homeboy to get tattoos removed from my face. I was leaving after my third session of tattoo removal when Father Greg stopped me in the hall. My eyes were opened."
"I eventually graduated from high school," he continued. "I got help from the people at Homeboy and started college. Because of their help, I was accepted to be part of an intercultural communications study abroad. I was able to share my experiences in Oxford and travel to Amsterdam, Belgium and Paris. What a different life from when I was in solitary confinement and only going outside an hour a day. Homeboy opened my eyes to doing good. There's love here."
I recently had the privilege of joining friends for an inspirational tour of Homeboy Industries in Los Angeles followed by a delicious lunch at Homegirl Café. Abraham, who is now 19, led our tour. My friend Peggy McKennon organized the event.
"Every time I go to Homeboys, I am amazed by what I hear and see," said Peggy. "The young men and women are all so kind and generous with their time and their stories.  These are people who many others viewed as discards – the tattooed gang members – but they are real humans underneath the tattoos. What Father Boyle does is amazing; he provides hope for the most unlikely people."
Father Greg Boyle is a Jesuit priest whose compassion and dedication has transformed drug and gang infested inner city neighborhoods of Los Angeles to a place where rival gang members work side by side.
Father Boyle's job training and placement program has grown from its small beginning with Homeboy Bakery in 1992 into the non-profit economic development enterprise known as Homeboy Industries. Homeboy's food products are baked or prepared fresh daily and shipped nationwide.
"I love telling people about Homeboy and taking people on tours," Peggy continued. "I heard a graduate from Homeboys speak years ago, and that peaked my interest. I also like lunch at Homegirl café; the waitresses often share their stories too. They're honest and open about their past. They say it could have only been God who led them there, and only the grace of God could change them. I like to take others there to see the great things God has done through Father Boyle. I feel the presence of God there."
Homeboy's 18-month job training program provides job skills, life skills, hope, help and support to formerly gang-involved and preciously incarcerated men and women. Homeboy addresses underlying issues including deep poverty, mental health disorders, substance abuse and lack of education. Homeboy Industries also provides tattoo removal services, parenting classes, and free legal and substance abuse counseling.
Homeboy is a therapeutic community; for many, it provides a sense of family and the support and guidance young men and women need to become contributing members of their families and communities.
Abraham is considering becoming a human rights advocate, though he now has choices he never imagined before.
"I never thought change would happen," Abraham said. "I thought I'd live and die in my neighborhood. Now I have purpose in my life. I got exposed to all this good stuff in life.  If I want good stuff, then I can't do bad stuff anymore. I don't want to go to jail anymore.  There is so much to learn and see. My eyes have been opened."
Tours are offered weekdays. Breakfast or lunch at the Homegirl Café can be reserved too.  Visit homeboyindustries.org for more information.
Cindy can be reached at [email protected]