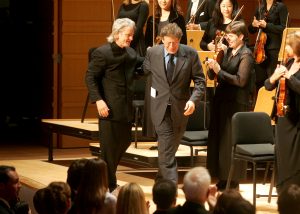 A pedestrian on 57th Street in New York sees a musician getting out of a cab and asks, "How do you get to Carnegie Hall?" Without pause, the artist replies, "Practice."
Yes, it's an old joke, but Pacific Symphony has indeed practiced enough to get to Carnegie Hall.
The symphony just announced that it will make its Carnegie Hall debut in April, 2018, along with Pacific Chorale, who will perform together featuring an eclectic program that includes the New York premiere of a piece by Philip Glass, Carnegie Hall's 2017-18 composer-in-residence.
Carnegie Hall is celebrating the composer's 80th birthday with performances of both classics and premieres.
According to information provide by Pacific Symphony, orchestras from across the United States were invited to submit programs featuring important works by Glass in illuminating contexts. Pacific Symphony and the Louisiana Philharmonic Orchestra were the two orchestras chosen, in part by Glass himself, to perform during Carnegie's upcoming season. Both orchestras emerged among competitors with what Carnegie called "very compelling programs."
"Being invited to Carnegie Hall is a great honor," says Pacific Symphony's Music Director Carl St.Clair. "And, being invited to this world-renowned concert hall to celebrate the birthday of my dear friend, Philip Glass, makes our debut there all the more meaningful. Further, to perform in his honor a work that Pacific Symphony commissioned, premiered and recorded, along with celebrating his long relationship with Ravi Shankar with works he co-composed with him, makes the entire occasion powerful."
 "Artistic excellence and innovation are at the core of Pacific Symphony's identity," commented Symphony President John Forsyte, "so it is gratifying to have this opportunity to showcase at Carnegie Hall a work commissioned by Pacific Symphony that is emblematic of our strong commitment to new music. It is also rewarding that the Pacific Chorale, a frequent commissioning partner and an important force on the Orange County cultural scene, will join us in presenting the New York premiere of 'The Passion of Ramakrishna,' during this special festival celebrating the genius of Philip Glass."
The Pacific Symphony performance on April 21, 2018, includes Glass' famous collaborations with the Indian sitar master Ravi Shankar, plus "The Passion of Ramakrishna, scored for vocal soloists, chorus and large orchestra that was commissioned by Pacific Symphony and given its world-premiere on Sept. 16, 2006, as part of the grand opening of the Renée and Henry Segerstrom Concert Hall.
For more information, visit PacificSymphony.org.