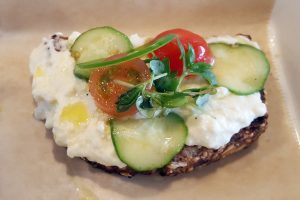 By Christopher Trela & Catherine Del Casale
With a dozen locations in Southern California including Fashion Island, Juice Served Here has been a go-to spot for those looking for a tasty and healthy juice cleanse as well as anyone needing a quick juice fix.
Now, Juice Served Here has transformed its store on Via Lido in Lido Marina Village into JSH Café, which focuses on an all-day breakfast and lunch menu featuring ultra-healthy toasts, sandwiches, soups, and of course, juice.
"This is the first of its kind for us," JSH co-founder Alex Matthews told us at the café's opening last week.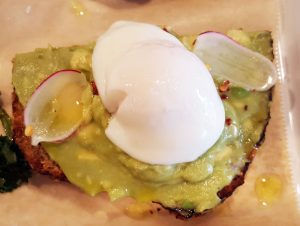 "The Lido Marine development needed a healthy quick service, grab and go offering. We wanted someplace where people could get something hot and healthy, someplace to sit and stay a while. We call it an elevated health experience. Elevated because everything is the highest quality ingredients. We have WiFi and Common Room Roasters coffee, and we're open from 7:30 a.m. to 7 p.m. We encourage people to come and hang out."
After sampling several items, including soup and toast, we were indeed impressed.
"I loved the ricotta toast, it had a nice spread of ricotta cheese topped with jalapeño and cucumber, which gave it a slight spice and refreshing taste," said Catherine. "They feature a special soup of the week. We had the carrot curry soup, which was a thick puree that had a nice light kick to it—perfect for warming up during the cooler weather we've been having."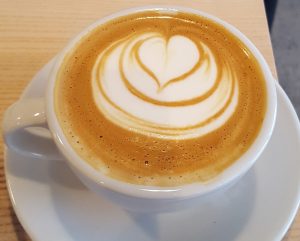 "I love the coffee—this may be the only place I've seen where they have different coffee beans depending on whether you enjoy your coffee black or with cream," said Christopher. "And with the variety of menu options, from the smash (toast) and egg dishes to oatmeal and granola, this will definitely be a new breakfast hangout for me."
The JSH Café has seating for 35 people both indoors and on an outdoor dog-friendly patio. For more information and to view a complete menu, Jshmarinacafe.com.