With the warm weather finally here, it's time for some al fresco dining, and we can't think of a better spot than Lighthouse Bayview Café at Marina Park on Balboa Peninsula.
We've been enjoying the Lighthouse Café's cuisine since they opened more than a year ago, and it's nice to know they change the menu seasonally, so there's almost always something new to try every time we dine there.
Lighthouse Café recently unveiled more than two dozen new menu items on their breakfast, brunch, lunch, dinner and beverage menus, courtesy of Executive Chef Ryan Sumner, and are inspired by summer on the waterfront. Call it Sumner's summer menu!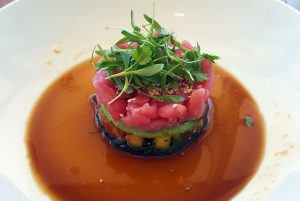 Some of the new items: Egg white frittata with sautéed mushrooms and baby spinach, grilled Mahi-Mahi tacos, crispy breaded calamari, BBQ pulled pork sliders, crisp brussels sprouts with Spanish chorizo, and chipotle ketchup glazed meatloaf.
But the one that caught our eye and made us rush over to Lighthouse: Short rib grilled cheese with braised short ribs, muenster and smoked gouda cheeses, on parmesan sourdough accompanied by tomato soup.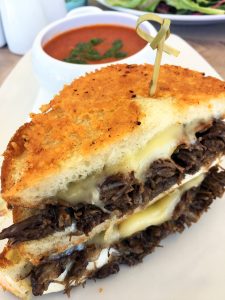 We had lunch on a Friday afternoon but opted to sit inside this time. After ordering a couple of light summerish cocktails including a bikinitini with champagne, peach and orange juice, and a sparkling summer berry refresher with red berry puree and sparkling lemonade ($7.95 each), we began with a tuna stack ($16.95), which Catherine dubbed "a great starter to share on a hot summer day. The fresh ahi tuna is stacked with papaya relish, avocado, seaweed salad and a chili ponzu sauce. You are also served several large crispy wontons to complete this light appetizer."
We split an order of the short rib grilled cheese ($14.95), which Catherine described as "a hearty supply of braised short ribs, muenster and smoked gouda all in-between two grilled slices of parmesan sourdough bread. For dipping purposes you have a delicious side of thick tomato soup. I loved that the sandwich had a generous amount of short rib so that it didn't just seem like a grilled cheese with a light sprinkling of the meat but an actual short rib grilled cheese."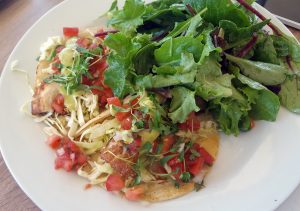 "This sandwich is good alone, but dip it in the soup and it's nirvana on a plate," said Christopher. "But I also like the grilled mahi-mahi fish tacos ($11.95)."
Naturally, we ended our decadent lunch with an order of beignets ($5.95), which Christopher has dubbed the best in Newport Beach—and probably Orange County. They are served warm and coasted with cinnamon sugar and cream cheese icing.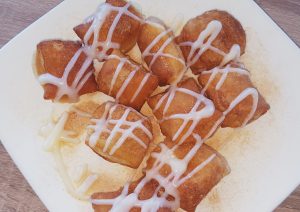 This is the perfect time to go to Lighthouse Café and dine on the dog-friendly patio with a view of the harbor, or if it's a little too sunny there's always room inside the restaurant with views of the park and harbor from every table.
For more information, visit lighthousenb.com.