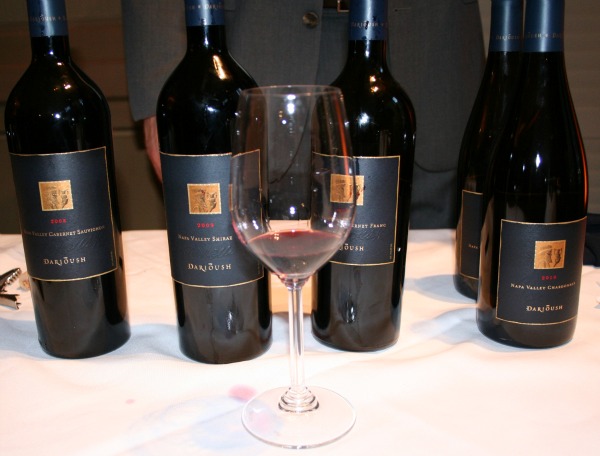 Wine creates a symphony of pleasures for the palate. Pacific Symphony creates a subtle blending of musical pleasures for the soul.
So, it's not surprising that California's third largest symphony has orchestrated one of the top wine events in Southern California: The Pacific Coast Wine Festival, which brings the best of Napa Valley and beyond to Orange County for an evening of fine wine, gourmet food, and rare and exclusive auction items.
The fifth annual Pacific Coast Wine Festival was held earlier this month at the Island Hotel in Fashion Island, and we were invited to sample the wines and participate in the festivities. Stasha was still starring in her play in Burbank and could not attend, but our assistant, Laura, eagerly agreed to fill in.
The event began with a two-hour reception that included generous tastes of fabulous wines from Napa, Paso, Sonoma and other notable wine-producing areas, plus cheese displays and tray passed hors d'oeuvres.
"This is a fun and relaxed atmosphere for tasting and acquiring some of the best and most interesting wines produced each year," explained Mike Kerr, the Wine Festival's founder. "We're offering a solid lineup of 40 to 50 wines for tasting, as well as great wine for purchase in our silent and live auctions."
During our second visit to the Foley wine table for a refill of their delicious 2009 Pinot Noir, we ran into Pacific Symphony President John Forsyte, who told us they were expecting nearly 300 people to attend the event that evening.
"Our goal is to raise $150,000, which is a big help to our music education programs and artistic programs," said John. "We draw many people who are attracted by the food and wine element, and we benefit because they're exposed to the artistic mission of the Symphony, and they're discovering the beauty of music."
John noted that over the years, Pacific Symphony has garnered a positive reputation in the wine world for not only hosting a fun event, but for an impressive array of wines to taste and purchase.
"We have two bottles of Screaming Eagle in one lot, and some beautiful flights of Cabernets," replied John when asked what auction items caught his eye. "I am thrilled with the generosity that people have shown through opening their cellars and provided such wonderful wines for the auction. That's the biggest aspect of making this event successful—you depend on collectors to provide first rate wines."
And that they did, although the wines available for tasting during the reception were also stellar. Among the many we sampled were Silver Oak, Chateau Montelena, and one of my favorites, Darioush.
The Island Hotel ballroom was a picture of elegance when guests sat down for the wine-pairing dinner and live auction. Unfortunately, we had to leave early due to a previous engagement, but we'll be back again next year. And judging from the smiles on attendees faces, so will everyone else.
***
It's been a while since I've dined at Seasons 52 restaurant at South Coast Plaza, but the meals I've had there have all been memorable and worth the short drive from Newport Beach. So, when we were invited to sample some of the new menu items (still no items over 475 calories on the menu!) earlier this week, our editorial assistant, Catherine, eagerly agreed to come along after hearing my enthusiastic description of the dishes.
Hailing from Napa, Catherine has a true affinity for food and wine. And, after reading her notes on our Seasons 52 menu tasting, I decided to let her describe our experience: 
Upon entering the Napa Room in Seasons 52, we were offered a choice between a Zardetto Prosecco and a Strawberry Kir Royal.  Naturally, Chris and I went with the sweet Kir Royal. It had the perfect balance of Strawberry infused Prairie Organic Vodka, Organic Agave Nector and Zardetto Prosecco.
The appetizers during the cocktail reception were divine. The Artichoke-Stuffed Artichoke Leaves,  which had organic arugula, sundried tomatoes, garlic, parmesan cheese and a balsamic glaze, created a unique and exciting explosions of flavors.
The Tomato & Haas Avocado Salad was paired with an Avelda Vinho Verde from Portugal, a crisp and light flavored wine with a subtle hint of sweetness that complemented the salad and light balsamic glaze.
The grilled bruschetta (pronounced brusketta!!) in the salad was grilled with a light brushing of olive oil. I have never had such flavorful bruschetta and it rounded out the salad nicely.
The Botani Moscatel, Sierras de Malaga was my favorite wine. It had a crisp fruity taste and brought out the flavors in the Columbia River Steelhead Trout it was paired with.
I thought the Lamb T-bone Chops could have had more sauce, because the flavor was a little lacking in some of the bites I took. However, I tried it with the Allegrini Palazzo della Torre Corvina Veronese, which created the full effect of the pairing, bringing out the sweet molasses undertones in the glaze.
The truffle mashed potatoes were another favorite of mine. Sometimes when garlic is added to mashed potatoes it can be overwhelming but the garlic was balanced perfectly with the Yukon mashed potatoes and truffles.
Chris, as usual, finished everything served to him within 30 seconds while I was still taking my first few bites.
I couldn't have said it better! And you can't do better than heading to Seasons 52 for their new menu items.
For more info, visit www.seasons52.com.