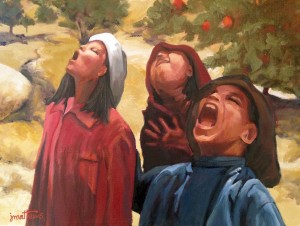 "The transformation in the girls is a miracle to me,' explained Jennifer Mathews, Newport Beach resident and artist. "I think about what has happened to these children and the fact that they can experience recovery and transformation and be whole again is miraculous. I love watching God do that and I love being part of that."
Mathews created a painting for an 11-year-old girl who was rescued from sexual abuse and now lives in My Refuge House in the Philippines. Her painting will be auctioned at a fundraiser for My Refuge House on March 24.
My Refuge House is a nonprofit ministry that provides a safe home to empower and restore survivors of sexual exploitation and abuse. The home is located in Cebu, Philippines, and gives the survivors the care they need educationally, spiritually, physically, emotionally and mentally to stand on their own again.
It was founded by a church in Northern California and opened its doors to rescued girls in January 2009. My Refuge House partners with churches and individuals locally, nationally and internationally to accomplish their mission of "Restoring One Life at a Time."
"I created a painting for an 11-year-old girl referred to as Jessica as a tangible expression of her hope for her future and something that is beautiful about her. Hopefully it will help with her recovery from abuse," Mathews said. "I am involved with an organization called "We Step into the Light" and am part of a project linking artists with girls rescued from human trafficking and sexual abuse. The organization was started by a woman named Dr. Desmonette Hazly to promote healing through art for survivors of sexual violence, helping them become thrivers by focusing on the positive in their future despite their trauma.
This is Mathews' second year of painting for a young abuse victim. She explained that once an artist is paired with a survivor, the artist gets a questionnaire from the girl with answers to questions about her favorite color, what she loves, what music she likes, where she feels safe, what her dreams are for the future, and what brings her peace. After exchanging a few letters, the pair also has one Skype session together.
"We didn't ever talk about her experiences," Mathews said. "I didn't know what happened to her before I did the painting, I just knew that something did. When I saw her on Skype, I was so relieved that she was giggling and smiling like a little girl should; I was afraid she'd be hardened. It was beautiful. She said she feels peace when she's singing with her sisters and brothers outside where there are fruit trees, so I worked with that for the painting. Artists don't learn the girls' stories until after they've finished. It would be hard to focus on the painting if I knew all those details."
"My little girl also wrote, 'I can say that I really love God even though I have many trials. He is always with me as he promises.' How can a child's faith like that not impact you?" said Mathews.
The public is invited to My Refuge House's fundraiser Tuesday March 24 at the Chuck Jones Gallery in SOCO for dinner, live music and to see 15 paintings created for young survivors.
Mathews' painting is one of two that will be auctioned that night. The other is by Newport Beach resident and artist Jan Dorian. Both Jennifer and Jan are artists at Mission Fine Art Gallery in San Juan Capistrano. A giclee print on canvas of each painting will be given to the young girls.
For information, visit myrefugehouse.org.
Cindy can be reached at [email protected]