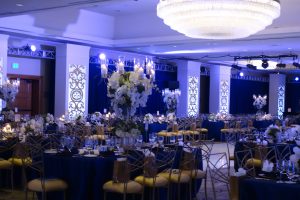 South Coast Repertory's 53rd Season Gala, "Stagestruck!", brought out the Southland's movers and shakers – and theater lovers – for a highly imaginative evening in celebration of all things theatrical.
With their arrival at The Westin South Coast Plaza, the Orange County social season began in earnest, just as the evening before, the theatrical season had kicked off with the opening night of the Tony Award winner, "All the Way."
After guests emerged from their cars, they entered the hotel's East Galleria through a dramatic archway and posed for photos before a sapphire "Stagestruck!" backdrop.  Mingling with other partygoers, they paused to greet Gala Executive Chair Sarah J. (Sally) Anderson, who was joined by Artistic Director Marc Masterson, Managing Director Paula Tomei and Board President Alan Slutzky.
Guests sampled passed hors d'oeuvres and sipped champagne by Le Grand Courtâge or the evening's signature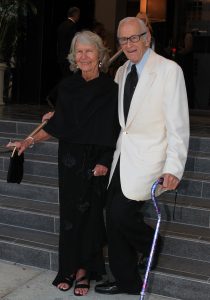 cocktail, "Stagestruck Salute," featuring Tito's Handmade Vodka.
Photo opportunities were available everywhere and partygoers were encouraged to snap selfies at six grand stages, featuring costumes from select SCR productions.
Inside, the ballroom was stunningly theatrical, with luxurious sapphire-blue drapery and light box decorative columns around the room and flanking the stage.
Guests dined at rectangular tables shimmering with sapphire iridescent linens, enhanced by gold chargers and flatware, and touches of gold glimmering in the floral centerpieces and votive candles.
Amidst the glitter, they enjoyed a three course meal with wines poured courtesy of Bluewater Grill.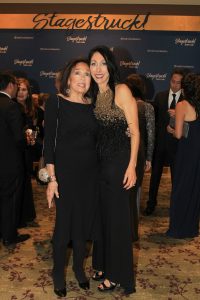 Slutzky greeted the crowd of supporters and led the applause for SCR's Founding Artistic Directors David Emmes and Martin Benson. Others acknowledged were past Board Presidents Sophie Cripe and Wylie Aitken, and Emeritus Trustees Olivia Johnson, John Murphy, Carl Neisser, Barbara Roberts, Tom Rogers, Laurie Smits Staude and Elaine Weinberg.
Tomei personally thanked Anderson, the Gala committee and its generous patrons, who helped make "Stagestruck!" a success and provided the resources for the artistry onstage and the education and outreach programs that will serve more than 24,000 children and young adults in the coming season.
Masterson added his thanks, saying that the funds raised by the Gala help SCR achieve its commitment to reach out, engage and share the power of theatre with the entire community.
Masterson acknowledged two SCR actors who joined Emmes and Benson in the early days of SCR and have been part of the journey ever since: Founding Artists Richard Doyle and Don Took.
Anderson announced that "Stagestruck!" had raised more than $300,000 to support the programs that are an important investment in the future of the community.
After dinner, SCR Associate Artistic Director John Glore took the stage to introduce the evening's special guest star,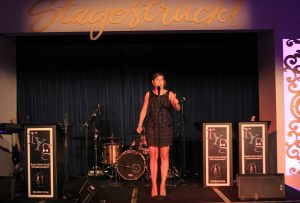 Nicole Parker, whom he met when she was nine years old and was cast in his first play.
Captivating the audience with her memories of SCR, Parker proceeded to wow them with "Defying Gravity," the hit song she performed in the Broadway musical "Wicked," plus "Don't Rain on My Parade" from Funny Girl, which won Nicole LA's Ovation Award.
Later in the evening, guests danced to the music of Retro Soul before the evening wound down with song selections by Extreme DJ.
For more information: scr.org.