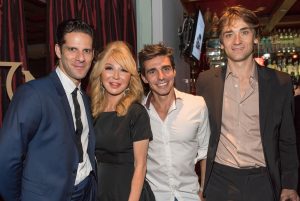 The performance of "Tour de Force" at Segerstrom Center on Aug. 27 was indeed a tour de force for the talented and acclaimed dancers who came from dance troupes throughout the world to appear in this special dance production.
Also special was the post-performance party at Mastro's, hosted by South Coast Plaza. Held in an upstairs room with an outdoor patio, VIP donors and sponsors greeted the cast of dancers: Natalia Osipova, Viktoria Brilyova, Joaquin de Luz, Marcelo Gomes, Denis Matvienko, Friedemann Vogel, Sergei Polunin (who was making his West Coast debut), Philipp Stepin and Soslan Kulaev.
Polunin was in Los Angeles the following week for the opening of his new film biography, "Dancer." Many consider
him THE hot dancer right now, often comparing him to the legendary Rudolph Nureyev. If you doubt his skills, check out his dance video, "Take Me To the Church," on Youtube—it already has nearly 16 million views.
The menu for the reception included roasted tomato bruschetta, ahi tartare on crispy wontons, mini crab cakes with spicy remoulade, shrimp ceviche, prime rib sliders with caramelized onions and horseradish cream, French fries, and Mastro's signature butter cake and Chocolate Sin Cake.
On hand were Center President Terry Dwyer and wife Amy, Center Executive Vice President Judy Morr (who programs the Center's dance series), Sergei and Giane Danilian of Ardani Artists (who co-produced Tour de Force III with the Center), Elizabeth Segerstrom, and Betty and S.L. Huang (S.L. was celebrating his birthday).
For more information, visit SCFTA.org.