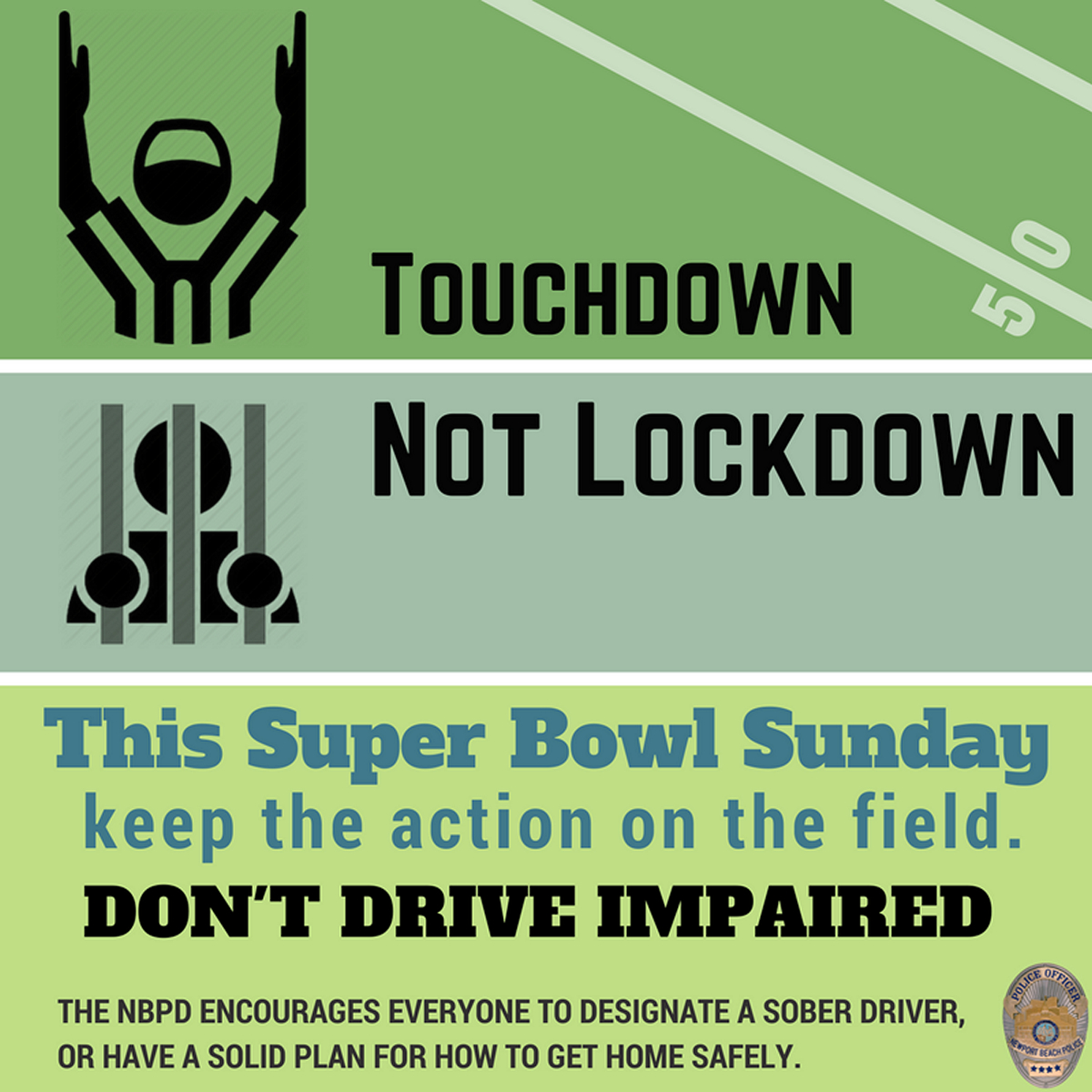 As kickoff time for America's most-watched sporting event draws closer, authorities are reminding fans to celebrate the touchdowns safely and avoid a "lockdown" by not driving under the influence.  
Newport Beach Police Department distributed a community message Wednesday that urged football enthusiasts to "keep the action on the field" and if they plan on drinking on Super Bowl Sunday, designate a sober driver or have a solid plan on how to get home safely.
"Don't fumble! Designate your sober driver before the big game begins. And remember: Fans Don't Let Fans Drive Drunk," the message reads.
Additional officers will be deployed on DUI saturation patrols during and following Sunday's game. These officers will be tasked with stopping and arresting drivers who show signs of alcohol or drug impairment.
"Be sure to have a game plan for Super Bowl Sunday so you – and everyone else on the road – can get home safely," said NBPD Sergeant Michael Schiavi in the prepared statement. "If you aren't sober, you have options: A designated driver, ride sharing, public transit… but do not make the decision to get behind the wheel if you are impaired."
Police also noted in the message that even small amounts of alcohol can impair judgment to make driving unsafe.
Officials also pointed out that "DUI Doesn't Just Mean Booze," and that (illicit or prescribed) drug-impaired driving is also a "dangerous and illegal" problem on California roadways.  
In 2016, the National Highway Traffic Safety Administration reported that 10,497 people died nationwide in motor vehicle traffic crashes involving drunk drivers. In California, 1,059 DUI deaths were reported.