Civilian Cold Case Investigators Also Honored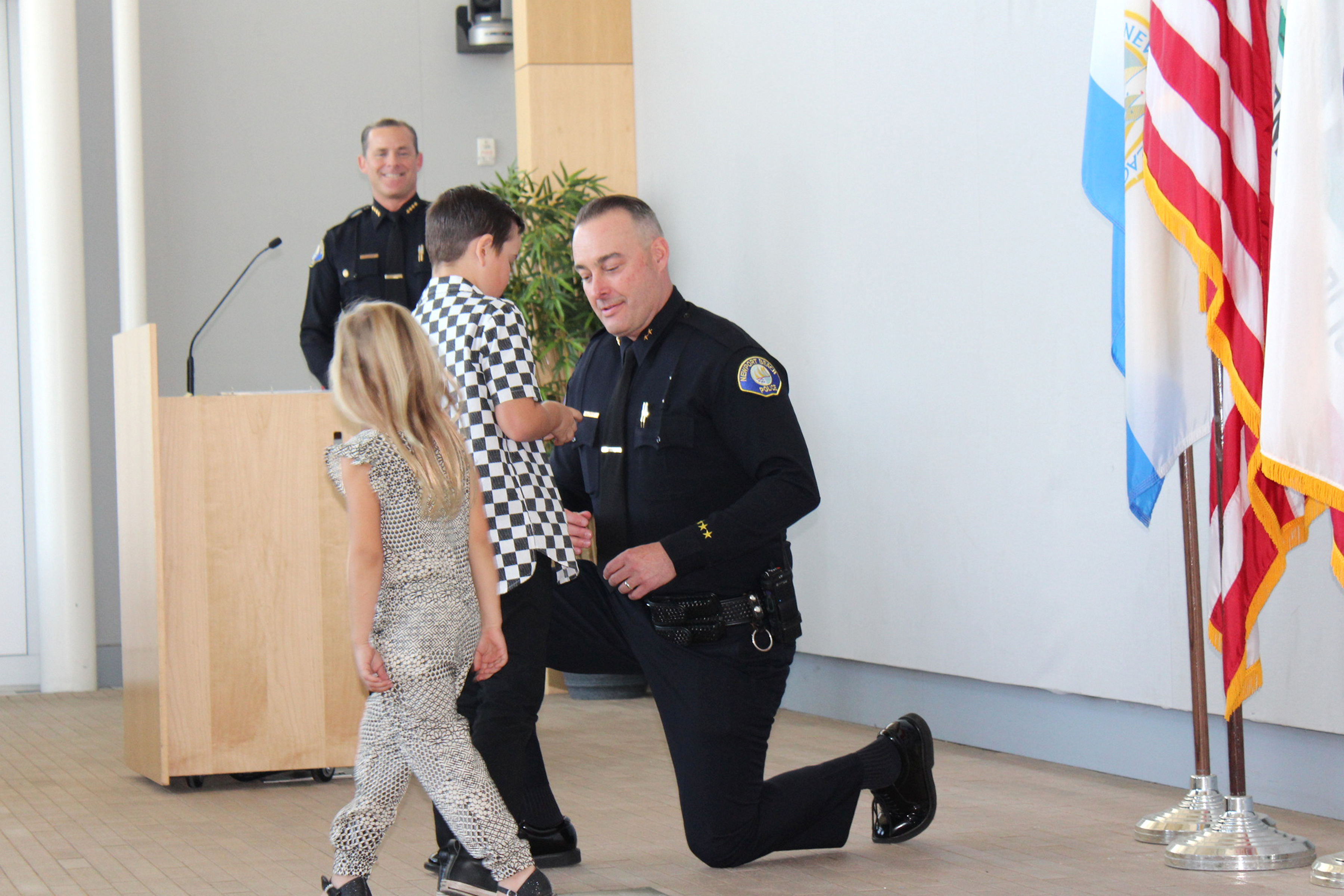 Around 200 friends and family members of the Newport Beach Police Department joined the mayor and City Council in honoring seven men this week.
During the NBPD's promotion ceremony held Monday at the Civic Center, two received a Chief's Citation, three were sworn in to new positions, and two were promoted. As is tradition, each officer had a new badge pinned onto them by a loved one or member of their family.
"Today is a proud day for the Newport Beach Police Department," Chief Jon Lewis said in his opening remarks.
The biggest honor of the day went to Jay Short, who was promoted to the rank of Deputy Chief. He began as a Reserve Police Officer in 1992 and joined full-time with the NBPD in 1995.
In a speech to the audience, Short acknowledged his parents and other family members. Life's best moments are when people focus on others, not themselves, he reflected.
"Along my journey, several of you have focused on me, have invested in me, and I appreciate that," Short said. "I'm excited for this opportunity, honored by this promotion, honored by your presence here today. And I look forward to the work ahead."
He said that as a child, he thought he might grow up to be in a number of unique professions, such as an athlete or even a cowboy.
"But I was going to be a police officer. I was going to carry a badge and a gun, drive a police car, be on the SWAT team, repel off building, arrest the bad guys, and save the good ones," he commented. "Today is an extension of that boyhood dream come true, and I thank you for sharing it with me."
Also honored on Monday were civilian investigators Mike Dugan and Brain McMahon. Both were issued a Chief's Citation by Lewis for their undertaking of a decades-old cold case: The 1994 homicide of Frances Marjorie Van Uden. In October, NBPD made national news when officers arrested her son, John Henry Uden III, thanks to the work of Dugan and McMahon.
Lewis called their efforts on the case "nothing short of exemplary."
"The experience and knowledge they brought to this investigation were critical," Lewis stated. "They are the epitome of what a law enforcement professional should aspire to be."
Three new officers also joined the force during Monday's ceremony. Sworn in were Salvador Torres as the department's newest Parking Control Officer, and Brain Craddolph and Alexis Bakas as Lateral Police Officers.
Receiving a promotion to Senior Police Mechanic was Steve Green. His speech was short and sweet.
"Thank you, and thank you for the job," he said to laughter and applause.