Christmas may be over, but you can still buy gifts that make a difference. In fact, any time you buy anything from Project 7, you've bought a gift that gives back to those in need.
"Little purchases can make big differences," said Lindsey Nobles, Newport resident and director of community for Project 7. "Project 7 is a brand that gives back in seven areas of need. We don't encourage people to buy more stuff, but to be more aware of the way they buy, and also to realize that they can make an impact on others by changing the way they buy."
Lindsey explained that the seven areas of need supported by Project 7 are to: Heal the Sick; Save the Earth; House the Homeless; Feed the Hungry; Quench the Thirsty; Hope for Peace and Teach Them Well. The Project 7 products are coffee, bottled water, sugar-free gum, sugar-free mints, and clothing.
"When you buy something from Project 7, there is a tangible 'give back' with each purchase in one of the seven different areas of need," Lindsey said. "For example, if you buy a 'Save the Earth' product, we will plant a fruit tree."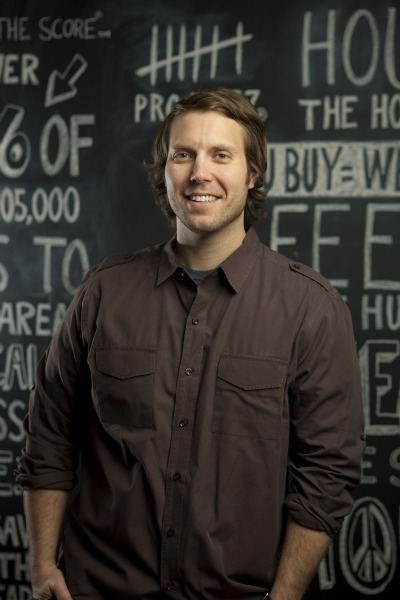 Tyler Merrick founded Project 7 in 2008. Tyler, who recently relocated to Southern California from Texas, grew up working for the successful family business Merrick Pet Foods, but felt that God wanted him to do something else.
"It was a great and fun experience, but I felt God calling me to leave a different kind of legacy," Tyler said. "My wife and I really prayed about it and wrestled with the idea, and ended up taking a step of faith."
"I learned about being generous by being raised in a Christian home. My parents said we have been given a lot, and need to be responsible to give back," Tyler continued. "We also went to a lot of nonprofit events and I saw how dependent so many of them were on things like golf scrambles and other fundraisers. There's nothing wrong with those, but they aren't very consistent. I began thinking about a different kind of business model that would provide a good product, at competitive prices, that would give back to those in need on a consistent basis."
Tyler's background gave him a strong understanding of the world, language and marketing of consumer-packaged goods, so he stayed with what he knew. He also wanted to turn the seven deadly sins upside down. For example, instead of focusing on gluttony, he wanted to focus instead on helping the hungry. He created the cause-related business as a way to give back, inspire others and educate people, while making a measurable difference in lives all over the world.
"The idea was simple, there are products every day that I can buy that help me, but what if there were products out there that helped someone else at the same time," Tyler said. "We're all busy, but we can make a difference. We built a brand that gives back. We bring the causes to you, to your grocery store, to your coffee shop, to college campuses, even delivered to your door. You pick the cause you want to support and we give back to that area of need. The packaging even tells you what you're giving to; it's part of the label. We're a for-profit business that exists to serve nonprofits."
Tyler explained that they partner with established nonprofits in the US, as well as overseas, such as World Vision, Samaritan's Purse and Children's Hunger Fund.
Their creative website explains how the different organizations help the seven areas. For instance, the "Teach Them Well" products provide schooling for children in need, and the "Feed the Hungry" products give meals back into American communities. Project 7 has already planted more than 500,000 fruits trees, and provided more than 500,000 meals through the "Feed the Hungry" products. The most recent giving report shows that they have provided 10,557 malaria treatments.
Tyler and Lindsey hope to expand the product line as well as distribution, but they both acknowledge and thank God for where they are today.
"God has totally humbled me, and blessed me," Tyler said. "I had my plans and timelines, but it didn't go that way. I've sure learned about trust, surrender and obedience. The Lord has opened up crazy doors, like Walmart. Right now we're in 1,500 Walmart stores, but in March, we'll be at the checkout line in every Walmart across the country. God has showed me that we are called to be salt and light in whatever we are doing, whether it's in our businesses, hobbies or marriages."
For further information, go to www.project7.com Cindy can be reached at [email protected]