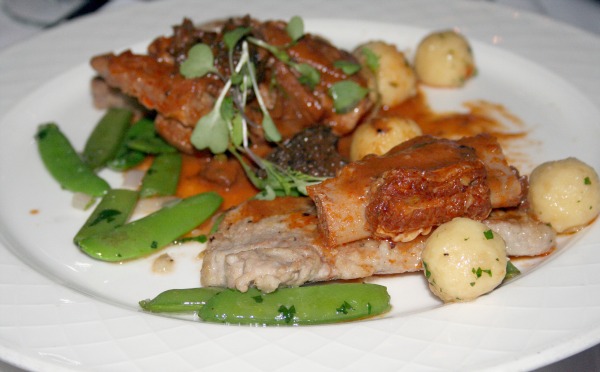 History and dining don't often go together, but scattered throughout Newport Beach are a handful of restaurants with a colorful past, and cuisine to match.
One of those is The Cannery Seafood of the Pacific, so called because the restaurant sits on the site of a former fish cannery.
Nearly 100 years ago, fishing was big business in Newport Beach. In 1934, Western Canners Co. operated a facility in Newport Beach that canned 400 cases of fish a day – by hand. Industrial improvements raised that number to 5,000 cases a day, but by the mid-1960s, fishing gave way to tourism and Western Canners closed.
Local resident Bill Hamilton purchased the facility, and in 1973 reopened it as a waterfront restaurant. He sold the property in 1999 and it changed hands several times. Now, restaurateur Ron Salisbury runs The Cannery, which boasts a menu that focuses on fish, including sushi, plus meat and poultry dishes.
We've been meaning to dine at The Cannery, and finally had the opportunity when we were invited to a wine pairing dinner as part of the Paso Robles Grand Tasting Tour. Unfortunately, the date of the event conflicted with Stasha's starring role in the play "Private Lives" up in Burbank, so our editorial assistant, Catherine Del Casale, eagerly agreed to fill in for Stasha and attend the dinner with me.
Catherine and I first stopped at Wine Lab Newport, which was hosting a tasting with three Paso wineries: Hope Family Wines, Vines on the Marycrest, and Cypher Winery.
We sampled wines from all the vintners, and agreed they were all excellent. We also agreed that the Vines on the Marycrest "My Generation" blend of Zinfandel, Syrah, Mourvedre and Petite Sirah was our favorite.
"The raspberry and vanilla flavors are nicely balanced and easy to define," said Catherine as she swirled the elixir in her glass.
Then it was off to the wine dinner, held on The Cannery's cozy, covered outdoor patio. The dinner featured wines from five Paso Robles wineries: Eberle, Tablas Creek, Justin, J. Lohr, and kukkula.
The evening began with glasses of bubbly and a trio of amuse bouches: Steak Tartar with Caviar, Seared Blue Fin Tuna Roll, and Baked Brie with Orange Marmalade
"The Baked Brie is my favorite. The rich fruity taste of the orange complements the salty flavoring of the Brie," noted Catherine.
The first course quickly arrived: Curried English Pea Soup with Buttered Main Lobster and Crème Fraiche. That was followed soon after by a second course of Organic White Asparagus and Prosciutto Salad. Both of those courses were paired with wonderful white wines from Tablas Creek and Eberle.
The third course showed off The Cannery's seafood skills: Pan-Seared Sea Scallop with Port Wine Risotto and Sage Buerre Blanc. The dish alone was great, but the delicate white sauce was overpowered when paired with the red wine we were served, so we sipped the remains of the white wine from the previous course and then enjoyed the red on its own.
The fourth course was a good reminder that The Cannery isn't just about fish. Plates of Veal Sirloin Medallions and Braised Short Ribs with Asiago Gnocchi and Sugar Snap Peas with a Wild Mushroom Veal Demi Glaze were placed before us, along with a fourth wine (which we recall being the J. Lohr Reserve Cabernet).
"You know, it's often hard to find gnocchi cooked correctly, but this gnocchi is cooked to perfection," said Catherine delightedly. "It's light and soft, but not to the point where it's overcooked and mushy."
"Ummm … right, just what I was thinking," I mumbled between bites.
The dinner ended with a delightful dessert: D'Anjou Pear and Blackberry Cobbler with Stone-Ground Corn Biscuits and Tahitian Vanilla Bean Ice Cream.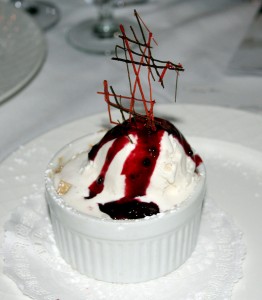 The dessert was served with one of my longtime favorite wines, the Justin Isosceles (a Cabernet-based blend).
"The dessert itself is wonderful, but paired with a heavy red wine, it doesn't really do the dish justice," observed Catherine.
"I have to agree, it does overwhelm the light pear flavors," I said. "But I have a great idea. I'm going to finish the dessert, and then savor the wine, you could call it my Just-in desserts."
I could see she didn't get my feeble attempt at a pun, so I enjoyed the Justin and mentally planned my next visit to The Cannery, and to Paso Robles wine country.
For more information on The Cannery, and to view menus, visit www.CanneryNewport.com.