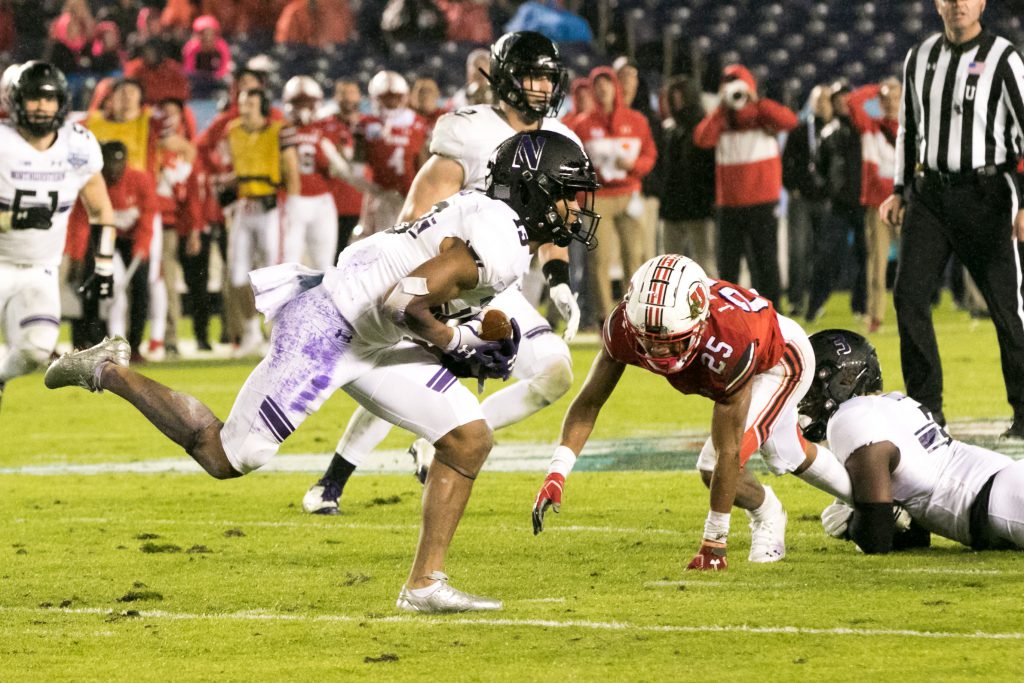 The Northwestern Wildcats provided a shocking third quarter domination over the Utah Utes on a rainy New Year's Eve football game in San Diego.
A crowd of more than 47,000 filled the stadium for the San Diego County Credit Union Holiday Bowl between Northwestern University in Evanston, Ill., and University of Utah, in Salt Lake City, on Dec. 31.
The two halves of the game couldn't have been more different, with the Utes commanding the game before halftime, but the Wildcats returning for a record-breaking power shift in the third quarter.
In the postgame press conference, Northwestern Coach Pat Fitzgerald summed up the momentum shift in the second half, crediting the weather as one factor in their revival.
"Did I think we were going to be able to create that amount of turnovers?" Fitzgerald said, responding to a question from the media. "I love San Diego, but I love it when it rains on game day."
The game began with a surprisingly tame Wildcats, while the Utes were assembling a 20-3 lead by the end of the first half.
Northwestern returned to the field for a magical third quarter, seemingly energized by heavier rain, scoring 28 points. With that high-scoring quarter, the Wildcats tied a 30-year old Holiday Bowl record, according to SDCCU officials.
The switch in control was also aided by Utah committing five turnovers in the second half.
Wildcats stayed in control with a score of 31-20 at the end of the third quarter. No scoring during the fourth quarter ended the came with Northwestern still on top.
A New Year's celebration followed for Wildcats players and fans.
For more information, visit holidaybowl.com.