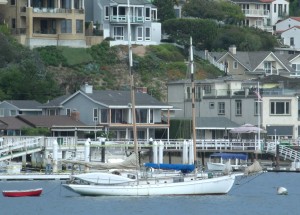 A follow-up to last week's column: The "Ole Ladies and Gents Sabot Regatta" had a very large turnout. The San Diego area contingents were ferocious in the competition. In Class A, first through third place went to our San Diego Amigas. Fourth place was Diane Kent out of Balboa Yacht Club. Ladies B had Karen Littrell of Balboa Yacht Club taking second place and Bev Roberts of Balboa Yacht Club placing third. Our Amiga from San Diego Yacht Club powered to First.
Men's A was taken by out of towners, but in the mixed novice, congratulations go out to Katherine Cannon of Balboa Yacht Club for her first place finish.
The Balboa Angling Club's Master Angler Billfish Tournament last weekend seemed to tell the same tale. There were 141 anglers on 37 sport fishers representing seven clubs. JD Doughty was this year's chairman of the event who, as I have mentioned in the past, has owned and operated JD's Big Game Tackle and Apparel behind the Beek's fuel dock next to the ferry on Balboa Island. Doughty is a longtime active member of the Angling Club and participates and promotes the club and anything to do with fishing.
The Billfish Tournament results lacked any Balboa Angling Club notations, so congratulations go to the out of town clubs. Several Marlin were caught and released on 12-pound test which is an immense accomplishment. We never fished with less than 30-pound test and my hat's off to those anglers.
A change of pace is in order to share some personal nostalgia. Around 1958, and for the next 20 years or so, a resident who lived Clay Street in Cliff Haven laid the keel for a 45 (or so) foot sailboat in his back yard. As I walked to school and played in the area with friends, we observed him melting the lead and attaching it to keel. As the years progressed, rib after rib would slowly be attached. Many years following the laying of the keel, wood planks were attached to ribs. This endeavor lasted several more years.
Eventually she was launched mast-less and berthed on a local mooring for a few more years. About 25 years ago I noted famed wood yacht designer and builder Bob Doris aboard and for the next few years he lovingly finished and used the yacht until his passing.
When I was five years old, my Dad took me to Doris' home above his boatyard in Cannery Village while he was building the wood launches for the Storybook Boat ride at Disneyland before the park opened in 1956. He also designed the 36-foot trawler in the early 70s for Grand Banks. The 49 and 55-foot Alaskan trawlers by Grand Banks were also designed by Doris during this same era. The photo I took Tuesday is the very sailboat I watched being built for that 30-year or so time period.
Sea Ya,
Skipper Steve