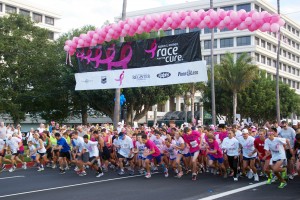 Registration is now open for the 24th annual Susan G. Komen Orange County Race for the Cure, to be held on Sunday, Sept. 27, at Fashion Island in Newport Beach.
This year's theme, "There's a HERO in YOU" symbolizes the extraordinary acts of service by all Race participants who fundraise, donate and raise awareness to support the Komen promise of saving lives.
Race for the Cure is the largest fundraiser of its kind in Orange County. The signature event raises vital funds for mammograms, community outreach, education programs and life-saving research.
This year the race includes a survivor parade and tribute to honor local breast cancer survivors, the walks/runs, a wellness expo, and a platform for survivors, advocates, family and friends to inspire one another to become educated on breast cancer and breast health.
For the second consecutive year, Doug McKay, district grant chair for Macy's Orange County, is Race chair. He leads the charge with strategic planning and leadership of the Komen Orange County Race committee, and helps to ensure a successful fundraising event. McKay lost his wife to cancer and is no stranger to the challenges families must overcome when faced with a terrible disease.
New this year is the PLUS Timing Chip option, which allows runners to test their "hero" speed on the course for an additional $5 fee. PLUS Timing Chip registrants receive a Komen-branded timing chip to place on their shoes, and must run the 7:15 a.m. race to be placed in a corral ahead of all participants to ensure accurate timing.
In addition to the walks/runs, more than 1,200 local survivors will be celebrated. Survivors donning pink beads, one for each year of survivorship, will march the steps of the Pacific Life Building on Newport Center Drive during a Breast Cancer Survivor Parade at 8:45 a.m.
The Komen Orange County Race for the Cure starts with a Wellness Expo from 6:30 a.m. to noon near the Pacific Life Building. Races begin at 7:15 a.m., 8 a.m. and 9:45 a.m.
Participants can register individually or as a team online at komenoc.org/race. Those unable to attend but still wish to support the Komen Orange County Race for the Cure can register to "Sleep In for the Cure" for $40 and will be mailed a T-shirt and bib after the event.