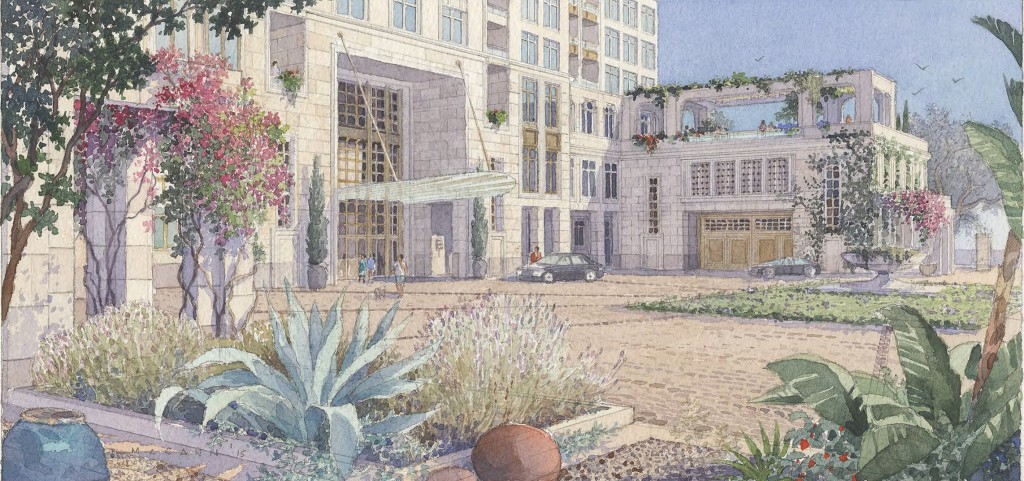 Details were revealed and questions were answered this week about the contentious Museum House project during a community meeting.
A passionate crowd of about 125 people packed into the Community Room at the Newport Beach Civic Center for Speak Up Newport's monthly meeting Wednesday night.
The 25-story, 295-foot tall, 100-residential-unit Museum House was the topic of discussion. It's been proposed to replace the Orange County Museum of Art, which is moving to Costa Mesa.
The museum has entered into an agreement to sell its Newport Center site to Related California Urban Housing, LLC, which has proposed the Museum House project. Company President Bill Witte spoke at the SUN meeting.
The audience had plenty of questions for Witte, most centering on the height, price range, view, water usage, and alternate locations.
A few residents, during the Q&A period and after the meeting ended, also pointed out that this felt like it was going against the spirit of Greenlight and what the residents truly intended and pictured. They feel frustrated, said one local resident.
They don't want Newport Beach to start looking like Los Angeles, one speaker noted, as the audience applauded.
Witte explained that his team spent time trying to "understand the dynamics" of the site. They wanted to take their  time and not rush to conclusions about what may or may not work for the property, he added. While considering design of the building, they had to ask themselves, "Would it block views? Would it cast shadows?" Witte noted. The crowd audibly answered the rhetorical questions, "Yes."
"Nobody's perfect, we certainly haven't gotten everything right," Witte said.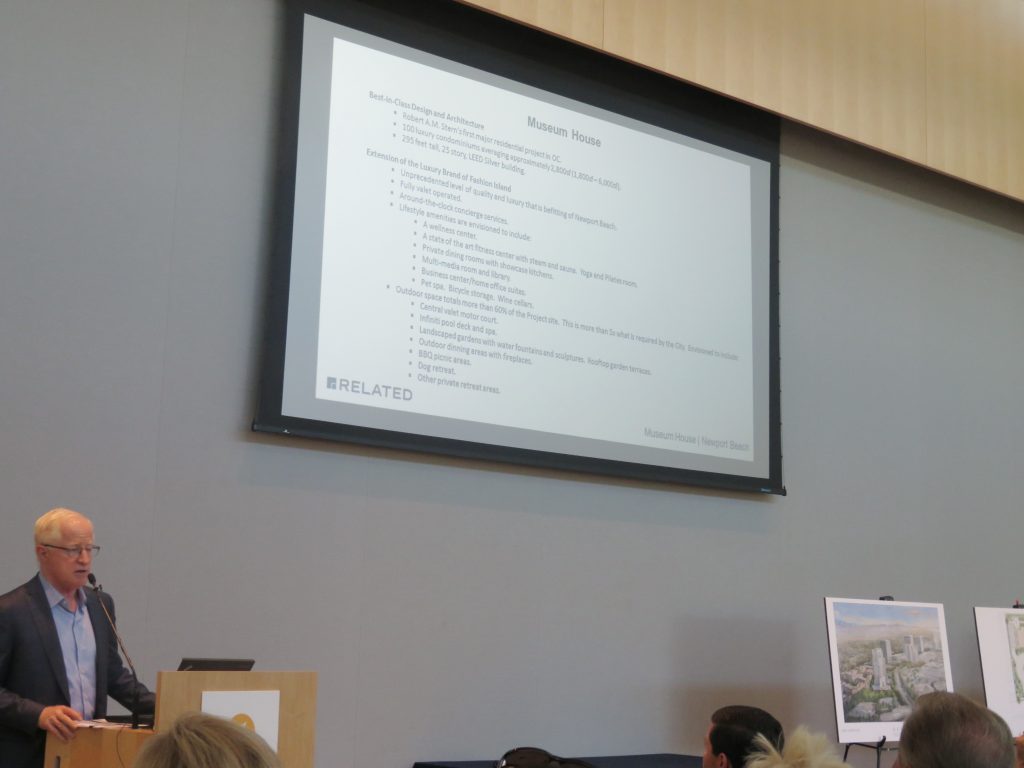 He feels they have designed a project that minimizes or eliminates most impacts, despite its height, Witte said.
Because this site is located at the end of a crescent of existing high-rise buildings it tends to be hidden by the existing buildings, he said.
"It's not, for the most part, creating a new view impediment," Witte said. "It does not obstruct any ocean views along view corridors."
He displayed several simulated views from a select points surrounding the project. Nearby buildings shield it from some viewpoints, while existing landscaping block most of it from other locations. At certain spots, "you will see something, but kind of in line with want you're already looking at," Witte said. "You will not be seeing a whole new building."
He did not, however, include simulated views from the nearby office buildings or describe how they would be impacted, as one resident pointed out after the meeting.
The artist renderings and view simulations depict the building's total height of 295-feet, which includes the roof-mounted equipment.
"They include that, so what you see is what the height would be including the equipment on top of the building," Witte said.
There is also a trade-off between height and open space, Witte noted. Landscaping will also be throughout the site.
"While this is a tall building, two-thirds of the site is open space," Witte said, rather than a shorter building that covers the entire site.
There are only 100 units in the Fashion Island area for at least the next 10 years, Witte confirmed.
Since only 100 units are allowed, if 150 Newport Center, a seven-story, 49-unit residential condo project (formerly known as Newport Center Villas), is approved, they could still create a project with the number of units left over, Witte explained. But it is unclear if they would still be interested in developing the property with less units. They would have to see how it plays out, he added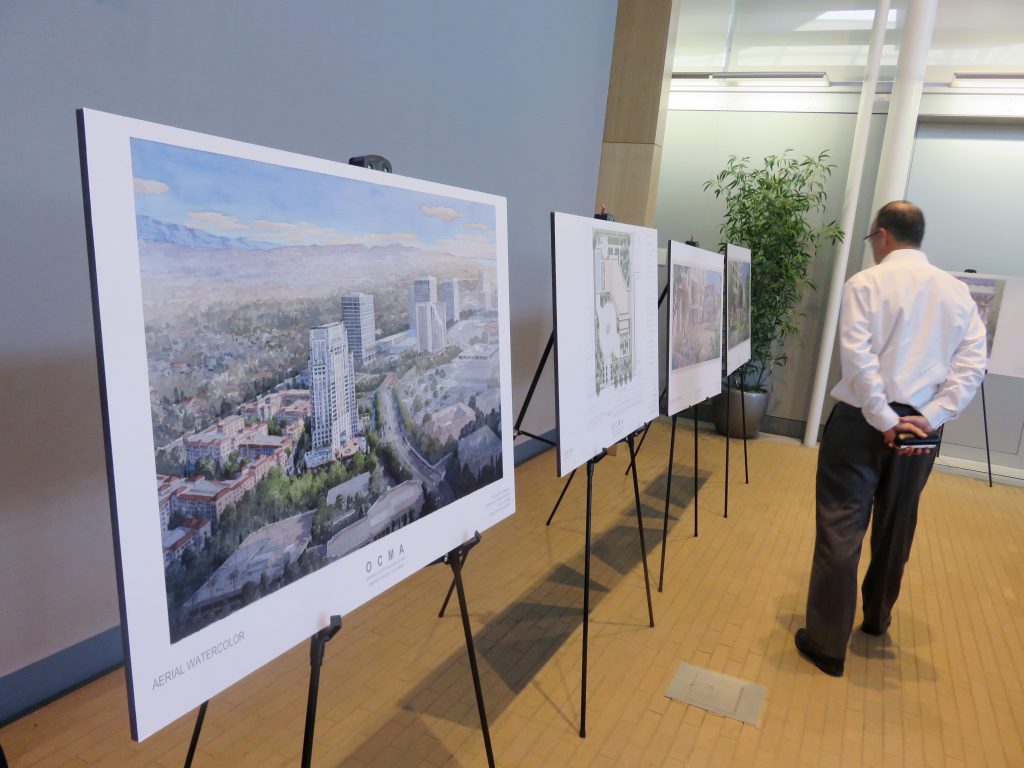 "There is a point, at which, it wouldn't make sense to proceed with this," he said.
Witte also discussed the projected price tag for the residential units in Museum House. As a starting point, it would be approximately $1,100 per square foot with the average unit about 2,600 to 2,700 square feet (modeled after the numbers for another similar project). Total projected price for the base average unit would be approximately $2 million to $4 million, according to Witte. The price range would vary considerably depending on the location and the floor, he added. There will be no affordable housing.
The team aims for the project to be a "design jewel" in Fashion Island. It will be a high-end building, Witte said.
The demographic for luxury condominiums is typically older, Witte said. He also noted that most of the residents will be locals.
"There is a significant demand locally for this type of product," he said.
There aren't likely to be any kids and some residents will have another home. This results in very little impact to the rush hour time period, Witte said. They tend to have a very low net traffic impact, he added.
"Traffic, understandably, is a great concern," Witte said.
It will be fully valet parked, so there can never be a situation of excess parking or cars left over, Witte added.
He also mentioned that the draft Environmental Impact Report (conducted by the city) would likely be released late next week. Witte and his team have already read it, and it concludes that it will not generate any long term significant impact, he said. The public will have 30 days to review and comment on the report.
After the 30-day review period the project will head to the Planning Commission, then City Council.
He didn't want to address the impact of the various points studied in the draft EIR, but said there will be plenty of time for discussion.
"This isn't the last time you get ask us questions or talk to us," Witte said.
For more information, visit speakupnewport.com and newportbeachca.gov/trending/projects-issues/museum-house-residential-tower.