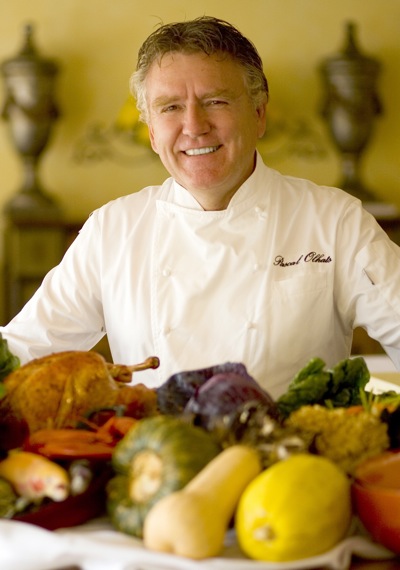 The holidays are a time for tradition. For many families, that means enjoying a tasty Thanksgiving dinner – but letting someone else do the cooking, and the dishes!
A handful of Newport Beach restaurants are serving up lavish Thanksgiving feasts to suit almost any budget. Choose from dining in a holiday-themed atmosphere, or ordering your feast to go.
PASCAL TO GO
Don't want to dine out this year? Let Chef Pascal Olhats do the cooking.
"Thanksgiving is one of my favorite American traditions," says Chef Pascal, who owns Brasserie Pascal, Pascal Epicerie, and Cafe Jardin. "That's why I wanted to offer my patrons a special Thanksgiving take-out menu, which includes my interpretation of several traditional holiday dishes."
Pascal take the term "to-go" to new heights with the many options he's created for Thanksgiving. Individual dinners are only $19.95 each and include Cooked Free Range Turkey, Mashed Potatoes, Home Style Stuffing, Gravy, Cranberry Sauce, Braised Cabbage, and a Mini Pumpkin Tart.
You can also order a la carte and select everything from whole turkeys to delicious sides to decadent desserts. Another option is a Family Dinner for $199 that serves 8 to 12 people. And if you need the perfect wine to accompany the meal, you can't do better than the new Beaujolais Nouveau from George Duboeuf, which is also on Pascal's a la carte menu.
Orders must be placed before 5p.m. on Tuesday November 20, and will be ready for pick-up at Pascal's Epicerie from 8:30 am to 1 p.m. on Nov. 22. Call 949-263-9400 ext. 2, or visit PascalNPB.com.
BRASSERIE PASCAL
Leave it to Pascal to serve Thanksgiving dinner at his Brasserie with his usual French flair. This year, he has a three-course prix fixe menu for $35 per person served from 11:30 a.m. to 8 p.m.
Start with an appetizers such as Butternut Squash Bisque Drizzled with Brown Sage Butter, French Onion Soup Gratinée , and Escargots
Served en Croute with Garlic Herb Sauce.
Entrees include Traditional Roasted Turkey with Giblet Gravy, Pecan Cornbread Stuffing, Chive Mashed Potatoes, French Green Beans, Butternut Squash and Cranberry Sauce; Herbs of Provence Crusted Prime Rib with Pomme Puree, Haricot Vert and au Jus; and Thyme-Lemon Crusted Sea Bass with Parmesan Risotto, Spaghetti Squash and Tomato-Saffron Jus.
And for dessert? Pumpkin Crème Brulée , Callebaut Chocolate Soufflé with Cointreau Cream , or Traditional Pumpkin Pie with Chantilly Cream.
Call 949-640-2700, or visit PascalNPB.com.
BAYSIDE
A drumstick's throw from Newport Harbor, Bayside offers a relaxing three-course Thanksgiving dinner from 2-8 p.m.
The prix-fixe menu includes oven-roasted organic turkey with all of the trimmings, a puree of garnet yam and ginger soup, and roasted red beet salad with California goat cheese, honey-roasted walnuts, aged balsamic reduction, red Belgian endive and upland watercress. Topping off the meal, guests can choose between pumpkin pie or warm chocolate soufflé cake served with hazelnut ice cream for dessert.
Cost is $42.75 per adult & $19 for children 12 & under. A limited a la carte menu will also be available. For reservations or more information call 949-721-1222 or visit baysiderestaurant.com.
BACK BAY BISTRO
Anyone who's been to the Back Bay Bistro weekend brunch knows why the restaurant is so popular: a fabulous Back Bay view, and a fabulous menu.
Those two elements should prove enticing to Thanksgiving Day diners, because Back Bay Bistro is serving an impressive buffet-style feast.
Among the many offerings: Sliced roasted turkey, ham, and prime rib; Waldorf salad & baby arugula with grapes in roasted shallot vinaigrette; grilled salmon with dill cream sauce; mini crab cakes; corn bread stuffing; wild rice; truffle scallop potatoes; mac n cheese; mashed sweet potatoes; roasted root vegetables; green beans almandine; creamed spinach; cranberry compote; assorted artisan breads; pumpkin, apple and pecan pie.
The price is more than reasonable: $38 for adults and $19 for children under 12. For reservations, call 949-729-1144 or visit BackBayBistroNewportBeach.com.
THE RITZ
Longtime Newport staple The Ritz Restaurant offers a prix fixe menu from 1 to 8:30 p.m. on Thanksgiving.
Start with an appetizer: choice of Maine Lobster Bisque laced with Armagnac, Wild Mushroom "Cappuccino" with Morel Foam; Roasted Butternut Squash Soup with Sweet White Corn; The Ritz Salad with Canadian Bay Shrimp & Belgian Endive; Heart of Romaine with crumbled Roquefort & Sourdough Croutons; or Spring Mix Salad with Sonoma Goat Cheese, Pears & Walnut Oil Vinaigrette.
Then it's on to the entrees. Select from Roasted Turkey and Gravy with Savory Brioche Pecan Dressing, Mashed Russet Potatoes, Candied Yams, and toasted Almond String Beans; Filet of Atlantic King Salmon poached in Chardonnay on a bed of Spoonleaf Spinach with Yukon Gold Potatoes, draped with Three Mustard-Caper Sauce; Broiled Sirloin of Lamb with Rosemary Au Jus carved over Mashed Russet Potatoes with Autumn Vegetables; Peppered Grenadines of Filet Mignon with Sauce Diane pan-seared with a dash of Cognac and Mustard, Mashed Russet Potatoes and Toasted Almond String Beans; Scallopine of Veal Piccata sautéed with Zucchini, Squash & Lemon Caper Sauce.
And if that's not enough, finish the meal with a special Ritz Thanksgiving Sampler dessert.
Cost is $55 for adults and $27.50 for children. Enjoy live entertainment from The Baker Boys and Jimmy Hopper.
For reservations, call 949-720-1800 or visit