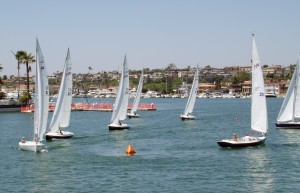 Congratulations to Skipper David Levy winning the Championship Regatta sponsored by Bahia Corinthian Yacht Club this past weekend. I watched the race and snapped a photo of his boat while anchored in the turning basin with Harbor 20 sloops. His sail number is 71.
For the novice and interested folks, the Harbor 20 was designed by Steve Schock and built by W.D. Schock boat builders in Corona. Tom, Scott and Steve had run their successful sailboat company until recently following the untimely passing of their father who started the company in Cannery Village.
I always have been impressed with this world class organization. That was reaffirmed when Gary Jobson, tactician for C.N.N. empire creator Ted Turner, won the America's Cup in the 1970s.
Gary singled out Tom Schock and their Harbor 20 with a story of him racing said sloop at his home yacht club out of Baltimore Harbor. He noted the uniqueness of the creative sloop especially designed and raced for us boomers who physically don't move around like we did in our hotshot twenties of our racing past.
There is one similarity from the very popular design of Bill Schock and his Lido 14 which I would guess they made and sold in the thousands. They both have a back rest which really adds needed comfort for us old folks.
Before I move on, kudos to fellow boating writer and yacht broker Len Bose taking third in the regatta. Atta boy Len!
Occasionally I'll sound off on some of my pet peeves.
I'm teaching my grandson Zander how to skipper large yachts in our harbor. He is the fifth generation in our family to partake of boating in Newport Harbor. (He's also a better pilot at five than a lot of adults I see putting!).
Sunday, after watching a large school of dolphins circle and eat anchovies in the ocean for quite a while (which made the children on board giddy with glee), we motored the 56-foot Sunseeker "Limitless" to the west end of the turning basin leeward of Lido Isle to anchor in the approved anchorage.
Before we could drop anchor, a race committee launch hurriedly came by to say they're conducting a regatta and would we move to the east side. Following exchange and greeting, I asked if he had a permit to enforce using the west anchorage. He mentioned he did not.
Since the formation of this harbor, the use is for everyone. Stink pots (power boats,) know this and don't appreciate the arrogance and superiority of sailboat racers demands. Grow up or get a permit!
 Sea Ya,
Skipper Steve