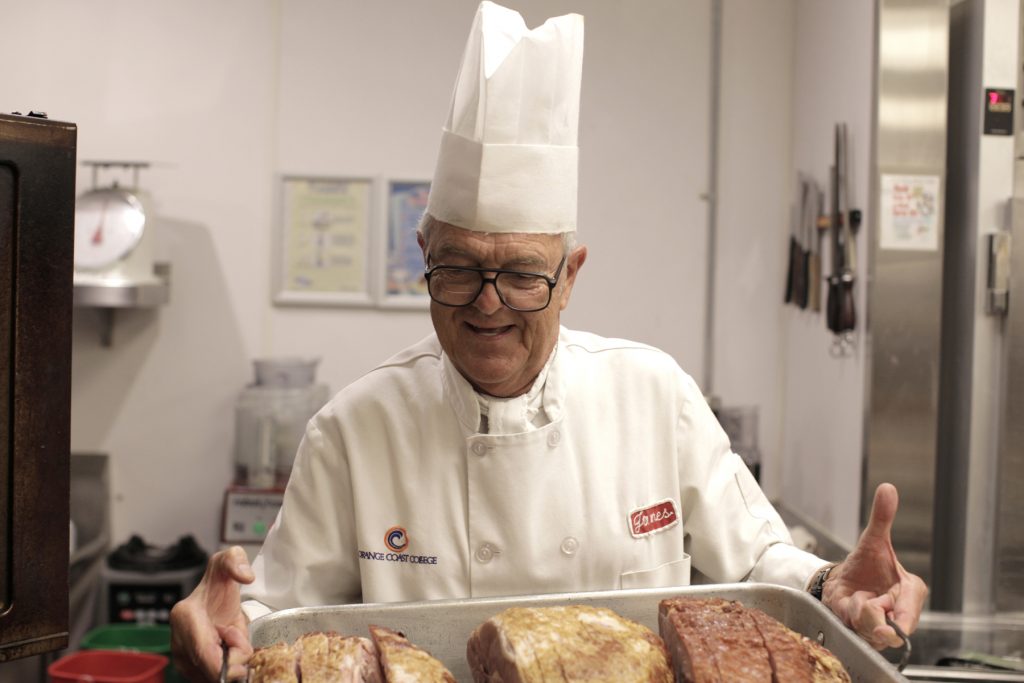 Before the introduction of aircraft-specific iPads issued to cockpit crews, pilots would pack their carry-on bags with manuals that measured many inches thick.    
Retired American Airlines Captain James Whitehead, 71, of Balboa Peninsula, still finds himself traveling to "work" with a similarly robust bound manual that he uses to navigate within an entirely different world from his altitudinous past.
Whitehead is a one-day-a-week chef, and his current three-plus-inch thick manual is voluminously packed with thousands of recipes that he and his wife, Peggy, have collected, and personally tested, over the decades – selections that he now prepares every Monday, for the 5:30 p.m. dinners served or up to 250 residents at the Orange County Rescue Mission.
How does a pilot with more than 14,000 accident-free commercial hours become an avocational chef?    
In a good way, Whitehead attributes it to the time he first began international flying in 1987, when his more seasoned crew dragged him to their favorite French eateries. Between flights, Whitehead started "duplicating those things in my own kitchen," at the same time collecting any recipe that sounded interesting.  
Sixteen years later, upon retirement, he and Peggy motor-homed to all 48-lower states while following both a map and Rachael Ray's "How to Travel on $40 a Day," to every place Ray herself had eaten and written about.  
Although he had an interest in cooking since retiring from the Navy as an aviation electrician's mate chief petty officer, it wasn't until Whitehead wanted to make Bearnaise sauce for his steaks that he decided to enroll in the respected culinary program at Orange Coast College.   
Six semesters later, having mastered Bearnaise, as well as countless soups, stocks, sauces, meats and fish, breads, pies, cookies, French desserts, croissants, plus egg dishes, salads, dressings and "incidental stuff," he finally declared himself more than just a cook.   
As Whitehead quotes, "Chefs can cook, but all cooks are not chefs."  
In his last semester, OCC's chief chef instructor, Bill Barber, put up a notice that Orange County Rescue Mission in Tustin, needed volunteers to cook.  
"I went, interviewed and started cooking there in mid-May, 2012," Whitehead recalled.
So how does a chef cook for 250 hungry people at a single sitting?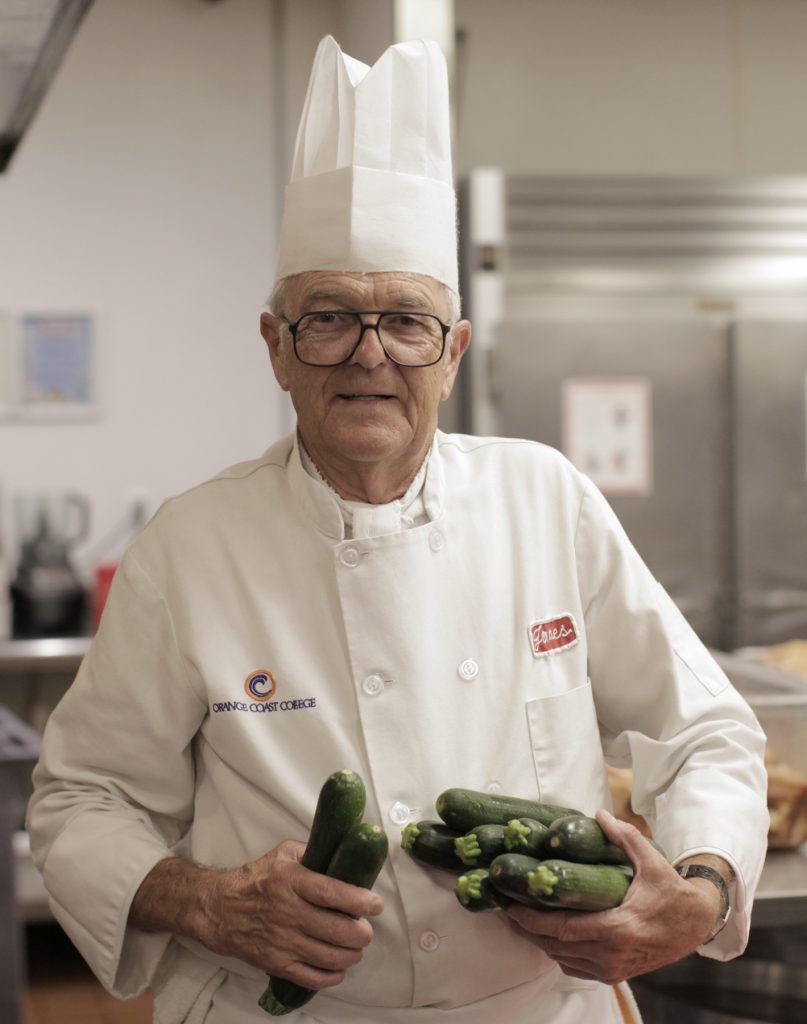 "I take a home recipe, then times it by 15–20," he explained. But it's not quite as simple as it sounds.  
"I don't know what I'm going to cook until I show up about noon," Whitehead said. "Sometimes, I have to change my recipe according to the supplies on hand."
"If there are 80 pounds of chicken thighs, I'll go into the pantry to find all the accompanying dry goods (spices, noodles, etc.), then I'll go to the cooler to see what veggies they have. Often, I'll have to change my recipe, to improvise according to their supplies."   
Most often, he says, he can find a recipe in his binder that addresses the available  ingredients.
No matter what ingredient challenges Whitehead might face upon arrival, "everything has to be carefully coordinated and timed so that it all comes together by 5:30. p.m."
On occasion, he has had to cobble together ingredients to make his own Dijon mustard, or unique tomato sauce for his meal of the evening.  
"Nobody returns a meal, and there's very little left over; they eat everything. The 'students' [that's what resident clients are called] have never had a bad meal there – at least from me," Whitehead said with an artiste's pride.
Students can stay at the mission for up to two years, and during their tenure must learn a vocation.  Many succeed. And many "graduate" from Whitehead's kitchen to enter the food services industry.    
Mass cooking can be a physical labor, especially when Whitehead walks back and forth all afternoon picking up 50-pounds bags of food and ingredients.
"It's a tough job, and I'm drained at the end of the evening," Whitehead admitted. To help him stay in condition, Whitehead bicycles 20 miles a day, and recently passed the 100,000 mile mark. He loves his work, but confided that flying was his greatest passion.   
"I still dream about flying at least three times a week," he said.
Whitehead recounted the most memorable landing he had ever made, a category three, which means absolutely no visibility at all.   
Surrendering his command to instruments and computers, Whitehead's B767 smoothly touched down, then came to an automated stop at the end of a Paris runway, where a truck with yellow blinking light waited to safely guide him home.
Whitehead said that he'll volunteer his talents at the Rescue Mission as long as he enjoys it – or can't carry those 50-pound sacks of potatoes.    
Neither appears close on the horizon.