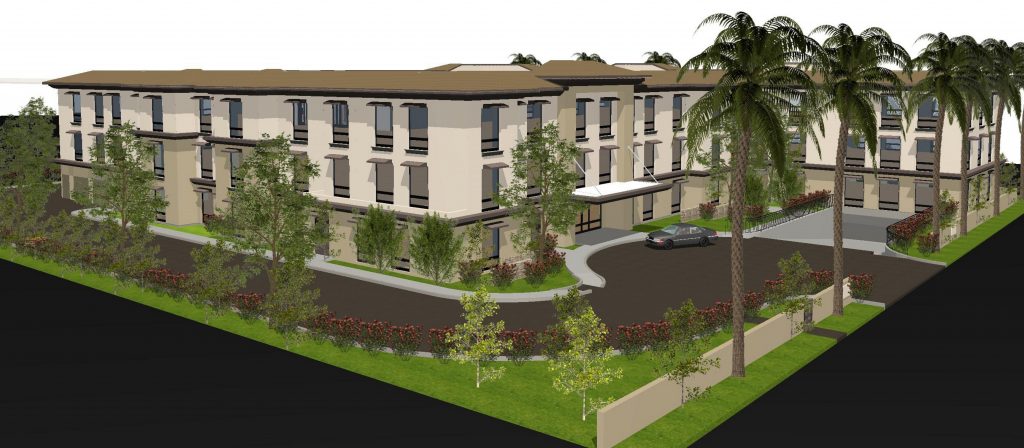 A senior living project that was first proposed, and heavily criticized by locals, in 2016, returned last week for a review of the updated facility.
Nearly two hours of discussion during the Planning Commission study session on Sept. 13, focused on the proposed Harbor Pointe Senior Living facility on 1.5 acres on the southwest corner of Bristol Street and Bayview Place.
The revised project has some notable differences, like the height reduction, but residents' reactions were still overwhelmingly opposed. About two dozen people spoke during public comment, with about three-quarters opining against the project.
Santa Ana Heights resident Patricia Blakeney summed up many of her neighbors' complaints.
"It's really not this project that I'm against, it's putting it on that corner. It doesn't belong here," said Blakeney, a 35-year resident of the community. "The people that live here don't want it."
The purpose of the study session was to reintroduce the revised project and provide information to the Commission and general public. No action was taken.
Staff anticipates the item will return to the Commission for a public hearing on Dec. 6.
The applicant, CenterPointe Senior Living, LLC, is seeking approval for the construction and operation of a three-story, 84,517-square-foot, 101-unit, 120-bed combined senior assisted living and memory care facility. The plan calls for 81 assisted living units and 20 memory care units.
The facility would also include fitness room, spa/salon, theater, library, roof garden, community store, computer lab, activity room, medications rooms, and support uses such as offices, lab, mail room, laundry, and maintenance facilities.
Landscaping, drive aisles, and passenger drop-off would also be provided on the property. Separate interior courtyards would offer seating and outdoor dining for the residents.
The proposed project includes demolition of the existing approximately 8,800-square-foot, single-story Kitayama restaurant building.
The application includes requests for amendments to the general plan and planned community development plan. Changes that many residents argued were not appropriate for the area.
Staff received about two dozen letters about the proposed project, almost all opposed the project, primarily citing the project's need to change the land-use designation of the site from its current CO-G (commercial office) purpose of use to a PI (private institution). Opponents urged commissioners to honor the original Master Plan for the community.
"Restaurants and offices are not open all night. An 'Institution' is however, with employee shift changes, ambulances, police activity, and even coroners and mortuary vehicles disrupting our neighborhoods and our lives," Nikki Brunelle wrote. "This is obviously the wrong site for a senior care facility."
But there was some support for the project.
Dave O'Keefe, who lives just a few houses away from the site, spoke in favor of the proposed facility. He noted that his uncle, a lifelong Newport Beach resident, recently needed to check into an assisted living home and there was nowhere in town to place him.
"There is an absolute huge need for this in our community," O'Keefe said.
The applicant's representative, Carol McDermott, also made a presentation during the study session.
She also noted that there is a demand for this type of facility and there has not been a new full-service assisted living/memory care community built in Newport Beach for about 20 years.
"All of us are living longer," McDermott said of the aging population.
Ann James, a 34-year resident who calls herself a senior, also supported the project.
"I have seen so much change," she said, adding that she thinks it's a great location and benefit to the community. "I'd like to have the opportunity of having someplace here for myself."
Bayview Terrace resident Christine Borak wrote that she appreciated the applicant reducing the height of the building and adding landscaping. Another office building would increase traffic problems, she added.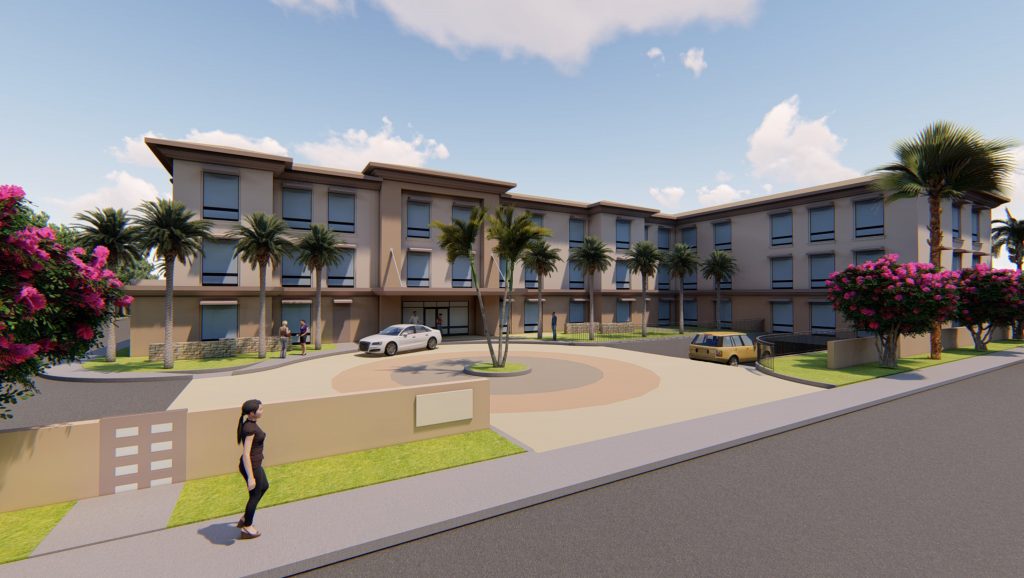 It was initially five stories tall and 109,633 square feet with 128 units.
Commissioners asked about the height and other revisions, as well as staff shift changes, which will happen at 7 a.m. and 4 p.m., the traffic, open space within the facility, parking, and more.
Planning Commissioner Peter Koetting pointed out some potential parking issues.
"The biggest problem with these, and my parents were in them, is that you can't park. There isn't enough for the visitors and there are a lot of visitors sometimes," Koetting said.
The code for this type of use requires one space for every three beds, the rationale being that most parking will be used by staff and visitors, according to staff.
Staffing will range from 20 to 30 people at any given time, McDermott said. With a 53-space subterranean garage, there is a 33 percent surplus for parking, she said.
McDermott also provided renderings of private views with the landscaping and project. She noted that the landscaping would be mature to mirror the already existing trees and brush in Baycrest.
She also emphasized that the senior living project would reduce traffic compared to the potential alternatives, like an office building.
McDermott said they are working to address the zoning and general plan changes by revising the description of the permitted use to only allow assisted living.
She addressed some of the other concerns, but most residents said they "unwaveringly" opposed the project.
Speakers noted that it would be impossible for there to be no traffic impact.
Many also added that Bristol is a potential danger to the senior residents, many of whom need memory care.
It's a populated community, surrounded by busy "highway-like" streets that are "extremely accident prone," creating essentially a "game of chicken" on the roads, opponents said.
Opponents argued that the project is incompatible for the area and there is no benefit to the neighborhood. Several also pointed out that, despite the reduction in size, the project is still "massive."
Baycrest Court resident Michael McDonald said one of the rendering photos (to simulate views with the proposed project and landscaping) was taken from his porch. They want to build their project, but just so he can't see it, put up tall trees to block it, he said.
"So now you've taken the building away," he said, "but still blocked the sunshine."
If a correctly zoned location was chosen back when the project was first introduced, they could have built two facilities and had them staffed already.
"So, your bad," he said.