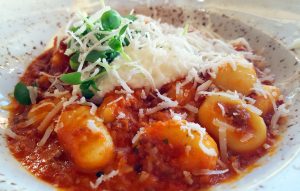 Where do you go to celebrate a half birthday? Andrea Restaurant at Pelican Hill Resort, of course.
Catherine's birthday was December 26, but she was sick and then out of town, so we never got to enjoy her traditional birthday dinner.
Instead of skipping it altogether, Catherine made a reservation for four of us to celebrate her birthday at Andrea Restaurant on June 26—half way between last year's birthday and this year's birthday.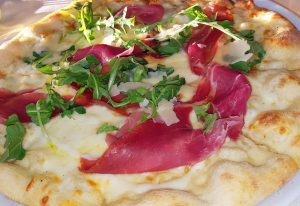 It was a Monday night yet the restaurant was surprisingly crowded—a sign that people love Andrea's authentic Italian cuisine and the unmatched views of the gorgeous Pelican Hill property and the Pacific Ocean.
We ordered a variety of dishes to share, including margherita classica thin-crust pizza with buffalo mozzarella and basil ($16) and the prosciutto and arugula thin-crust pizza with burrata and parmesan ($16).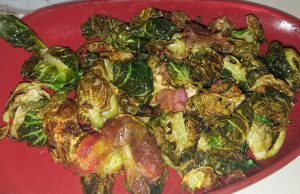 We added crispy brussels sprouts with pancetta ($9) and gnocchi ($24), but our favorite dish was one that we've only experienced at Andrea: barrel-aged acquerello risotto with forest mushrooms, prepared tableside ($25 per person, two-person minimum).
The preparation is a delightful show: A large parmesan wheel is brought out, along with the still-steaming cooked risotto. The risotto is stirred in the parmesan wheel to capture the cheesy goodness, and then spooned into serving dishes. It's a delicious dish worth ordering every time.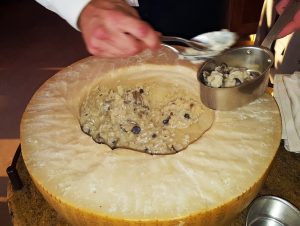 We ended the half-birthday meal with chocolate cake ($13) with a candle in it, of course, and tiramisu ($13).
We had so much fun, we might both have to start celebrating half birthdays!
For information on Andrea Restaurant, visit andreanb.com.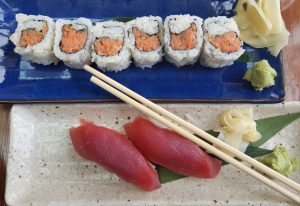 Roku Rocks Cotton Candy
We've been telling our friend Jim, a fellow sushi lover, how wonderful Sushi Roku is, so he finally gave in and brought his wife and two children to Sushi Roku on a recent weekday a few days after the restaurant celebrated its second anniversary.
We joined him, and together ordered a variety of sushi rolls and other delicacies.
As good as those were, we learned about a new dessert that was not yet on the menu (but were told would be soon), whose description made us order one.
Our server brought out a plate piled high with cotton candy. She lit the cotton candy (laced with liquor) on fire, and it slowly burned back to reveal cheesecake with oreo cookie ice cream.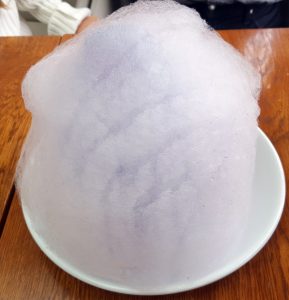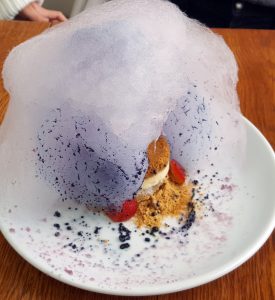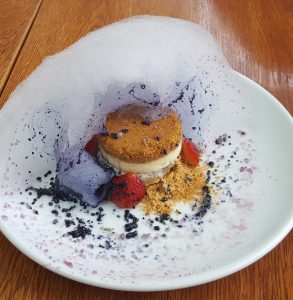 "This is delicious—I would order this every time, for the show and for the taste," said Christopher.
For more information, visit innovativedining.com/restaurants/sushiroku.
Everything's Coming Up Rosé at Bayside
With our unusually hot weather, it's nice to cool off with a chilled glass of rosé wine. Yes, rosé has come a long way since cheap blush wines flooded the marketplace.
So just how good are rosé wines these days? Find out on Thursday, July 20, when Bayside Restaurant presents a special Rosé Wines from Around the World tasting event with appetizers from 5:30 to 8:30 p.m. on the terrace.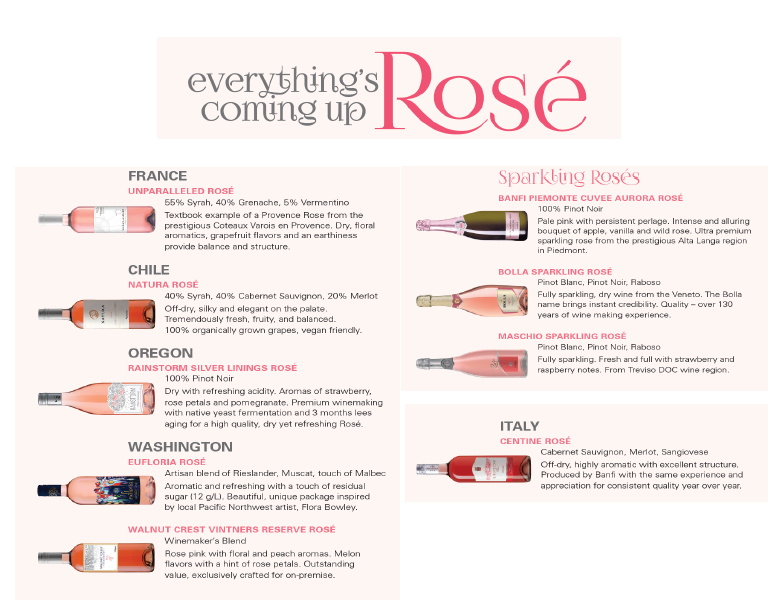 For only $25, guests can taste nine different rosé wines from Oregon, Washington, Chile, France and Italy, including three sparkling rosés.
Appetizers (courtesy of Executive Chef Paul Gstrein) to be served with the wines include Pepper Crusted Blue Fin Tuna Tataki, Maine Lobster Tart, Crab Cake, Vineyard Chicken Salad Slider, Cocktail Prawns, Angus Beef Sirloin Sliders, and Stuffed Minim Ham and Gruyere Croissant.
The menu is subject to minor changes, but for $25 (plus tax and gratuity) this is an outstanding deal and will probably sell out soon. For reservations, call (949) 721-1222 or visit baysiderestaurant.com.