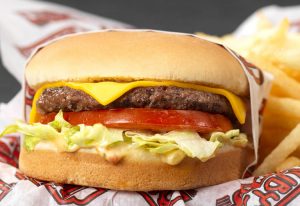 Ruby's Diner is celebrating its 35th anniversary on Wednesday, Dec. 7 with Burger Day! All Ruby's Diner locations (except Shake Shack and the airport) will offer the classic RubyBurger with French fries for just $2.99. $1 of each sale will benefit The Ruby Dooby Foundation, named after Ruby Cavanaugh, mother of Ruby's Founder and CEO Doug Cavanaugh.
The December 7 Burger Day marks the first of many events planned in honor of Ruby's Diner's 35-year history.
"We feel privileged to continue my mother Ruby's legacy of service and care," commented Doug Cavanaugh. "The Ruby Dooby Foundation gives us a platform to give back to the community and to a cause close to Ruby's heart, and show our gratitude for the past 35 years of service."
The flagship Ruby's Diner opened in Newport Beach on the Balboa Pier in 1982. Now, Ruby's has more than 30 locations in six states.
For those who are curious, the RubyBurger boasts a USDA Choice beef patty topped with lettuce, tomato and special RubySauce with a choice of cheese, all piled high on a toasty RubyBun.
Visit www.Rubys.com for more information.