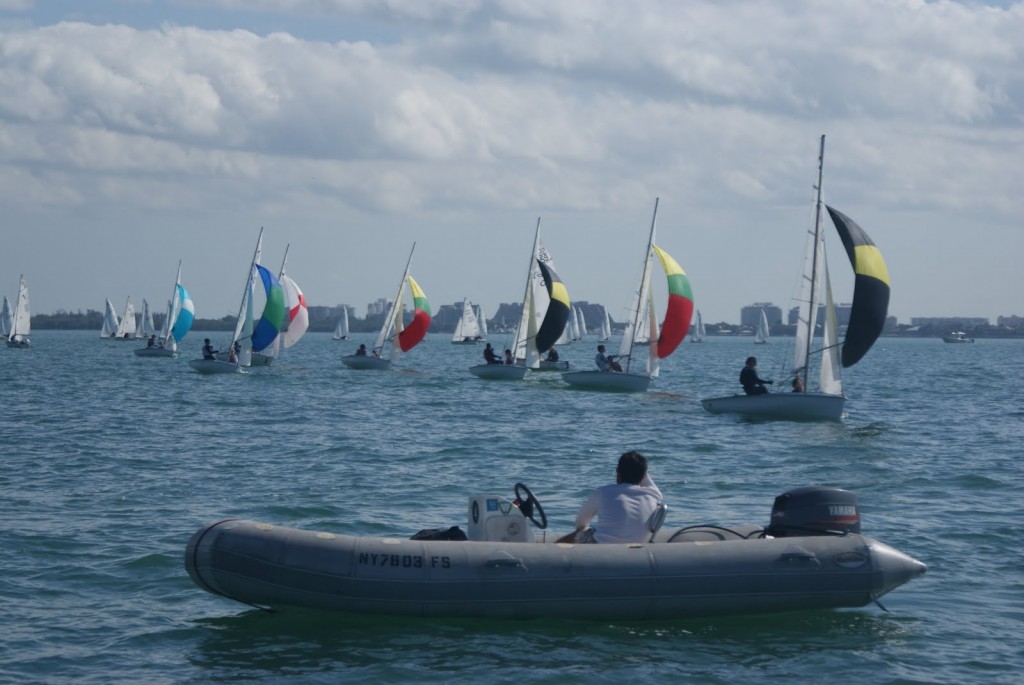 More than a dozen local junior sailors spent their Christmas Day on airplanes flying to Miami  for the annual Orange Bowl Regatta.  This is among the top junior events in the country and attracts hundreds of top junior sailors from around the US.
Top local sailors finished well in the 25-boat 29er fleet, with Tyler Macdonald (6th), Conner Kelter (7th), and Campbell D'Eliscu (10th) all finishing in the Top 10.
In the 75-boat 420 class, Francesca Cappellini finished 10th overall (sailing with Scott Sinks from San Diego), while her sister Jackie finished in 15th (sailing with Chicagoan Will Holz).  Other local juniors sailing in the 420 fleet included Christopher Killian/Harrison Vandervort (BYC); Clare Dahl/Alex Ivory (NHYC); Ellery and Olivia Seaver (NHYC), and Jeff Tolan and Cassie Obel (BYC).
Wills Johnson and Jack Thompson (both NHYC) competed in the Laser classes.
According to \Johnson, conditions were generally light and variable throughout this year's event, but competition was tight in all the fleets as so many junior sailors were taking advantage of this winter racing opportunity.
Safety at Sea Seminar Jan. 28, NHYC/OCC
On Jan. 28, OCC will be holding its annual "Safety at Sea" Seminar at Newport Harbor Yacht Club.
This full-day seminar is a "must attend" event for any sailor planning to race offshore in the coming year.  It provides the latest information on a wide variety of boating topics, including basic safety techniques, radio communication, medicine/medical emergencies.  While the seminar is geared to the offshore racing sailor (attendance is mandatory for Transpac competitors), this event has important safety information that is valuable to any sailor who is taking a boat outside the harbor.
Seminar fee is $140, and includes lunch.  Note that space is limited and this event does sell out every year.  Registration information is available on line at www.occsailing.org (look for link to Safety at Sea Seminars).
Upcoming Events
Jan. 7-8 – Rose Bowl Regatta, Long Beach (hosted by USC; open to high school and college teams, CFJs)
Jan. 7-8 – BYC, Sunkist Series (Inside classes Saturday, Outside Classes Sunday)
Jan. 14 – Winter Series #1 (South Shore YC, H20, PHRF)
Jan. 15 – NHYC, Winter Series (Harbor 20, Lehman, Finn)
Jan. 21 – Bogart Series #1 (BCYC, PHRF)
Jan. 21 – Super Sabot Saturday (BYC, Senior Sabots)
Jan. 22 – Mid-Winter Tune Up (LIYC, One Design)