A roundup of recent and upcoming sailing events.
Mid-Winter Tune Up (Jan 22, LIYC, One Design)
This past Sunday, LIYC hosted their annual Midwinter Regatta.  After a wet, drizzly Saturday, junior sailors enjoyed far better conditions with light, steady breezes (and no rain).  Over 50 boats came out for this Midwinter Tune-up race.
Top finishers included:
CFJ's:  1. Jacob Rosenberg/Sawyer Gibbs, ABYC; 2. Carter Scott, Bobby Briggs, NHYC; 3. Andrew Person, Joseph Hou, NHYC.  Laser (full rig): 1. Bud Richley, LIYC; 2. Harrison Vandervort, BYC; 3. Charlie Welsh, NHYC.  Laser Radial: 1. Michael Sabourin, NHYC; 2. Austen Boyce, NHYC; 3. Kristina Miller, NHYC.
Sabot A:  1. Christian Rosene, BYC; 2. Sean Dahl, NHYC.  Sabot B:  1. Max Mayol, ABYC; 2. Taryn Anderson, NHYC; 3. Reid Wiley, NHYC.  Sabot C1:  1. Erik Hou, NHYC; 2. Joseph Pomeroy, BYC; 3; Wills Cook, NHYC.  Sabot C2:  1. Joshua Means, BCYC; 2. Becca Welsh, NHYC; 3. Sean Caufield, BCYC.  Sabot C3: 1. Caroline Horton, NHYC; 2. Madison Bashaw, NHYC; 3. Caden Kraus, NHYC.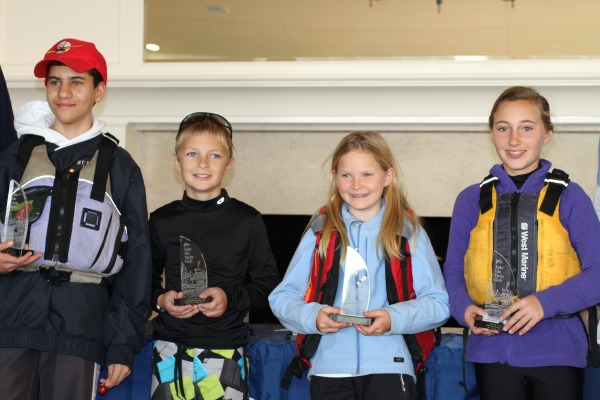 SCYA Midwinter Regatta (Feb. 18-19, various clubs)
The Southern California Yachting Association (SCYA) will be holding their 83rd annual "Midwinters" regatta Feb. 18-19.  This is likely the biggest SCYA event of the year in terms of total competitors, and events will be held up and down the Southern California coast in virtually every active class in the region.  It's not too early to start planning your Midwinter sailing weekend.
Local clubs will be hosting a variety of Midwinter events:
American Legion Yacht Club: PHRF (0+), PHRF N/S; Bahia Corinthian Yacht Club: Harbor 20, Thistle.
Balboa Yacht Club: Saturday only: Senior Naples Sabot, Laser; Newport Harbor Yacht Club: Junior Naples Sabot A, B, C-1, C-2, C-3.
Long Beach/Los Angeles Harbor Midwinter events – Alamitos Bay Yacht Club: 505, C-15, F-18, Cal 20, Etchells, Finn, Laser Master, Viper 640, Lido 14 A & B; Cabrillo Beach Yacht Club: Mercury, Cal 20; Long Beach Yacht Club: Catalina 37, PHRF Big Boat (-3 & below), Schock 35, Cal 25, Santana 30/30, Sport Boat.
San Diego Midwinter events – Coronado Yacht Club: Flying Tigers 10, Flying Tigers 7.5, Snipe, Catalina 36, Moth; Mission Bay Yacht Club: Offshore: C-22, Flying Dutchman, Ensign, Inter 20, 29er, Hobie Cats, Laser – Under 18, Lightning, Santana 20, Soling, Thistle, Ultimate 20, Victory 21. Inshore: Buccaneer, Capri 14.2, Geary 18, Holder 20, Laser Radial, Vanguard 15, Junior Sailing Fleet.  San Diego Yacht Club: Beneteau 36.7, J/105, J/109, J/120.
Upcoming Events
Jan. 28, OCC Safety at Sea Seminar (www.occsailing.org)
Feb. 4-5, BYC – Sunkist Series #4 (Inside classes Feb 4; PHRF Feb 5)
Feb. 5, NHYC Winter Series #4 (Harbor 20, Lehman 12, Finn)
Feb. 11-12, BCYC Bogart Series #2 – Avalon and Return (PHRF)
Feb. 11-12, BYC – Youth Match Racing Series (Gov Cup 21, invitational)
Feb. 17-18, NHYC/SDYC – Islands Race (Offshore, Catalina, San Clemente)