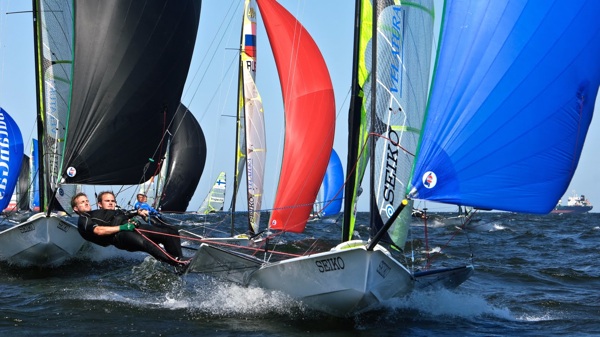 By finishing eighth overall at last week's 49er World Championships, local Newport sailor Alexander "Zander" Kirkland, along his brother Jesse, qualified to represent their home country, Bermuda, in the 49er class at the 2012 Olympics.
The 49er Worlds were held May 5-13 in Zadar, Croatia, and this was the final Olympic qualifier for the two-person 49er Class.
Zander is the former NHYC Junior Sailing Director, and was the sailing coach for Newport Harbor High School when they last won the high school sailing championships in 2009.
Zander and Jesse have been campaigning full-time for the last two-plus years in the 49er class.  Both Kirklands grew up sailing in Bermuda.  Zander went on to be a top collegiate sailor at Tufts University in Boston, while Jesse was a top sailor at St. Mary's College in Maryland.
At the moment, it looks like the Kirklands will join at least one equestrian jumper, two swimmers and two track athletes, and possibly a tri-athlete as the only members of Bermuda's 2012 Olympic team.
Only five countries qualified for this summer's Olympics at the 49er Worlds, the final qualifier for this summer's Olympics.  The Kirkland's team finished as the top qualifying country this last week.  The other countries that earned Olympic berths last week were Japan, Canada, Italy and Greece. The USA 49er team of Trevor Moore and Walter Cooper had qualified previously for the 2012 Olympics.
NHHS Sailors Fifth at Nationals
May 12-13 – Mallory Trophy (High School Fleet Racing Championships) – Lake Union, Seattle, WA
Newport Harbor High School's sailing team finished fifth overall at last weekend's Mallory Trophy for the top overall high school team this year.  Forty races were sailed over this two-day event.
San Diego's Point Loma High School took home top overall honors with a comfortable 50 point win over runner-up Cathedral Catholic (also from San Diego).
The NHHS sailing team was lead in A Division by Ryan Davidson (9th in A fleet) with crews Greer Wattson and Keenan. Chung.  In B Division, Daniel Segerblom with crews Franchie Cappellini, Chase Wells and Erik Higbie finished an impressive third place overall in their fleet.
Both fleets enjoyed pleasant sailing conditions all weekend with temperatures in the mid-70s and winds blowing at 5-12 knots.  For more information and full regatta reports go to mallorytrophy2012.com.
Upcoming Events:
May 19-20 – Leukemia Cup – BCYC (One Design) –
May 19 – 20 – 66 Series 2, 3, 4 –BYC (PHRF)
May 20 – Lorin Weiss #3 – BCYC – (H20)
May 25-27 – Baker Championships – MIT, Boston (HS Team Racing Nationals)
May 26 – CBYC/DPYC – Around Catalina (Offshore/PHRF)