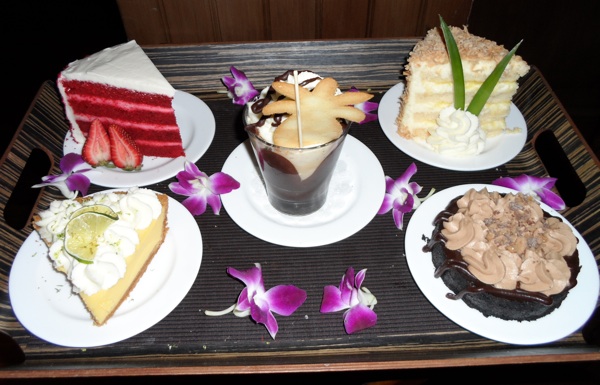 Tommy Bahama apparel is synonymous with summer, so it makes sense that the Tommy Bahama Island Grill in Corona del Mar Plaza has introduced new menu items that reflect the season.
The regular menu already celebrates the Island lifestyle, but Executive Chef Jacquelyn Nabong has created several innovative dishes that virtually shout summer, and the bar is featuring refreshing seasonal concoctions that pair perfectly with a warm summer day.
"We wanted to do a comfort menu for summer, so we took the richness out of the new items but kept the comfort intact," Chef Nabong told me when I stopped by Tommy Bahama to sample some of the new items.
One new entrée, Rock Salt Grilled Meyer Flat Iron Steak, caught my attention due to the ingredients: White Bean Puree, Shimeji Mushrooms, and a Root Beer Reduction.
"Root beer? I love root beer floats, but I don't think I've ever had it on steak," I told Chef Nabong.
"Root beer is a classic summer drink, but we weren't sure we could make it into a sauce," said Chef Nabong. "We tried it and loved it. It's savory with a sweet finish, and a perfect complement to the smokiness of the steak."
I also tried the Lemongrass Encrusted Ahi Tuna Salad with Kale, Endamame, Hearts of Palm, Beech Mushrooms, Roasted Corn, Pine Nuts, and a Tahini-Miso Vinagrette, which Chef Nabong told me has become an instant hit.
Another new dish, the Hot Iron Swordfish and Barbequed Tiger Shrimp with Charred Corn Succotash, Spinach, Local Herb Quinos, and Lemon Beurre Blanc, works perfectly despite Chef Nabong's shellfish allergy.
"I can't taste the shrimp," admits Chef Nabong, "but I have developed my sense of smell to the point where I can tell if a dish is not quite right."
"Chef, your summer menu dishes are all wonderful. I have a feeling my editorial assistant, Catherine, is going to be jealous when she sees the menu."
"Come back and bring her with you!"
So …
"I've never been to Tommy Bahama before," Catherine confided as we drove to the restaurant.
"They're renowned for their line of clothing, but many people still don't know they also have a restaurant," I replied. "Of course, once you dine there, you're hooked. The ambiance is casual and fun, and the food is, well, you'll find out soon enough."
Once we were seated, our server brought us each a bright green cocktail that looked suitable for St. Patrick's Day.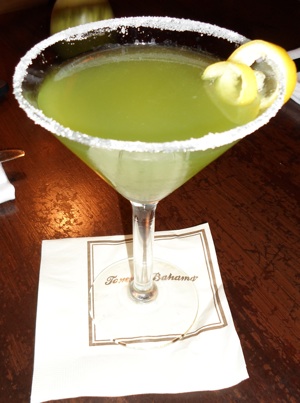 "This is a new drink called a Thai Basil Martini, made with Citron Vodka, Cointreau, Simple Syrup, Myer Lemon, and Thai Basil," he told us. "It's similar to the Grapefruit Basil Martini we have on the menu, but the Thai Basil is even more flavorful, and when we muddle it the color really comes out."
"Wow. This is packed with flavor. I love it," I remarked after one sip.
"Welcome back," said Chef Nabong as she came to our table.
"Thanks, Chef. This is my assistant, Catherine. She's a Tommy Bahama newbie, but I have a feeling she'll be back once she tastes your food."
"Welcome, Catherine. We're going to start you with Heirloom Tomato Soup, followed by Hamachi and Grapefruit Salad."
"And the root beer steak?" I asked hopefully.
"Of course! I'll be back later to see what you think."
"I'm not a huge soup fan but this Heirloom Tomato soup is great," stated Catherine. "It's simple without a lot of spices. And the Bruschetta has sweet ripened tomatoes and a perfect amount of olive oil."
She glanced over and noticed my empty plate.
"I see you didn't like it very much," she laughed.
"No, not at all. What do you think of the Hamachi Salad?"
"The fruit makes the dish," said Catherine. "The combination of sweet and sour blends together nicely."
"Wait until you try the steak with the root beer reduction."
"You're right- – the added flavor of root beer is amazing and unique," agreed Catherine. "I would definitely order this dish every time."
"Sounds like someone's becoming a Tommy Bahama fan."
"Ready for dessert?" asked our server as he brought a tray packed with enticing treats to our table. "We have our Red Velvet Cake, our Key Lime, our signature Pina Colada Cake, which is sprayed with Meyer's Dark Rum and Coconut, our Chocolate Cake with Toffee…"
"I'm full just hearing your descriptions," I said ruefully.
"They all look fabulous," said Catherine slowly as she perused each dessert.
"Since this is your first time, why not try several?" suggested our server.
He returned momentarily with samples of the desserts, along with glasses of port.
"These are all so wonderful, I can't decide which is my favorite," said Catherine after several bites of each dessert. "The ones that go best with the port are the Chocolate Cake and Key Lime Pie. Chocolate and strawberries is always a great choice, and the tartness of the Key Lime makes for an interesting pairing."
"What did you think?" asked Chef Nabong when she returned to our table.
"Chef, I don't think we can move. We're stuffed," I moaned.
"That's a good thing," said Chef Nabong, smiling.
"Yes it is," I agreed.
To check out the Tommy Bahama menu, visit www.TommyBahama.com.