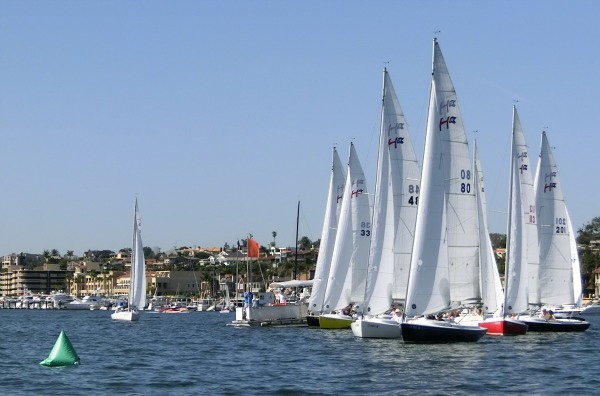 About 40 Harbor 20 sailors enjoyed big fleet racing and summer-like conditions in last weekend's W. D. Schock Memorial Regatta.
As they've been doing in recent years, Bill and Diane Menninger showed their complete mastery of the fickle winds of Newport Harbor, tallying just seven points in six races in the competitive "A" fleet.  Kurt and Ann Wiese were the runners-up in the A fleet.
In the 18 boat "B" fleet, George Drayton used solid starts, good boatspeed and conservative tactics to eke out the win the "B" fleet, finishing just one point ahead of another class stalwart Tom Corkett.Sr.  Like the Menninger family in the A fleet, the B fleet winners were also family affair as both Drayton and Corkett sailed with their sons at this year's event.  Full racing results are available at www.nhyc.org .
W. D. "Bill" Schock was the founder of W.D. Schock Corp, and Schock boats, a local boat builder best known for the Lido 14, Lehman 12, Santana 20, Schock 35 and Harbor 20 classes, among many others.  W.D. Schock Corp. was run by the Schock family from the 1940s until just last year when the company was sold.
For more on the Schock Regatta, see the Newport Beach Indy on Friday.