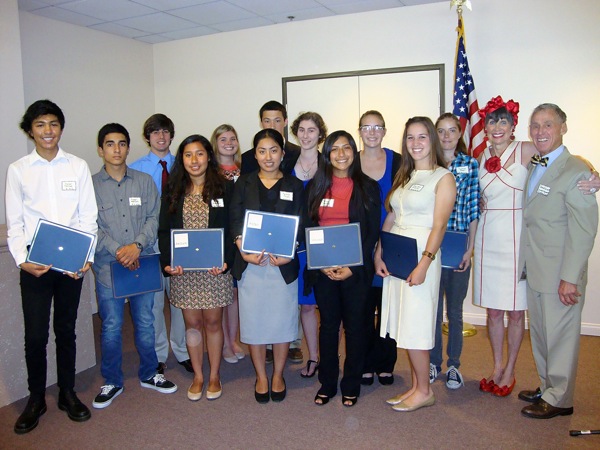 The Assistance League of Newport-Mesa awarded 12 students Saturday at their 10th Annual Scholarship Presentation Luncheon.
The high school seniors honored at the luncheon all have some kind of personal need for assistance with college expenses, are involved in their own way with the school and/or community, and have upheld the required grade point average.
They have all applied to colleges/universities, community colleges or technical trade schools.
The scholarships were awarded through the local league's Community Outreach Program, which also provides scholarships for special needs students and financial aid for day-care expenses for low-income families.
"Emphasizing civility, the acknowledgement of others and the flexibility to consider alternative points of view is more important than one's IQ," said David Grant, President Emeritus of Orange Coast College and Trustee of the Coast Community College District, when he spoke to the group on Saturday.
Grant encouraged the recipients and their families to strive for "social intelligence." He noted that education is an "act of faith" but that those students are braver than they believe.
Past scholarship recipients were also on hand for the celebration.
Virginia Castle Auxiliary member, Mary Lynn Bergman-Rallis, awarded the scholarships and shared a message about the many forms of success.
She quoted Ralph Waldo Emerson, "To know that even one life has breathed easier because you have lived – this is to have succeeded."
Scholarships were awarded to local students include Newport Harbor High School students Dalia Antonio, who is planning on studying art at OCC; Marissa Arzate, biology at University of California, Santa Barbara; Audrey Bruscia, electrical engineering at Cal Poly San Luis Obispo; Sophia Leveque, English at Wake Forest University; Selene Rojas, accounting at OCC; and Tynan Yanaga, who is undeclared and attending University of California, San Diego.
Just one student from Corona del Mar High School was awarded a scholarship, Theodore Streigel, who is planning on studying biology at University of California, Berkeley.
Costa Mesa High School scholarship recipients include Cyrena Boer, automobile mechanics at Golden West College; Raquel Friedman, environmental science & sustainability at George Mason University; and Julisa Sanchez, who is planning on studying criminal justice.
Other students awarded include Ruben Morales from Early College High School, who is planning on studying fire technology at Santa Ana College, and Cesar Torres from Estancia High School, who is planning on studying biology