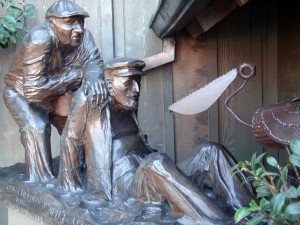 Most active local boaters love the "off-season." Fewer boats in the harbor makes it easier to find a guest dock space at the city docks and restaurant docks, such as the Bluewater Grill, Woody's or the Rusty Pelican.
Speaking of the Rusty Pelican, their garlic bread, clam chowder and other hors d'oeuvres are still to die for. While many things over the years change, it's reassuring to find some things haven't.
As you head upstairs, have you ever wondered who the two sailor looking men are in the wood carvings? They are Clarence McCulloch and his best drinking buddy Spike.
Clarence did the inside cabinetry in the first several Rusty Pelican restaurants, and Spike lived in San Francisco but often visited Clarence.
Clarence had his shop next to the parking lot for El Ranchito on Villa Way, which still exists (the last time I looked). He had an Irish accent and an endearing stutter that added to his wonderful character.
Inside his shop is a Model A pickup for work that he bought from Theodore Robins Ford new when their little dealership and repair shop was near Main Street in Balboa.
My siblings and I grew up with their sons, Hugh, Mark and James in Newport Heights, and their Mom, Garnet, and Clarence passed along their gentle and real character traits.
At the shop at 4 p.m. the Irish whiskey came out and was always shared with friends who would drop by and share stories of past events and what their families were up to.
Changing topics, we're coming up on the 41st Newport Boat Show, which returns to Lido Marina Village April 3 – 6. It will feature hundreds of yachts tied to floating docks and available for inspection, plus related booths offering myriad boating accessories and services.
This show, which features many yachts in the 35 to 65 foot range, is noteworthy for dealer discounts. Low financing and broker incentives help make this show the most successful on the West Coast.
One of the boats scheduled to be at the Newport Boat Show is the 33-foot Greenline, from Dennison Brokerage in Marina del Rey. The Greenline is a hybrid diesel-electric cruiser that has become an international trendsetter. Winner of 22 international awards for design and innovation, this boat aims to change the future of yachting.
Earlier in the week I visited the Dennison Brokerage to inspect a Greenline. This is a real hybrid diesel-electric cruiser that is an international trendsetter. Winner of 22 international awards for design and innovation, this boat will change the future of yachting.
This lightweight rounded stern hull can cruise at five knots under electric power only for 20 miles. The roof is covered in solar panels to recharge or, on a sunny day, operate the air conditioning without any other source for power.
The 150 horsepower V.W. diesel engine provides a 700-mile range on 132 gallons of fuel. That is truly amazing! The majority of the transom electrically lowers to almost double the size of the cockpit deck. The salon rear window hinges up with strut assist and an outside bar folds down for increased inside – outside galley counter space.
The forward stateroom sleeps two and windows surround three sides for roomy brightness. The salon can easily seat eight adults and the forward settee seat hinges upright for a driver and passenger seat. A residential freezer and frig compliment the galley.
This yacht will enable cruising at a major reduction in operating expense and plush accommodations. Viewing the Greenline 33 at the Dennison show docks are a must!
Visit newportinwaterboatshow.com for more information.
Sea Ya,
Skipper Steve