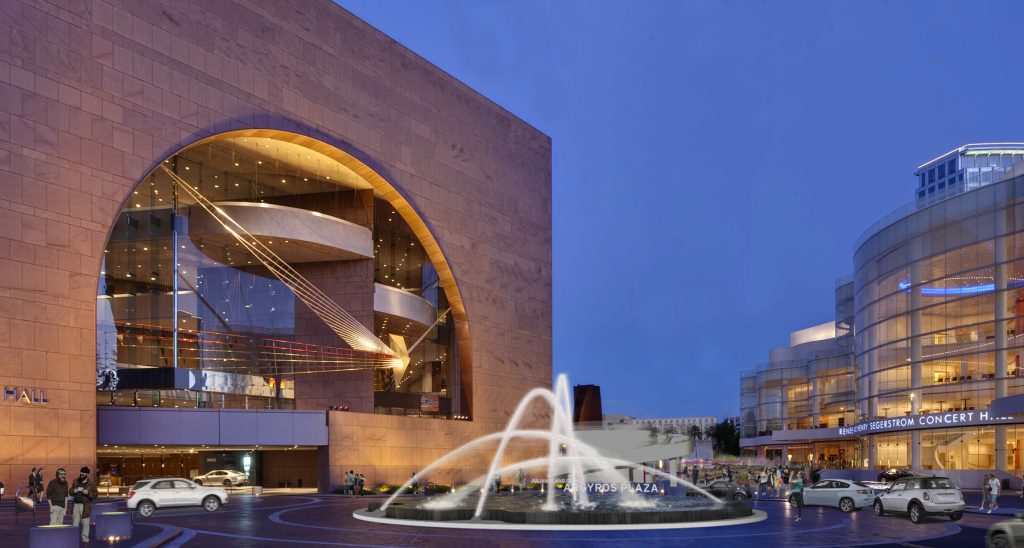 Anyone who has attended a performance at Segerstrom Center for the Arts recently has no doubt encountered construction in the courtyard between the Renée and Henry Segerstrom Concert Hall and Segerstrom Hall.
That construction is the new Julianne and George Argyros Plaza taking shape. Construction has been going on for several months, but has caused only minor inconveniences for theatergoers (although the Movie Mondays series, which had been held in the courtyard for the past 11 years, had to move over to the lawn near Segerstrom Concert Hall—a lawn that just happens to be the future site of the Orange County Museum of Art).
On Oct. 28, the new Julianne and George Argyros Plaza (named for the generous Newport Beach couple that donated funds for the plaza) will officially open to the public.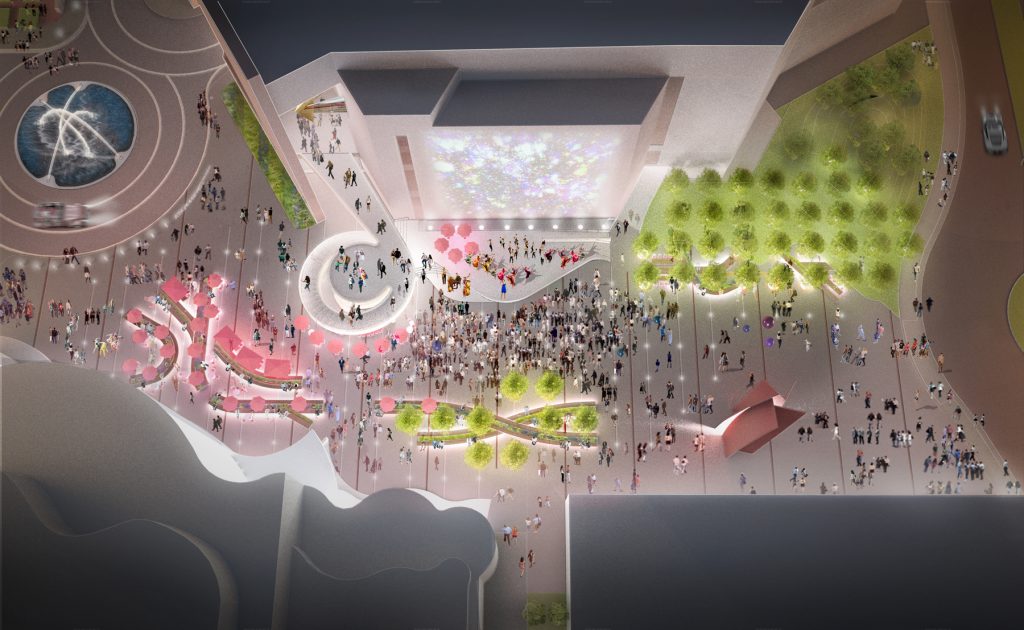 When it is unveiled, myriad attributes will take center stage, including a full-service café with an observation deck, a stage for free year-round performances, shaded seating and picnic areas with Wi-Fi, and a new circular walkway for patrons to enter the second level of Segerstrom Hall.
Perhaps the most dramatic addition will be a fountain 60-feet in diameter with shimmering arches of water reaching heights of 24 feet, which will be at the entrance to the Julianne and George Argyros Plaza.
According to information from Segerstrom Center, the design by Michael Maltzan Architecture and Fluidity Design Consultants reflects the iconic Grand Portal arch of Segerstrom Hall, the sweeping curves of the glass façade of the Renée and Henry Segerstrom Concert Hall and circular elements of the staircases and café of the new plaza and Center for Dance and Innovation.
Featuring a reflecting pool with an infinity edge, the new fountain can be illuminated at night with colorful LED lights.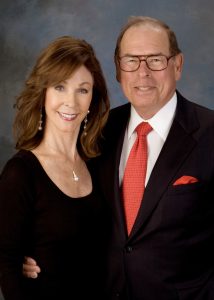 The fountain was made possible by an additional gift from Julianne and George Argyros, whose original $13.5 million lead gift to the Center's Next Act campaign funded the transformation of the Center's plaza and the Center for Dance and Innovation.
Center President Terrence Dwyer said, "Our beautiful new fountain animates the entrance to the Julianne and George Argyros Plaza and creates a breathtaking and almost theatrical sense of arrival. We can't thank Julia and George enough; their generosity and commitment to community in supporting the plaza, and now this stunning new fountain, has established an important and welcoming new public gathering place at the Center, accessible and attractive to all of Orange County."
The Oct. 28 ribbon-cutting is scheduled for 11 a.m., followed by a full day of free performances, concerts, events and tours of the theaters. Segerstrom Center is planning over 30 weekends a year of free performances and events on the Argyros Plaza.
For more information, visit SCFTA.org.